Boston College vs. North Dakota
Thursday, 2 p.m. CT, Bradley Center, Milwaukee, Wis.
If the participants in the first semifinal Thursday in Milwaukee seem familiar, there's a good reason. Boston College and North Dakota face off for the fifth time in eight years at the Bradley Center, and their contest will be a rematch of both the 2000 title game (won by North Dakota) and the 2001 championship (won by Boston College).
Both teams fought off trouble to get this far, with Boston College spending much of the year high in the polls and the PairWise Rankings before a late slide imperiled the Eagles' NCAA tournament hopes.
But a runner-up finish in the Hockey East tournament got BC enough numerical help to put the Eagles in the Northeast Regional as the third seed, where they dominated both of their games, whitewashing CCHA regular-season champion Miami 5-0 before duplicating that feat in the regional title game, avenging four straight losses to archrival Boston University — the most recent in that HEA championship game — to advance to Milwaukee.
The Eagles, led by Hockey East Player of the Year Chris Collins and netminder Cory Schneider, take on a team that, early on, was thought to be too young and inexperienced to make this kind of a push. But North Dakota made strides all season behind freshman stars like Jonathan Toews and T.J. Oshie, a leavening of veteran presence from the likes of Drew Stafford and the big-game goaltending of Jordan Parise.
UND battled to the WCHA tournament championship to secure that league's autobid, then dominated Michigan 5-1 at the West Regional before ending Holy Cross' magical run with a 5-2 win in the regional title matchup. The Sioux enter the Frozen Four riding a six-game winning streak, the longest of any of the four teams.
Boston College Eagles
Record: 25-12-3, 17-8-2 Hockey East (t-second)
Seed: No. 11 overall, No. 3 Northeast
Road to Frozen Four: Beat Miami 5-0, beat Boston University 5-0
2005 NCAA tournament: Lost in East Regional final
Like all the other teams still standing, Boston College went through its ups and downs this season. The Eagles suffered their much-ballyhooed struggles down the stretch, heading into the playoffs on a 1-5-1 downer after spending most of the year as one of the nation's top-ranked teams.
However, after suffering a scare in the Hockey East quarterfinal opener against Vermont, trailing until a minute left in regulation, BC returned to its mid-season form. The Eagles advanced to the league title game where they lost in overtime to archrival Boston University, but then got their revenge in the Northeast Regional championship contest.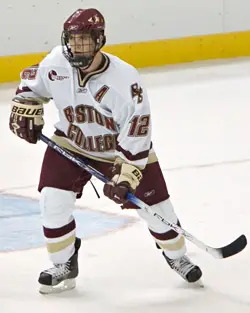 "It's hard to make the NCAA tournament and then it's even more difficult to get out of the regionals," BC coach Jerry York said. "Our team went into a late-season slide, [but] all of a sudden we steadied the ship and have won five of our last six games. We're getting hot at just the right time and that is what keeps you alive in the tournament."
Back in October, reaching the Frozen Four for the sixth time in eight years wasn't necessarily in the cards. The graduation of a considerable senior class combined with the early departure of Hockey East Player of the Year Patrick Eaves rendered BC talented but also the youngest team in the country.
"Starting the year, I wasn't quite sure [we'd get this far]," York said. "We were breaking in four freshmen defensemen and you're never quite sure how they are going to react during the course of the year.
"As the year went on, I thought we had a little bit better team than I had envisioned. I started to think, 'Hey, we're getting pretty good,' and then we hit that late slide. We really needed to get back on track, [but] all of a sudden we just caught fire.
"It's a pretty good club. It's probably not the best team I've had recently, but it's a team that's playing very, very well now and that makes it a dangerous club going into the Frozen Four."
Goaltender Cory Schneider is the backbone of the team. Peter Harrold is the clear leader on the blueline. Chris Collins and Brian Boyle lead the forwards. Collins earned Hockey East Player of the Year honors. Harrold and Boyle joined him on the All-Hockey East First Team while Schneider was a second-team selection.
"We're pretty balanced," York said. "We're starting to get scoring from different people. Before it was just Boyle and Collins, but now we have a young boy, Benn Ferriero, who is really stepping up to be one of our real leaders.
"Peter has been a defenseman who I think clearly has been one of the top two or three defensemen in the country. He's been a real mainstay for us."
Arguably, though, the team revolves around Schneider, who kept the puck out of the net early in the season while the four freshmen defensemen were learning the ropes. Now, Schneider is coming off back-to-back shutouts in the Northeast Regional.
"He's had an excellent year for us," York says. "He's had eight shutouts during the course of the year; that sets a record here at BC. I think the World Junior [Championships] experience, playing in those pressure games in late December and early January, really helped him mature as a player and he's better because of it."
Collins, who emerged this year from a good player to a great one, is one of the Hobey Baker "Hat Trick."
"[His emergence has been] terrific to watch," York says. "He was a 10-goal scorer for most of his career, but all of a sudden he got to his fourth year and scored a couple goals early. He developed a little bit more puck patience, which he never really had during the course of his career. If you have that puck patience, you can wait on the goaltender and you can make a good play. I think that's the key to his game.
"He's always been a good, hard, determined, tenacious player, but now he's got 31 goals."
BC will be facing North Dakota for the fifth time in the NCAA tournament since 1999.
North Dakota Fighting Sioux
Record: 29-15-1, 16-12-0 WCHA (t-fourth)
Seed: No. 7 overall, No. 2 West
Road to Frozen Four: Beat Michigan 5-1, beat Holy Cross 5-2
2005 NCAA tournament: Runner-up
Another challenge, another response.
Last season, North Dakota was supposed to be down because it lost star forwards Zach Parise and Brandon Bochenski. The Sioux were by no means dominant during the season, but they made a late-season run and made it to the national championship game.
This year, the Sioux started with 13 freshmen — a fact you don't ordinarily associate with a national title contender. But UND is back, and for as much as junior forward Drew Stafford, sophomore forward Rastislav Spirko, junior defenseman Matt Smaby and junior goaltender Jordan Parise had to do with it, the rookies are an integral part.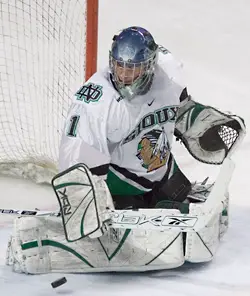 If they hadn't taken a big jump over the course of the season, it's highly unlikely the Sioux would still be playing. That goes for the forwards, but it goes double for the defensemen simply because they constitute a majority of the six-person unit.
Taylor Chorney, Joe Finley, Zach Jones and Brian Lee all have played more than 40 games this season. At their best, they can be top-end players but they've had to overcome missteps this season.
"Maybe to a certain degree the play of our defensive corps maybe is a little bit of a mirror image of our performance over the season," said North Dakota coach Dave Hakstol, who has led the Sioux to the Frozen Four in each of his first two seasons.
"Our young guys and overall our [defensive] corps, early in the year there were some great things they were doing. Along with that, though, there was a good amount of inconsistency, not only from game to game but even within a game. That led to some ups and downs throughout probably the first two-thirds of our season.
"But those guys, along with the rest of the team, have matured a little bit and I think they've done a very good job and certainly [associate head coach] Brad Berry has done a very good job of continuing to be positive."
The mental toughness of that group of young defensemen has accelerated their trip through the learning curve, Hakstol said.
"The one thing I liked about them right from day one was they're not afraid to play," Hakstol said. "If they go out and make a mistake, it doesn't seem to affect their next shift. To me, that's a very important quality in young players, and certainly it's there in our young defensemen. They've continued to get better and we've shored things up a little bit.
"We're playing pretty decent team defense right now, and obviously they're a big part of that."
So, as has become a tradition this time of the year, is Parise. The goaltender has been good in the last two seasons but great down the stretch of each run to the Frozen Four. He had three shutouts in the span of five games in March, then was the MVP at the WCHA Final Five.
"Jordan has elevated his game once again toward the second half of the year, as he has done before," Hakstol said. "He's a leader for us in the locker room. He carries that out onto the ice with him. I believe our guys play a little extra hard with him in the net."
After being swept by St. Cloud State at the end of January, the Sioux fell to 18th in the PairWise Rankings. It has been a steady climb since then for North Dakota, which has lost only three games in the last two months.
With Stafford back in the lineup for the regionals after missing four games with a lower-body injury and freshmen T.J. Oshie and Jonathan Toews playing well down the stretch, North Dakota goes into the Frozen Four on the longest winning streak (six games) of any of the teams.
They showed at the West Regional that their level of emotion is high.
"It's something that passed on, and the key pieces to the puzzle are your leaders within that locker room getting things pointed in the right direction early in the year and then having the commitment to stick with that through the whole year and continue to try to build on it and build momentum and keep getting better," Hakstol said. "Your leaders within the locker room at this time of year, I believe, are the critical piece."