Wisconsin vs. Maine
Thursday, 7 p.m. CT, Bradley Center, Milwaukee, Wis.
For one team in the second semifinal Thursday in Milwaukee, it's a chance to reclaim past glories. For the other, it's a familiar experience.
Wisconsin's season can be parsed neatly into three pieces: an incredible run to the top of the polls, followed by an injury to all-everything goaltender Brian Elliott that threatened to derail the Badger Express, and finally a return to form that saw Wisconsin cruise past Bemidji State 4-0 before outlasting Cornell in a 1-0 three-overtime classic at the Midwest Regional to reach the Bradley Center.
That puts the Badgers — led by Elliott and on offense by Joe Pavelski and Robbie Earl — two wins away from winning an NCAA championship without leaving the friendly confines of the state of Wisconsin for tournament play. A national title would be Wisconsin's first in 16 years.
Maine traveled a slightly different path this season, but the result was a familiar one for the Black Bears, who enjoyed a strong second half and find themselves in their fifth Frozen Four in the last eight seasons. As has happened often recently to Maine, the team will have to deal with the crowd stacked against it, with the semifinals taking place just a couple of hours' drive from Wisconsin's campus.
But Maine's East Regional performance showed that the Black Bears can win in different ways — running away with a game (a 6-1 rout of Harvard), or holding a lead against a frantic comeback (a 5-4 win over Michigan State).
The Black Bears will depend first and foremost on the leadership and scoring of captain Greg Moore to try to get fifth-year head coach Tim Whitehead his first national title, in what is already his third appearance with Maine in the national semifinals. An NCAA championship would be Maine's first since 1999, which came under the tutelage of the late Shawn Walsh.
Wisconsin Badgers
Record: 28-10-3, 17-8-3 WCHA (t-second)
Seed: No. 1 overall, No. 1 Midwest
Road to Frozen Four: Beat Bemidji State 4-0, beat Cornell 1-0 (3ot)
2005 NCAA tournament: Lost in Midwest Regional semifinals
This Frozen Four was awarded to Milwaukee's Bradley Center in the summer of 2000. The Midwest Regional was awarded to the Resch Center in Green Bay, Wis., in the summer of 2003.
Since then, Wisconsin fans have been keenly aware of the possibility of the Badgers winning the national championship without having to leave the state.
Two games down, two to go. The Badgers took care of things in Green Bay — although they needed three overtimes and a Jack Skille goal to win the regional final against Cornell — and now figure to have the majority of the Bradley Center cheering for them against Maine in the national semifinals.
It's something they've been hearing about since the start of the season. Wisconsin captain Adam Burish said in the fall that he had talked to people with Frozen Four tickets who were just waiting for the Badgers to get there. The Badgers haven't been to the Frozen Four since 1992, so getting there was a landmark.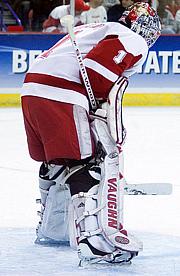 But it's only half of the goal. Wisconsin hasn't won it all since 1990, the longest stretch without a title in the program's modern era.
"We've just been lacking a few things to get to this Frozen Four," said sophomore forward Joe Pavelski, the Badgers' leading scorer. "And now we're here and we don't want to miss this chance. It could be our only chance, you never know. For the seniors, it's their last year. We just want to cherish it, but at the same time be focused, be relaxed and just do everything right."
How does this team compare with the most successful ones in Badgers history? Longtime Badgers goaltending coach Bill Howard has been with the team for all five of its national championships, including the highly-skilled teams of the late 1970s and early 1980s.
"I think if this team went on to win the title, that this team probably had to work harder with less talent than any of the other five," Howard said.
Even though the Badgers have a pair of 45-point scorers (Pavelski with 53 and Robbie Earl with 46) for the first time since Steve Reinprecht and Dany Heatley in 2000, the strength of the team lies with goaltender and Hobey Baker "Hat Trick" finalist Brian Elliott.
Elliott has a school-record three straight shutouts going into the Frozen Four and has kept opponents scoreless for a WCHA-record 252 minutes, 15 seconds. He said the three-overtime victory over Cornell that got Wisconsin to this point is ingrained in his mind, but the reason he doesn't want to watch a replay may surprise you.
"It would probably make me angry because I'd probably notice things that I did wrong," Elliott said.
That's part of Elliott's personality. Howard is demanding of his goaltenders, but Elliott considers himself more intense.
It helped him and the Badgers get out of their worst stretch of the season. When Elliott returned from an eight-game injury absence in February, he allowed 15 goals in his first three outings and was pulled from the second game of a series at Minnesota State.
Wisconsin held an emotional players-only meeting after being swept by the Mavericks and vowed to get back to basics. It worked — the Badgers won the next four games, allowing only two goals total, to get back on track.
Being able to regroup so late in the season speaks to the chemistry the team has, but Badgers coach Mike Eaves said that showed itself the most in a time span after the meeting in Mankato.
"It was somewhere after that moment something blended together," Eaves said. "We talk about that ship that has to make this big veer. For a while, our concern as coaches was do we have enough time to get the ship back with the wind? As it's turned out, we have."
Eaves is the fourth WCHA coach in the last five years to take his team to the Frozen Four within four years of taking over. He joins Minnesota's Don Lucia (2002), Minnesota-Duluth's Scott Sandelin (2004) and North Dakota's Dave Hakstol (2005).
And Eaves is trying to become the second Wisconsin hockey coach to win a national title this season. The Badgers women's team won its first NCAA crown last month, and when the women's players cleared out of the locker room at the practice facility the men's team is now using, they left encouraging messages.
"It's good karma," Eaves said.
Maine Black Bears
Record: 28-11-2, 17-8-2 Hockey East (t-second)
Seed: No. 12 overall, No. 3 East
Road to Frozen Four: Beat Harvard 6-1, beat Michigan State 5-4
2005 NCAA tournament: Lost in West Regional semifinals
In early November, Maine's appearance in its fifth Frozen Four in eight years looked almost certain. The middle of the season, however, was not kind to the Black Bears. They fell to a 7-7 record within Hockey East and soon found themselves not only on the outside looking in for the NCAA tournament but also doubtful for playoff home ice.
Since Jan. 21, however, the Black Bears have been 14-2-2 with a 10-1-2 mark over their last 13.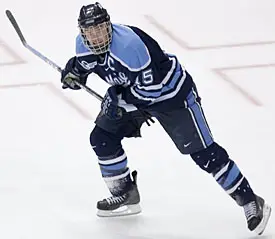 "Mostly it was just the determination of our senior class to do something special this year," Maine coach Tim Whitehead says. "We had lost our best senior, Jimmy Howard, late in the summer, [but] I could sense right away in September that there was a real determination from the group of seniors that was left behind to do something special.
"So when we had some adverse situations during the year, it was the determination of the seniors — Greg Moore, our captain, in particular — who would not let the season slip away. We just kept chipping away one week at a time, building some momentum, and before you knew it, we were on a real good run down the stretch.
"We feel that we've come a long way and we're playing pretty well right now. We're battle-tested and looking forward to this challenge."
And a challenge it will be. The Black Bears will be taking on Wisconsin playing in its home state. In a national conference call with the media, Wisconsin coach Mike Eaves deadpanned that his team had been practicing one day a week at the Bradley Center all season long in preparation for the Frozen Four. It was a joke, but its comic nature belied the fact that the Badgers will be playing in front of a very home crowd.
Not that this will make the Black Bears quiver with fear. For them it's more a matter of been there, done that. Over the past five years, they've faced the following teams in the NCAA tournament in a road setting: Minnesota (2005 West Regional), Boston College (2004 Frozen Four semifinal), Michigan (2003 Midwest Regional), Harvard and Boston University (2002 East Regional), Minnesota (2002 NCAA championship) and Boston College (2001 East Regional).
"It's our fifth straight year for that so we're very used to it," Whitehead says. "I don't think our guys are really fazed by it.
"The one thing it guarantees is that you're going to have a great environment to play in. That's what we all hope for. Just visualizing things in your head when you're a little kid is the crowds and the special moments in each game. I'm sure it's going to be packed right to the rafters so that's the exact type of venue we'd like to have."
There also will be the matter of Wisconsin's exceptional defense and goaltender Brian Elliott to deal with.
"We know we're up against it and that's fine," Whitehead says. "We've got a pretty good club, too."
Two players on that "pretty good club" are likely to have the biggest impact on the Black Bears' chances. Greg Moore has not only been the team's best player, top scorer and a Hobey Baker Award finalist. He's also been a heart-and-soul captain who held the team together when things were slip-sliding away.
"He's led both on the ice and off the ice exceptionally well," Whitehead says. "He's been our go-to guy in so many moments, but on the other hand our team has shown a lot of resiliency in that we've been able to win when he doesn't contribute on the score sheet. He always contributes in one form or another as any good captain does."
With Elliott in the other nets, it'll be incumbent upon freshman goaltender Ben Bishop to come up big yet again. Howard left behind a huge hole, but this 6-5 rookie has impressed mightily, not only stopping the puck but also acting as a third defenseman.
"He's really been fabulous," Whitehead says. "He's had some ups and downs this year, but like most great players he's found a way to fight through them and rise up and play even better the following weekend. He's got great athleticism both on and off the ice and that's one of the reasons he's been able to improve so much. He's really had a tough set of skates to fill, but he's done it admirably."