The postseason is a time for stars to shine, heroes to emerge and, unfortunately for some, careers to come to a close.
When Wisconsin squares off against Maine Thursday in the Frozen Four, each team will boast a special senior class, one of which will see their collegiate careers stopped short of a national championship that evening.
Seven Black Bears are playing in the postseason with their careers on the line. Team captain and Hobey Baker finalist Greg Moore leads Maine with 44 points on the year, while classmates Michel Leveille and Derek Damon are third and fourth on the team.
As a class, the seniors combined for 77 goals this season, more than half of the team total, and are two assists shy of 100 on the year.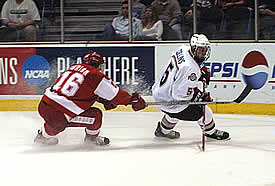 The statistics are remarkable, and those seven have made a vital impact as leaders for the Black Bears, especially in this, their final season.
But as impressive as Maine's class has been, it would be hard to argue that there has been a senior class this season — or in recent memory — that has been more important to its program than this year's group for Wisconsin.
The statistical numbers of the class of five — captain Adam Burish, assistant captain Tom Gilbert, Nick Licari, Ryan MacMurchy and A.J. Degenhardt — pale in comparison to their Maine counterparts. In fact, Gilbert, the lone blueliner of the bunch, leads the group in goals with 11. They have just 34 goals combined.
"Nobody has really put up a lot of points," Licari said.
But numbers are not half the story with this group.
"I think we're more of a leadership group and hard-nosed kind of guys," Licari added.
They came to Wisconsin in 2002, the first group to enter under new head coach Mike Eaves, though they were not recruited by the former Badger standout. But by now, you would never know that they were not his first recruiting class.
In fact, they became something more. They are the poster children of what Eaves wants out of every one of his players, and they may end up being the most important class Eaves ever has at Wisconsin.
Eaves quickly installed in the program a brand-new work ethic, one that caught the older players off guard and weeded out players who could not handle skating until they could not feel their legs, waking up for five-mile runs at 6 a.m. or grappling on the turf as the sun came up.
"There would be times when we'd come back to the dorms together and somebody would turn the shower on and say, 'If I don't come out, just leave me drowned in there,' just joking around because you're so sore," Burish said. "It was wild."
When they were freshmen, the group, led by Burish, had the advantage of not knowing anything different from what Eaves was asking. They did not have to change old work habits, so they quickly bought into the system.
"When they said, 'Go run five miles,' we're freshmen. We're going to do what we have to do to get in the lineup," Burish said.
Needless to say, between the grueling workouts and a variety of legal issues surrounding the team, the Badgers also went 13-23-4. Many locals called for the firing of Eaves after just one season at the helm.
"It was tough and there were days when you didn't want to come to the rink," Licari said. "You were sore and you were like, 'Why am I doing this?'"
"You could say it was the season from hell," Burish agreed.
Now known as the "Junction Boys," the senior group refused to listen to the naysayers and made it their mission to turn the program around. After boasting a 28-10-3 record in their senior year and leading UW to its first Frozen Four in 14 years, it is safe to say their work has turned the program completely around.
To say that their careers would not be complete without a national title this weekend would be unfair, and Eaves let the media know his stance on that just a few weeks ago.
"Whether or not that happens, they have validated themselves as student-athletes here," Eaves said. "They've taken this program in the direction that, when they leave, they can hold their heads up so high."
But it still feels like Wisconsin's seniors will accept nothing less than a championship. They were among the few believers in Eaves' system and perhaps the only ones after their freshman seasons who thought they could be in the Frozen Four before they graduated.
That goal is so close that MacMurchy, Gilbert, Burish, Degenhardt and Licari can almost taste it.
Yet it is still so far away. Burish still remembers the looks on the faces of the three Badger seniors in 2004 — Rene Bourque, Andy Wozniewski and Dan Boeser — whose careers ended in an NCAA regional loss to Maine.
Needless to say, one of two special senior classes will end their careers Thursday. The Badgers are not hoping for a repeat performance against the Black Bears.