Hockey is alive and well in the state of Maine.
Despite the loss by the Black Bears to Wisconsin, the state of Maine is on the upswing. You can thank Derek Damon and Greg Moore for that.
These two Maine natives have raised the bar for hockey in the state by their play in Orono. Damon grew up in neighboring Bangor and learned to skate at Alfond Arena as a child. Moore grew up nearby in Lisbon, and became the first Mainer to wear the "C" for the Black Bears.
It's cold in Maine in winters. Picture postcard villages and towns dot the landscape, and skiing, snowboarding, and all other winter sports are enjoyed in excess throughout the state. Frozen ponds are made to host hockey games, but it has only recently happened that the state has become home to a lot of Division I players.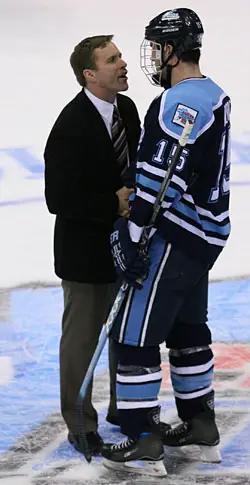 "To think that maybe one day, in five or ten years, that Maine could have a team that is mostly or all native Maine kids — that would be awesome," said Moore. "Like BU used to be all Massachusetts kids, or Minnesota was all Minnesota kids. Maine might be able to do that in the future."
Grant Standbrook, a hockey lifer, told me a story about how Bob Johnson sold hockey to the state of Wisconsin. When Johnson was the bench boss of the Badgers, he felt that the game had to be sold, and he went all over the state preaching playing the game, and playing for the Badgers, and it worked. Look at the roster of Wisconsin's team: 13 of 25 players are natives of the state.
Guys like Moore and Damon have been ambassadors for hockey in Maine. They have worked with youth teams, talked about the Black Bears, and were stars for the team.
For their careers to end here in Milwaukee without a national championship was devastating. However, this senior class won over 100 games, a Hockey East title, went to two Frozen Fours, and played in that epic Championship game against Minnesota in St. Paul (a 4-3 OT loss.)
"This is real hard. It hit me when I took off the sweater for the last time," said Damon as we walked towards the team bus. "I wanted to take it off for the last time with a celebration going on. This is tough, my playing career at Maine is over, and that is hard to say."
It was a game against the (Canadian) University of New Brunswick Red Devils where Damon achieved his life time dream of skating for the blue and white. A rookie, inexperienced and scared, he was only able to muster 15-second shifts because of his nerves.
"I didn't have a clue," he remembered.
From that first game in the Black Bear Classic to now, Damon has been everything his local fan base wanted. A solid contributor, a solid citizen, and someone who gave back to his youth hockey community by volunteering at practices from mites through midgets.
Moore has been the same way. Property of the New York Rangers, Moore had a great camp last summer with the Rangers rookies and the team tried to convince him to come out early. He resisted and returned to Orono for his senior season. In that time, he did what all players strive to do; he took the proverbial next step.
"Moore came back to us and went from a great player to an elite player in college hockey," said Coach Tim Whitehead. "The steps he took this season are the ones that professional players take."
For Moore, the next step is the pros. The only question is when. For him it will be the next step. For young kids in Maine, Moore will be the new poster boy.
Eric Weinrich is one of the biggest names in pro hockey to come out of Maine. Moore, with his size and strength, is destined for the NHL. Should he play in the AHL first, he'll enjoy the chance to play in Portland, in front of a home crowd. At the NHL level, a game in Boston will draw the attention of his hometown, and those Bears' fans in Orono, especially those little ones who will have the same dream he had, playing at Alfond.
"I hear from my parents that little kids are playing the game more, and want to play college hockey here at Maine," said Moore. "Some of the kids are getting better, and hopefully they will be able to even the playing field in New England, especially with the Massachusetts kids."
What has made a region like Long Island a viable recruiting ground for USHL and NCAA teams is that many kids grew up there, played high levels of hockey, and came back. They, along with several members of the Islanders' dynasty teams have stayed on the Island, and also got into coaching.
That combination has produced a big number of Division I players like Eric Nystrom, Jordy Hart, James Brannigan, Kevin Schaeffer, Ryan Vesce, Jon Pelle, Vin Hellmeyer, Mike Karwoski, Brian Escobedo, Bobby Goepfert, Brad Roberts, and Tommy Galvin. Three members of Boston College, who will play for the National Championship, also hail from the region (Filangieri, Kunes, and Brennan).
That has started to happen in Maine. The Portland Junior Pirates, coached by Jay Pecora, have started to place players into Division I. Their AAA midget program is also strong.
"I don't know how many guys are coaching youth hockey in the state that have played at a high level," said Damon. "That will help if guys who play here settle here after hockey and get involved teaching the game."
Who those new players are, that next generation of Mainers, is yet to be determined. Whoever comes next has large shoes to fill. The college careers of these two players are over, but they have created a legacy that will carry on, as have many of the non native teammates. In Maine, when you take off the sweater for the last time, your career doesn't really end. The alumni support is strong from the former players, and continues to be.
The thought of playing at Alfond is enough to make any player excited. The atmosphere, the building, and the fan support are rivaled by few in NCAA hockey. The program under Tim Whitehead is in great shape.
"It will be fun to see the guys play next season," said Damon, who will look to continue his career at the professional level. "It would be great to see them in 10 years."
"Hopefully with a few more of kids like Greg and me. Kids from Maine."