East Coast bias struck again and Milwaukee botched yet another All-Star event.
Everything was working out perfectly in the inaugural Frozen Four Skills Challenge at the Bradley Center. A tie after the five main events forced a sudden-death overtime shootout round that had the crowd on the edge of their seats.
After nine straight players failed to score on penalty shots, Michigan's Brandon Kaleniecki beat Army's Brad Roberts for what should have been the event-winner. Instead, the East was awarded another shot, and Niagara's Justin Cross beat Adam Hanna of St. John's (Minn.) to make it 10-10.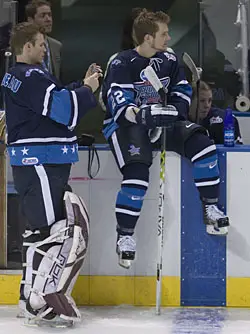 "I don't know what happened … I went down and I scored and I [thought] it was game over," Kaleniecki said. "I was like, 'What's going on? Who's running this thing?' I don't think anyone knew what was going on."
After Nikki Burish failed to score in the sixth round, Colgate's Allison Paiano beat Bemidji State's Jill Luebke.
Despite the East going first in the extra event, even more controversy mounted when the West was not even awarded a chance to tie.
The West players were too befuddled to even argue, as the event was declared over with an 11-10 victory for the East.
"Everyone was so confused … we go out to celebrate and then they go down and score," Kaleniecki said.
"I heard some of the East girls ask how that scoring went," the West's Sharon Cole said. "They actually thought we won, but I just think it was fun to be out there and play."
Of course, it is not the first time the city of Milwaukee has created controversy in an All-Star event. Former Brewers owner and current Major League Baseball Commissioner Bud Selig sent baseball fans into a frenzy by declaring the 2002 All-Star game a tie.
But inaugural events do not often go off without a hitch. Granted, the final score is a substantial hitch, but the players all agreed that the event was a success.
"I think it's good to get the seniors out here … especially when you have a day between the semifinals and finals," Cole said.
Division III Represents Well
The West men boasted a pair of Division III players in Hanna and James Shipley, from the local Milwaukee School of Engineering. Both showed that they were capable of performing with the Division I seniors.
Shipley won the Hardest Shot competition, blasting a puck 91 miles per hour to edge out the East's Kyle Wilson by a mere mile per hour.
And Hanna stole the show in the Rapid Shot competition, in which three members of the East team each got to fire eight shots from the slot. He saved 22 of the 24 shots that he saw, besting West teammate David Caruso by one save.
"I just felt like part of the group," Hanna said. "There were a lot of pipes out there too. I'll give them an MVP award."
"They did a great job," Kaleniecki said. "Both of them showed that they are great players whether they are Division III or not."
Individual Honors
Amidst the controversy and fun, there were a handful of individual winners Saturday night.
The West boasted the quickest skaters. Cole took home the honors as the fastest female skater while Notre Dame's Mike Walsh won the men's event with the fastest time. He was the only one to make a complete lap around the rink in under 15 seconds.
Harvard's Jennifer Raimondi wowed the crowd in the Hardest Shot competition. She blasted a shot 77 miles per hour, far better than her female challengers, while Shipley won on the men's side.
Wisconsin goaltender Meghan Horras struggled in the Rapid Shot, stopping just 15 of 24 shots, but made up for it in the Penalty Shot portion. She stopped all three of her competitors, including a diving stick save against Paiano.
But it may have been Mercyhurst's Sam Shirley who had the best move of the night, as she maneuvered a bit of a dipsy-do before beating Luebke on her penalty shot attempt.
"It was a great time. We get to come out here and meet new guys and play in a great atmosphere," Kaleniecki said. "It was a lot of fun."