At the end of every season, college hockey fans across the country say goodbye to seniors they've known for four years, young men whose careers and lives they've followed into the early stages of adulthood.
Among college hockey fans, there is a certain snobbery regarding "our" players, the arguable assertion that guys who play hockey are better kids than those who play other popular college sports, that hockey players are good people, character people who would never embarrass their programs, parents, and the sport itself with their behavior.
That's why, when I caught up with Ohio State's Dave Caruso at the Frozen Four Skills Challenge, I was thrilled to hear him utter these words:
"I'll tell you something about Brandon Kaleniecki. He was wearing Ohio State underwear. I saw it with my own eyes."
Ah, there's nothing like a graduating senior whose eligibility is finished to give you the real scoop on college hockey. Well, given the source and the context, perhaps real is a slippery concept.
Mike Walsh, Notre Dame
I caught up with Caruso along with two other CCHA seniors, Notre Dame's Mike Walsh and Michigan State's Colton Fretter, at the Frozen Four Skills Challenge in the Bradley Center Friday in Milwaukee. Actually, I met Walsh for the first time the night before at our hotel. It was about 1 a.m., and he was exiting an elevator that I was entering. Loyal to the end, I was wearing my CCHA logo sweatshirt. This is how the conversation went.
Walsh: "Hey! CCHA!"
Me: "Hey! Notre Dame! Who are you?"
Walsh: "Mike Walsh!"
Me: "Paula Weston!"
Both: "Hey!"
After we exchanged a very hearty handshake, I realized that I was meeting for the first time a player I wish I'd known better for the past four years. Walsh, a tall, charismatic, upbeat native of Northville, Mich., began his career at Notre Dame with a freshman campaign hampered by injury and illness. Like many graduating seniors, Walsh said he'll miss nearly everything about Fighting Irish college hockey.
"Just the whole experience of getting up and going to the rink each day, having a chance to go to Notre Dame. I really loved it there. It was just a rocky four years.
"Personally, I didn't get my feet wet before I broke my jaw and then I had mono right away, so it was a lot of uphill battles, and I'm very grateful for the whole experience."
After a two-point freshman season, Walsh registered 25 points his sophomore year (12-13–25), but slumped along with the rest of the Fighting Irish during Notre Dame's incredibly lackluster 2004-2005 season, leading to Dave Poulin's removal as Notre Dame's head coach.
This year, Notre Dame improved under Jeff Jackson to the point of being competitive. Walsh finished his senior year with 10 goals and seven assists.
"I think it was a culmination of just the bad getting worse the year before," said Walsh. "It's change, maybe? Guys who were dedicated were expected to perform to their highest levels in practice, and that translated into a different team that you saw on the ice.
"I think everyone was kind of anxious for a fresh start, with all due respect to Coach Poulin. Just a breath of fresh air."
Colton Fretter, Michigan State
As was the case with Walsh, I'd never really talked to Fretter with the exception of postgame press conferences. And — just like Walsh — he said he'd miss the interactions with his teammates the most, now that his career at Michigan State is over.
"Going to the rink every day, being around the guys, joking around with them and hearing the stories," said Fretter. "Going to the locker room is the best part of my day."
And like Walsh, Fretter played for a team in transition, a team and a legion of loyal Spartan fans becoming accustomed to the post-Ron Mason era and the new Rick Comley reign. Under Comley, the Spartans struggled their first couple of seasons and many folks in East Lansing made it known they were unhappy with the direction of the team.
"We had sellouts my first two years, but our arena has never been known since I've been there … to be very loud, so we did lose some fans and that hurt," said Fretter, "but to the guys in the locker room, it was still the same atmosphere."
Fretter, Comley, and the Spartans answered all their critics this year by making a phenomenal 16-3-3 second-half run en route to becoming the 2006 CCHA playoff champions.
"It did feel good, since a lot of the media — even at our own school — was all over us, especially last year," said Fretter. "To have it come out like it did at the end of the year this year was really nice."
Fretter, who hails from Harrow, Ont., ended his collegiate career a CCHA champion with 43 career goals and 69 assists, but admitted that as much as he loved Michigan State and loves hockey, he has a passion that can nearly compete.
"My favorite sport's badminton. I love badminton. It's a high school sport in Ontario, and I played all the time. I went to tournaments in high school and grade school growing up, and I actually joined the MSU badminton club and I go and play badminton with a couple of people a couple times a week."
"At least it isn't volleyball," added Walsh helpfully. Walsh, a genuinely friendly guy, proved invaluable to conversations with both Fretter and Caruso.
Fretter said he truly enjoyed participating in the this year's Skills Challenge. "I came here and I didn't really know anyone. I kind of knew [Brandon] Kaleniecki and didn't really know this guy" — he pointed to Walsh — "all the guys here get along. Everyone's joking around and having a good time."
Said Walsh, "He's got a nasty toe pull. And he practices sitting on blocks of ice. He's a battler."
Dave Caruso, Ohio State
Perhaps the biggest jokester and fiercest competitor in the bunch is Caruso, a player I've come to know in the last two seasons since I live in Columbus.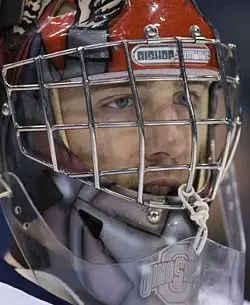 In fact, before talking to Caruso I thought I'd get the scoop on him from his captain and classmate, Nate Guenin. I didn't tell Caruso that Guenin was complimentary.
"He's just a good person," said Guenin. "He's always been a pretty good friend. He's just a genuinely nice person. We give him all the gears, but he laughs and smiles."
Caruso came to fame during the 2003-04 CCHA championship tournament when he replaced starter Mike Betz during the second period of OSU's quarterfinal game against Notre Dame. The Buckeyes won that one in overtime, the semifinal game in overtime, and then beat Michigan, 4-2, to capture the Mason Cup, their first CCHA playoff championship since 1972.
Caruso remained the starter for his final two seasons, putting his stamp on the OSU hockey program with a career .924 save percentage.
When he took over for Betz in that 2004 tourney, he had seen action in fewer than a dozen games through his sophomore season.
"His pregame preparation was always more intense than anybody else's," said Guenin. "He was ready to play, no matter when he was called upon, and he didn't play much before he was thrown into that situation."
Of course, when I told Caruso that Guenin had spilled the beans, Caruso assumed that Guenin had talked about Caruso's singing, which is notoriously bad but which he provides for anyone's listening pleasure, with great enthusiasm.
"Do you want me to sing show tunes right now?" asked Caruso, and before Walsh, Fretter, and I could answer, Caruso rose dramatically from his chair and began:
"Every day from dawn 'til sundown, here's the rundown…"
Not one of us recognized the song, let alone that it is a song, but Caruso doesn't care. The affable Caruso, born on Long Island but direct from Roswell, Ga., sings without even the slightest hint of self-consciousness. Even Guenin had given him props.
"You've got to give him credit," said Guenin. "He'll sing anything."
I mentioned breakaways to Caruso as part of the skills challenge — a sore spot for him after Miami beat Ohio State for the Ohio Hockey Classic title on a shootout last December — and he responded exactly as I anticipated.
"Remember the second part of the year, how many breakaways did they score on me?" Caruso demanded.
(Walsh added under his breath, "You can probably thank Nate [Guenin] for the opportunity to practice those breakaways.")
"What I remember is that there was one — there were two — breakaway goals they scored on me the rest of the year. Now it's a point of pride.
"Besides," he added of the Skills Challenge, "it's not like a real game."
Brandon Kaleniecki
The one CCHA guy I didn't get to talk to at the Skills Competition was Michigan's Brandon Kaleniecki, one of my favorite players for the four years he played in Ann Arbor.
No matter. Kaleniecki isn't the type to say much, so I talked to his coach, Red Berenson, as well as his captain and classmate, Andrew Ebbett.
"The players have named him 'Bulldog,'" said Berenson. "'Bull,' they call him. He plays like a bulldog, he plays with ferocity. He's a small player, but he may be the biggest player the way he plays."
Like all four of these CCHA seniors, Kaleniecki is intensely competitive and has earned the respect of his coaches and fellow players.
"He works hard in practice," said Berenson. "Some kids come in expecting, 'What are you going to do for me?' but Brandon is just the opposite.
"He's not worried about agendas or who he's playing with. He's just a rock-solid, blue-collar kid. When we recruited him … he had about 15 goals and nobody recruited him, but then he went back and played another year [with the Cleveland Barons] and had about 56 goals."
"He's one of the guys who the younger guys look up to," said Ebbett, who said that Kaleniecki led by "hard work and determination, I think. When he comes to the rink, he's ready to battle. He doesn't have much to say, but when he does say something, it's something that should be said.
"If you want to get to know him, he really only gets close with the guys he trusts. He's not going to go out of his way to make conversation."
But still, I wanted to know something about the elusive Kaleniecki. Like every other CCHA fan, I already knew everything Berenson and Ebbett had told me — but it was nice to hear again — and I knew that Kaleniecki was from Livonia, Mich., and that he finished his Michigan career with 64 goals and 36 assists.
Ebbett didn't disappoint. "He plays a lot of video games. A lot of video games. And he takes a lot of jokes from the younger guys about his 'old man' walk."
Kaleniecki will be 24 years old July 5, 2006.
"He's the heart and soul of this team," said Berenson.
And, apparently, he likes OSU undergarments. But that's something he can take up with Dave Caruso.
These are the kinds of players you'll miss without even knowing you will. Caruso earned a lot of ink for his CCHA playoff run, but in his senior year OSU, expected to finish first, came in 10th — in spite of Caruso's play, not because of it.
Walsh started hurt and finished up strong, but played for a team without real identity for years.
Fretter was a solid guy on a team that didn't get much recognition. Kaleniecki was a player who didn't get much recognition on a team that was always in the spotlight.
Four guys for which the CCHA was a better league.