Don't look now, but college hockey is about to get a heckuva lot of attention.
Just days after the Carolina Hurricanes and the Edmonton Oilers completed a dramatic Stanley Cup playoffs and finals, one that featured some strong performances by ex-collegians (Fernando Pisani, Eric Cole, Rod Brind'Amour, Dwayne Roloson and Brett Hedican all come to mind) college hockey is about to take center stage at this year's NHL Entry Draft, set to kick off Saturday at GM Place.
Though U.S. college hockey players have always been a focus during Draft weekend, this year could become college hockey's pinnacle with it being realistic that the top three picks will be either current or future collegians.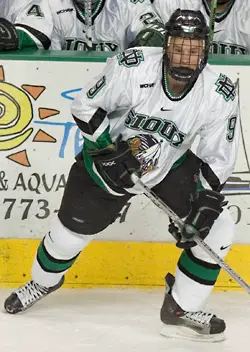 It would mark the first time since 2000 that college hockey has seen such an early burst in the Draft. Though nine collegians or collegians-to-be walked to the stage in the opening round of the 2003 Entry Draft, Minnesota's Thomas Vanek was the top choice at number five. In 2000, Boston University's Rick DiPietro and Wisconsin's Dany Heatley were chosen 1-2, respectively.
This year, though, college players could make history.
Consensus number-one Erik Johnson, a freshman-to-be at Minnesota, is pretty much a lock to assume the top position. Fellow Gopher Phil Kessel's stock has slipped from a year ago, when most thought he was as much a given for the number-one pick as Sidney Crosby was last season. Still, there's a good chance that Kessel will land in the second or third position. And North Dakota's Jonathan Toews, a speedy forward who, like Crosby, attended Shattuck-St. Mary's, is likely to assume whichever spot — two or three — that Kessel does not.
All in all, that alone would make for one great draft for U.S. college hockey.
What remains to be seen is how much impact collegians will have past this top-tier trio. Is the 2003 mark of nine first-rounders in jeopardy? Or will things begin to balance out with more Canadian junior players and Europeans after the first 30 minutes of Draft day pass us by?
A View From the Top
The fact that college hockey has a potential trifecta in the works on Saturday gives any college beat writer plenty to scribble about. Add to that the jockeying for position that has occurred the past two seasons leading up to the Draft, and Saturday's opening hour becomes almost soap opera-ish.
A year ago at this time, Kessel was a lock for number one, or so everyone thought. He scored 51 points in 39 games for Minnesota this season and added another 11 in seven games for the USA World Junior team, but something was missing that bumped the 6-foot offensive-minded forward from the top spot in the annual Central Scouting Service (CSS) rankings.
What that something is might be hard to define.
Was it goal-scoring touch? Of the 62 combined points, only 19 were goals, including only one goal with the national team.
Was it defense? Kessel wasn't exactly a two-way player for the Gophers this year, but he still had a team-best +22 rating.
Or was it something even more material, like heart and determination? Though Kessel would never be considered responsible for leading a college team as a rookie, an impact player such as himself might have to take the fall when a team fails. When Minnesota lost to Holy Cross in the opening round of the NCAA tournament in March — arguably the biggest upset in history — there's no doubt Kessel's stock fell a little.
His replacement at the top is a soon-to-be-but-we're-really-not-sure future teammate in Johnson. He would become the first defenseman since Chris Phillips in 1996 to be drafted first overall.
At 6-foot-4, Johnson proved this season playing for the U.S. Under-18 team that he's not only a talented offensive defenseman, but he also has no fear of mixing things up in the corners.
Though he's slated to arrive at Minnesota in the fall, there's no telling whether he and Kessel will ever step onto the ice together in Minnesota maroon and gold. Kessel recently told The Hockey News that school is boring, saying, "I couldn't be just a regular college student. I couldn't do it. I'm so bored right now."
Add to the fact that if St. Louis, which holds the number-one overall pick, opts for Johnson — and there's not a mock draft out there that doesn't say that will be the case — the Blues' immediate needs offensively might lead the top prospect to immediately forego college in favor of the pro lifestyle.
While Johnson and Kessel will steal some headlines, you can't forget about Toews. A player who is as complete as Johnson, Toews has watched his stock rise over the last 18 months. His five-point performance in the NCAA West Regional en route to the school's second straight Frozen Four appearance was enough to catch the eyes of many scouts. He may not have been in the spotlight as much as Kessel, but Toews seems like a top-three lock this Saturday.
The Rest of the Story
After the top three picks, it might be a while before you hear the name of another player with college ties bellowed from the podium microphone.
Somewhere between the 10th and 15th picks, it's likely that two future WCHAers will walk to the stage in Minnesota recruit Kyle Okposo and Wisconsin freshman-to-be Nigel Williams. Unlike the triumvirate at the top, this pair likely will need a little bit of grooming in college before making their way to the Show.
Okposo, a 6-foot forward who scouts consider a solid two-way player, is known for his grit and ability to mix it up in the corners. Williams, a defenseman with offensive skills, has both size and speed on his side (he's listed between 6-foot-4 and 6-foot-5). Both were teammates at, where else, Shattuck St. Mary's.
Among other first-round hopefuls is North Dakota rookie-to-be Mike Forney, a 6-foot-2 winger who chose to return to high school last season after beginning the year with Des Moines of the USHL. He led Thief River Falls to its first Minnesota state title in 40 years, but one wonders how ready high school hockey made him for college (though does anyone remember Blake Wheeler?).
Michigan's Mike Mitera, ranked 32 by CSS, will need to jump to make it to the first round, but the experience and exposure he got both at Michigan and at the World Junior Championships last year may give him that boost. At 6-foot-3, he'll need to work on his physical presence, but still might be a worthy selection for a club looking to shore up its blueline two or three years down the road.
Another potential jumper (see sidebar) is Michigan freshman-to-be Chris Summers. Thought of as one of the quickest skaters available, Summers has proven his worth with the U.S. Under-17 and Under-18 teams.
As for darkhorses, there are a lot of them. The best of the bunch is David Fischer, last year's Mr. Hockey in Minnesota as the state's best high school player. He's two years away from his debut with the Gophers, but a lot of scouts are high on him, despite his No. 69 ranking by the CSS.
Others registering include Maine's 6-foot-7 giant Simon Denis-Pepin, and National Development teamers Kevin Montgomery (incoming, Ohio State), Ryan Flynn (incoming, Minnesota), Blake Geoffrion (incoming, Wisconsin), Brian Strait (incoming, Boston University), and Joe Palmer (incoming, Ohio State).
Everything will fall into place on Saturday night (6 p.m. ET, TV: OLN, CBC) when one can only hope that college hockey will once again shine.