For me personally, the winter is all about college hockey and the summer is all about auto racing.
This past weekend, I was covering the Grand Prix of Cleveland when the sport's worst nightmare nearly occurred. A first lap crash saw one car go over another, momentarily landing on the head of the driver. Luckily, the driver turned out to be okay.
However, little did I realize when I got back from that weekend, I would end up writing about the passing of a great athlete. In one of life's cruel twists, it would happen in the sport I least expected.
And, little did I realize how much it was going to hurt.
In my years of covering the Women's Division III championship, I have gotten to see a lot of great, exciting players — Michelle Labbe, Sarah Moe, Molly Wasserman, Emily Quizon.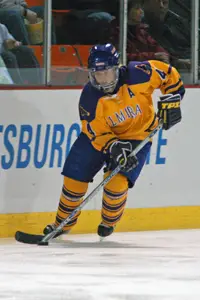 There was always something special about covering the women's championship at the D-III level. They played with such joy and love of the game. They know they aren't going anywhere after their college playing days. There was nothing to prove, except just play for the sake of playing, with a little less ego than the men.
They appreciated us being there to cover them as if we were doing them the favor instead of the other way around. They felt honored just being on the ice. It was college sports at its idealistic best.
One of the players I saw often was Laura Hurd, simply because her Elmira College Soaring Eagles were in the finals so many times. She played for the love and joy of the game and extended those feelings to her teammates, coaches and spectators.
Hurd was not the fastest skater on the ice, and that's putting it politely. If you saw her out of uniform, she did not have the build of a typical hockey player. Perhaps, for those reasons, Division I schools did not actively recruit her.
Hurd once said she had no regrets that a Division I school didn't come calling. She said she found herself in Elmira, and was forever grateful for the opportunity the school and community gave her.
Perhaps it is for this reason she decided to settle in the area after graduating instead of returning to her native Canada, taking a job at Corning, Inc. It is also another cruel twist of life that the area she fell in love with would take her from us in an auto accident in Watkins Glen, N.Y.
What Hurd did have was a great sense of the game, excellent balance, exceptionally soft hands, great stick handling, a super shot — and a heart as big as they come. These attributes enabled her to accumulate an astounding 120 goals and 117 assists in 100 games despite being the most marked player on the ice. She was a four-time All American and AHCA National Player of the Year, and she led Elmira to two national championships.
The two defining moments of her career etched in my memory came in the championship final her freshman and senior years.
That first year was the inaugural championship with NCAA sanction. It was also the first year the Elmira women's program existed. All but two members of that team were freshmen, and though it was a well rounded team loaded with talent, Hurd stood out. Before the rest of the country realized who she was, she put up the best numbers of her career: 40 goals and 37 assists for a whopping 77 points in 28 games.
All throughout the year, as the local community discovered women's hockey, the talk of the town was mostly about Hurd and how you have got to see this person play.
The national championship game was an epic battle between Elmira and Manhattanville. Tied at one apiece early in the third period, Hurd took a pass and crossed the blue line into the opposition's zone.
It was one of those moments in hockey that pull a home crowd out of their seats in anticipation. Facing two defensemen, Hurd decided to shoot. Then, with her sense of the game, she immediately headed for the area where a rebound was most likely to come out.
Sure enough, she picked up the loose puck, and with those soft hands, controlled it on her backhand and shot it into the net. Her goal lifted Elmira College to its first national championship in any sport.
It is said the measure of a person is not in victory but in defeat.
Elmira once again hosted the finals in Hurd's senior year. This time, Elmira faced Middlebury in the final game.
Middlebury led 4-3 when Hurd intercepted a clearing attempt and was alone in the slot area. With 24 seconds left in the game, Hurd had an opportunity to bookend a career few athletes ever get a chance at.
Once again, she fired a backhander. Once again it beat the goalie. Only this time, the puck sailed inches wide of the net. The storybook ending was not to be.
Afterwards, Hurd and three other seniors sat on the ice, waiting to be the last players off their home ice. Before they left, they reenacted the last-minute play. It was her way of accepting what happened.
At the press conference, still dressed to play, between tears, Hurd admitted it was going to be a long time before she took the Elmira uniform off for the last time. She also described the failed play with humor and humility.
"A little wide," she said. "I wouldn't say I was expecting it to go in."
Nobody believed her. Despite the pain she was feeling, she cracked jokes in the press conference to help ease the pain others were feeling. Right till the end, win or lose, on or off the ice, she provided great love and joy to those around her.
And that's why it hurts so much.