Euphoria. How else to describe 60 intoxicating minutes of hockey that swiftly dispatched all disappointing and bitter memories of the last 16 years?
In the Wisconsin Badgers' thrilling 2-1 national title victory over Boston College, those controversies, inconsistencies, and abject collapses magically vaporized into the emotionally-charged April night. The heartbreaking results of '92, '95, '00, and '04 were rendered meaningless — statistical footnotes in Wisconsin's classic sixth NCAA title tome.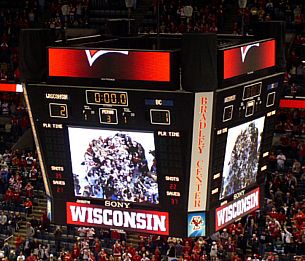 Though not a religious man, the cleansing feeling that washed over me when senior BC defenseman Peter Harrold's deflected shot bounced squarely off the far post with 1.7 seconds left can only be likened to a baptism. The sudden, astonishing, even violent jolt I felt as the final horn sounded left me exhausted. I gutted it out, though, standing and clapping vociferously throughout the postgame accolades.
During this surreal experience, I even managed to capture some classic snapshots, including a picture of the JumboTron, a perfect montage of encapsulated joy. Its framework a recap of the game just completed — expired clock, timeouts remaining, total shots on goal, and final score defining its relevance — surrounding, at its heart, the capturing of the best part of the college hockey season: the championship team photo.
But then I could cheer, or stand, no longer. My mom, a perfect companion for the Frozen Four (as it was she and my father that instilled this insatiable love of college hockey in me at the age of five), had just left the building. Also beside herself with glee, she was on her way back to Madison, the birthplace and epicenter of this just-completed crusade, the starting point of a championship trek a poignant four years in the making.
So now I was alone. My entire section had cleared out. But in section 419, row S, seat 14, I, finally at peace, remained.
Given that this was my fifth consecutive Frozen Four — per NCAA mandate, the more championships you have attended, the better your seats — I was a bit disappointed when I first saw my precise location in the arena. Mere moments after Wisconsin freshman forward Jack Skille beat Cornell netminder David McKee top shelf (where mama hides the cookies) in the third overtime to send the Badgers to their first Frozen Four in 14 years, I finally opened the envelope that had been sitting on my desk since Bucky began its postseason run.
So befuddled by my seat assignments, I even went so far as to discuss the rhyme and reason of such placement within the arena with an NCAA representative. Upon arrival at the Bradley Center on Thursday for the first national semifinal, I found my fretting — and pointed questioning — was much ado about nothing. Though seemingly too high up from the ice, the seating chart was a bit misleading. In actuality, they were perfect seats.
With Wisconsin, the tournament's overall number-one seed, as the perpetual home team, the Badgers would be attacking in the zone directly in front of me for four of the six regulation periods. Alone, that was a major boon. What elevated my Frozen Four seat to a higher stratum, though, was its position on the aisle.
In the biggest games of my life, I would have free rein to fully utilize — and display — my formidable cheering prowess. And due to the abject lack of security, my (routine) smuggling in of two bags of Ritz crackers, two cans of Coke, my "GO 11" sign, and trusty cowbell was appallingly easy. In fact, for both Wisconsin games, I had dueling cowbells at my disposal — a byproduct of ensuring I'd have at least one to kill penalties with, given the worst-case scenario of security guards confiscating the other from either me or my accomplice at the gate.
Confirming my initial seat suspicions, in the second semifinal, after senior captain Adam Burish scored the first Badgers goal, a young gent bounded by me with a Black Bear hanging from a noose, dangling from a hockey stick. For those unaccustomed to the rituals and pageantry of Badger hockey, such an honor is bestowed upon the mascots of road teams, immortalized in the cheer "Goalie, sieve, [insert mascot here] on a stick."
Mostly absent the last couple of seasons, this mascot maltreatment — once a Kohl Center staple — was to me a sight for sore eyes. But before I could process the enormity of the situation, back up again the stairs the young man came, delving out high fives to all those clad in red, like me, sitting on the aisle.
Given my seat locale, from that point forward, I, too, utilized this flexibility to slap hands with all fans female and male, small and tall, young and old, in my vicinity. Ross Carlson's nimbly dexterous game-turning second period short-handed goal began this nouveau tradition in earnest.
Another welcome sight was Phil, "The Sign Guy" to the uninitiated, Phil was a section over in the front, flanked by his wife, Mrs. Phil, and a phalanx of signage, including placards that read "GO, RED, LET'S GO RED," and individual numbers beginning at one and ascending ever upward.
This trio of fanatics coupled with the general boisterousness emblematic of their followers — and contagious to all in the vicinity — morphed my section and the one adjacent, 420, into a sublime fit with my enthusiastic personality.
To wit, after a great save by Wisconsin netminder Brian Elliott in the middle frame, I — overcome with determination and buoyed by ample evidence to support my postulation — sing-songly chanted "HOB-EY BAK-ER" three times in succession. The optimal effect was achieved.
As reported by USCHO Staff Writer Mike Volonnino, "Elliott stopped a Maine player at the side of the net with a minute left to go in the second period. The crowd cheered as if the Badgers had scored. For the next 30 seconds, Elliott was serenaded with 'Hobey Baker.'"
In addition, calling once again on a delicious Kohl Center tradition, after Wisconsin's fourth goal, I cantillated the team with a wistful chorus of 'We want ice cream.'
Hungry fans — keen to the policy of "Five Goal Free-for-All" that gives free Culver's custard ("ice cream" the more glamorous to pine for) to all in attendance when the Badgers score, fittingly, five goals or more in a home game (a veritable rarity just two years ago) — quickly followed suit.
Given our off-campus location, though meaningless in securing of an actual frozen treat, Robbie Earl's empty-net tally nonetheless elicited its successful sister chant of "We got ice cream" after the resounding cheers of jubilation and victory had abated momentarily.
And then I met Barry Melrose.
Still steeped in the glory and glee that was Wisconsin's first Frozen Four victory in nearly a decade and a half, I strutted — cowbells ringing intermittingly with every step — to Game Time, a local watering hole across the street from the Bradley Center.
As I waited in the foyer for a friend of mine to return from the restroom, a tall, sanguine, nattily clothed, well-coifed man came resolutely toward me. Without hesitation — nary a moment of pause — I instantly extended my hand and greeted the renowned ESPN hockey analyst with "That was a great game, Barry."
As he responded "Yes, it was" in his familiar Canadian drawl, I slapped him on the back before we headed our separate ways.
You'd think meeting Mr. Melrose would be the postgame highlight (it was), but getting our picture taken with "Badger Elvis" was another unexpected thrill. Though not "The Bear" — an enthusiastic lad (and able dancer) perpetually dressed in a full bear suit and road Badger hockey jersey, first seen at the Kohl Center in late October, 1999 — Elvis remains one of the most iconic of Wisconsin's legion of fans.
Friday morning and afternoon was spent recuperating, the early evening, seething.
Mystified once again by the Hobey Baker voting, I decided during ex-Denver University defenseman Matt Carle's acceptance speech to focus my energy not on vilifying a great player who did everything — but not enough — he could to help his team defend their back-to-back championships, but on discovering why from year-to-year a different player is awarded the highest honor in college hockey not just for a different reason, but based on vastly disparate criteria. In the coming weeks, look in this space for my exposé.
To Wisconsin netminder Brian Elliott — he the most deserving of the Hobey — the national championship was always the ultimate prize. Though often tough for fans to recognize, awards often are simply icing on the cake. With that as motivation, I turned my attention to Elliott and his teammates' quest for college hockey immortality.
As we parked the car and headed to Bradley Center for the championship tilt, I was completely and remarkably at ease, my only discomfort emanating from the surprisingly warm temperatures mocking me and my red winter coat stuffed full of hockey contraband. And I was supremely confident about the game's outcome. Excitement — not apprehension, pessimism, or even a tinge of dread — coursed through my veins.
Because this was how it was supposed to be. Wisconsin was destined to win the national title here, in Milwaukee, on this night. And thanks to two of the most diametrical goals I have ever seen, they triumphed.
The first was a manifest of pure will. Wisconsin's diminutive and high-flying forward, Robbie Earl, was just undercut in the neutral zone by a punishing check courtesy of Hobey Baker finalist Chris Collins. Earl, still reeling from a blow earlier in the first period — the iconic images still vibrant of him, beset by debilitating cramps, finishing nearly every shift in overtime of the Cornell contest by crawling to the bench — started to skate gingerly off the ice.
But then everything changed. Hulking Eagles center Brian Boyle, alone in front of his net, attempted to make an outlet pass to a teammate along the far boards, just outside the blue line. With an on-ice intelligence not found in many D-I hockey players, Wisconsin pivot Joe Pavelski immediately recognized an opportunity. And he pounced.
Controlling his deflection of the Boyle pass, Pavelski cleverly left the puck for linemate Adam Burish, who was streaking in to the zone along the boards. Burish, hounded by a BC defenseman, squeezed by an attempted hip check to center the puck to Earl, who was barreling toward the crease, half a stride ahead of his defender. Deflecting it past goalie Cory Schneider, Earl — as he had done in nearly every big game before — once again scored when the Badgers needed it most.
If the opening tally came down to fortuitous circumstance and will, the second was the ultimate manifestation of practice, execution, and skill.
It began with a poke-check. With the game tied with less than 10 minutes remaining in regulation, Andrew Joudrey — the point man on the Badgers number one power play unit — stymied a potential short-handed chance by stealing the puck away from behind at the Badgers blue line.
Circling in front of his own net, he left the puck for Robbie Earl, who quickly — gathering speed at an inordinate rate — cut towards the middle of the ice and gained the zone at the near boards, before leaving it for defenseman Tom Gilbert. Waiting patiently for a moment, Gilbert then completed the give-and-go to Earl down in the corner, near the half-boards.
Back to the senior defenseman the puck went as Earl circled toward the net. Gilbert then fed it to Adam Burish stationed behind the Eagles cage. Joe Pavelski, waiting along the far half-boards, quickly touched it on to Joudrey at the point. Quickly surveying the BC penalty kill formation, Joudrey crossed the puck to Gilbert, now manning the near point.
Throughout this entire exchange, the puck experienced no wasted time or motion. Tape-to-tape went every pass. Compared to the next sequence, though, its elegance paled in comparison.
At the right point, Gilbert shuffled the puck back to Joudrey who fed it to Burish, now positioned at the top of the left face-off circle. In one fluid motion, Burish sent the puck down to Pavelski who — confronted this exact scenario for the third time in the game — made a perfect read. Deking a defender by eyeing Earl at the backdoor, he fed the biscuit to Gilbert sliding down the slot.
A second later, it was in the basket — "I just buried my head," Gilbert said. "I knew the puck was going to go in." — and one of the prettiest passing plays in Badger lore had led to a historical tally. Joudrey-Earl-Gilbert-Earl-Gilbert-Burish-Pavelski-Joudrey-Gilbert-Joudrey-Burish-Pavelski-Gilbert in just over 10 seconds — given the circumstances, a more defining microcosm or compelling allegory could not have been invented for this championship squad.
With ample time to reflect, there is much I will take away from this Frozen Four.
Materially, I have a towel comparing the current whereabouts of former teammates — and current rivals — Phil Kessel and Jack Skille. Boastfully, it reads "WE DON'T NEED ANY #1 DRAFT PICK SKIP TOWN PHIL. WE HAVE THE VERY BEST. HOMEMADE JACK NO. 12."
What it lacks for in grammar it makes up in truism — an apt prop for a fierce Border Battle now, akin to the 11-year stretch from 1973 to 1983 where Wisconsin (four) and Minnesota (three) combined for seven titles, wrought with even more angst.
Bathed in tranquility on a fine day in late June, I culminated my golden birthday by watching the championship game again for the first time. While fast forwarding through the first intermission, a curious image appeared on screen. Gleefully incredulous, I quickly rewound the tape to see myself — still carrying all smuggled contraband on my person, safely secured in my red coat — waiting in line before the game to purchase my red Frozen Four t-shirt.
Now seems like a good time to thank the ESPN cameraman and producers for portraying me in a kind — if a bit iniquitous — light. And that fade out on me was extremely elegant.
Given the result — and the 16 years between titles — I also thought it wise to purchase an NCAA championship sweatshirt. Grey, with front pockets and a big hood, it'll keep me warm and smiling for years to come.
With the addition of these vêtements came well-overdue subtractions. This historic title run finally allowed me — much to my belle's satisfaction — to put some long-used, overly-worn good luck charms out to pasture. Epitomized by the standard-bearing vintage red and black Nike knee socks (both pair), I also finally let go of my eight year-old khaki pants and its mosaic of rips, holes, and Coke stains.
It wasn't a complete victory for me lady, though, as the jacket remains resolutely in my stead. Given its immense utility in all instances of getting things in to where they are not supposed to be, I simply couldn't let it go. Ditto for my lucky t-shirt combo.
Of course an exposition — and remembrance — of my seminal sports experience would not be complete without a bit of ill-natured taunting toward the residents of the former "State of Hockey," especially those clad in the maroon and gold.
For years I endured unprovoked cowbell confiscating, heckling, and ridicule — my punching of Goldy Gopher at the 1999 Final Five play-in game notwithstanding — at the hands of the host ground squirrels. And I was saddened that the first time since 1999 I didn't make it up to Mariucci for the Border Battle was the first year since, well, 2000, that Wisconsin not only won there, but swept Minnesota. I also missed the Final Five — my first absence since they moved it to the splendid Xcel Energy Center — where Bucky's 5-0 shellacking of the Gophs jumpstarted their championship crusade.
But thanks to one brave — but incredibly unlucky — Gophers fan, I at last found serenity and closure.
That Final Five victory gave Wisconsin the season series, 3-2, as well as clinched them the number-one overall seed in the NCAA tournament. A big deal as it turned out, as the Badgers handled Bemidji State with ease before that epic Cornell encounter. With the Badgers' national title — their sixth — they also moved one ahead of the Gophers and into fourth place all-time. Defending champs that they are, they also have obviously won more recently then their rodent-brethren to the north.
All of this — combined with the fact that Minnesota's post-WCHA campaign had taken a much different, darker, path — left me and Wisconsin fans everywhere immune to any taunts from our biggest rivals. So when this young lady, wearing a home Gophers jersey, walked by us outside of a bar, me and my two pals knew what we had to do.
Without thought or equivocation, we quickly exited the tavern, chased down the Minnesota fan (and her innocent friend), and — for the next city block — serenaded them with the most beautiful and sonorous of chants: "Holy Cross! Holy Cross!"