When asked about the CHA, one coach noted the talent and the young players coming into the league, then mentioned Alabama-Huntsville and said, "Huntsville, they're downright scary."
Yet, year in and year out, the Chargers can't seem to get over the hump and notch the CHA's automatic bid by winning the postseason tournament. In years past, UAH has relied on one or two forward lines for the bulk of its offense, but not this season.
"We have a tough team this year," senior defenseman Mike Salekin said. "We're more physical and we'll pound teams so that by the time the third period rolls around, the other team just wants to give us the puck. We'll also roll four solid lines and that's a change from the past where maybe we relied on one top line."
Goaltender and co-CHA player of the year Scott Munroe has graduated to the pro ranks and was the No. 3 goalie for Philadelphia during last spring's NHL playoffs. Defenders Jeremy Schreiber and Jeff Winchester are also gone, along with sniper Bruce Mulherin.
That being said, UAH doesn't have one worry, only optimism.
"We have higher expectations this year," junior forward Tyler Hilbert said. "We've been to the tournament and never won it, so enough is enough. Every one of the guys brings something different and that's exactly what we need. Guys are pushing each other for spots and competition between teammates never hurt anyone."
Newcomers Tom Train, a forward, and defenseman Davide Nicoletti both played in the North American Hockey League last season and Train captained the Texas Tornado to their third straight NAHL championship. Train, he of a unique hockey name, had originally committed to UAH for last year, but an academic snafu hit and Train had to wait a year.
Nicoletti popped 16 goals from the blue line and will be eased into the lineup with Salekin as his early mentor.
"Every year you lose guys, but that's the nature of the game," said Salekin. "Guys take a step up in their role every year and now, with guys like Schreiber and Winchester gone, guys like myself have to handle those roles. The freshmen will come in and play and so far, they look great."
Right wing Joe Federoff transferred to UAH from Robert Morris at the semester break last January and will be eligible to play in three months' time.
The Chargers got past Wayne State in the tournament quarterfinal last season and then fell to eventual champion Bemidji State in the semifinals. During the overall season, UAH only surrendered 103 goals, good for second in the conference. The Chargers scored 105 goals, third overall in the CHA.
With Mulherin off to the ECHL's Gwinnett Gladiators, offense this year will be spread out over the four lines, Salekin noted. And that's quite OK, according to Huntsville.
"We're going to be a grinding team this year," added Salekin. "We'll score goals, but we'll also outwork other teams. Losing guys happens, but every other team is going through it, too, and trying to find replacements. It's going to be tough to play against us, I can say that."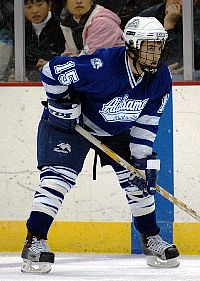 One problem may be in net — the net sans Munroe. Senior Marc Narduzzi has played eight games over three seasons and sophomore Jordan Erickson played a total of 75 minutes a year ago. Reason to tap the stereotypical panic button?
"No, not at all," quipped Hilbert. "One of those guys has to step up and we're definitely confident in either one of those guys."
Co-captains Grant Sellinger and Shaun Arvai will head a strong forward corps; both have been through the CHA wars the first three years of their college careers. On the battle subject, the Chargers open up their schedule with a couple of nationally-ranked teams.
Salekin and Hilbert agreed it will be a huge test as on Oct. 7, UAH travels to Colorado Springs to play Colorado College and ex-CHA member Air Force before traveling to Ann Arbor to play Michigan a week later.
"We've always been a tough team and this year, I can't say it enough, will be no different," Salekin said. "Our goal is to outwork other teams and if we do that consistently, we'll see where it takes us."