What does the Robert Morris hockey team have in common with Jordan Knight, Joe McIntyre and the rest of that long since forgotten 1980's boy band?
(Yes, a corny answer is ahead.)
None of them are the new kids on the block any more.
Now in their third season in the CHA, the Colonials finally have upperclassmen — 15 juniors and four seniors, to be exact. RMU finished last in the CHA in 2004-2005, but tied for fourth last season. Head coach Derek Schooley, who signed an extension through 2011 last April, said it's all about finally getting respect in the league.
"We have a lot of promise and have showed a lot of promise the last two years," Schooley said. "We need to show more consistency and we'll play better. Look at the roster from last year to this year – we only lost two players in Kurt Wright and Jace Buzek. We return everybody and those guys have the experience and know our systems."
Buzek didn't graduate, but rather opted to retire because "he decided he didn't want to play hockey any more," according to Schooley.
Of the seven newcomers to suburban Pittsburgh, two have previous D-I experience as sophomore defenseman Jake Obermeyer played at Michigan Tech in 2004-2005 and junior forward Ryan Cruthers was an Army forward two years ago.
"Ryan Cruthers led Army in scoring his freshman year and was second as a sophomore," Schooley said. "He'll pick up some slack for Wright and Buzek and he's a great pick-up for us."
Wright was team captain a year ago and that duty will now be handled by junior defenseman Rob Cowan and Chris Kaufman. Cowan's kid brother, Dave, is an incoming freshman. Kaufman added a note about the respect factor.
"No one should look at us and think, 'Oh, look, it's Robert Morris,'" Kaufman said. "I'm sure we don't get the respect I know we deserve, but we still are just in our third year and we're still new. As a team, we know what we can do, but if we take the criticisms that go along with it, we just have to get past all that."
Junior goaltender Christian Boucher is one key RMU player whom not a whole lot gets past. Boucher, the active leader among CHA goalies in minutes played (3464, Wayne State's Will Hooper is second with 3337), has stolen a few games his first two seasons and guided the Colonials to a quarterfinal victory over Air Force last March in the postseason league tournament.
"Boucher's a rock for us," said Schooley. "He's played 90 percent of our minutes and as he goes, so does the rest of the team."
"Boucher keeps us in a lot of games," said Kaufman. "But now it's up to us to win those games that he keeps close. The guy is unbelievable. He makes some saves that I just watch and wonder how he did it. He's unreal."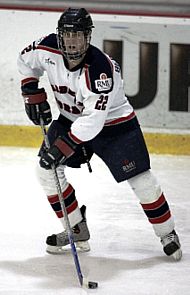 In front of Boucher, who will be backed up this year by senior Joe Tuset and sophomore Karac Davis, the Robert Morris defense looks stingy. Experience plays a positive role.
"We have nine defensemen and seven returning," Kaufman noted. "You can't say enough how valuable the experience is back there. Obermeyer has experience at Michigan Tech, too. We've gained confidence every year and with the more games we play, that confidence grows even more."
Schooley reiterated the fact that this season is the opportunity to prove Robert Morris belongs.
"We have a very good nucleus and it's time to reap the rewards," said Schooley. "Chris Margott is back as our leading scorer and Brett Hopfe was an excellent producer for us along with Aaron Clarke in the playoffs and senior Doug Conley and junior Sean Berkstresser. We're an older team now and I think it'll be difficult to play against us and very challenging as well. We have a lot of presence and a lot of depth for really the first time."
Schooley's signing of his contract extension further proved to the college hockey community that RMU is here to stay and here to provide balanced competition. That maybe wasn't the case two years ago, but now, the Colonials could very easily be the top dog in the five-team CHA. Get Boucher going, and anything is possible. Just ask Air Force.