This time a year ago, Bemidji State was at the top of College Hockey America.
One year later, the Beavers are still perched at the peak of the conference.
Yet, changes abound in the now five-team conference. Air Force left for Atlantic Hockey, but the NCAA ruled the CHA's automatic bid will still be intact. The league schedule has been altered in that the schedule is unbalanced and some teams will play one another six times as opposed to four in past years.
No serious talk has come regarding a sixth team joining the CHA. Several D-II club teams have expressed minor interest at best, but it ends there.
A team down, the competition is still as red-hot as ever in college hockey's youngest conference, even if some coaches have their takes on early-season favorites.
"I'd have to give the nod to Bemidji," Wayne State head coach Bill Wilkinson said. "They're the team everyone is shooting at and until someone knocks them off the mountain, they're still the team to beat. After that, it's wide-open."
BSU head coach Tom Serratore said that even though his team won the postseason tournament last March in Detroit, it was Niagara that won the regular-season title and probably should have gone on to the NCAA round of 16.
"Niagara won the marathon last year and they return probably the best offense in the league," said Serratore. "But I don't think one team can truly be called the favorite. Niagara has all that talent back, Robert Morris is coming of age, Wayne State has a ton of experience and Alabama-Huntsville has the best defense back. I think it'll go down to the little things and who can play well on the road, stay injury-free and have the best special teams."
The top CHA conference scorers of a year ago and co-rookies of the year, NU sophomores Les Reaney and Ted Cook, return along with RMU goalie Christian Boucher and the BSU goalie tandem of Layne Sedevie and Matt Climie. UAH graduated top scorer Bruce Mulherin and goalie Scott Munroe, but still has an air-tight defense. WSU won six games all of last season, three in conference play in their worst season in history, and should be much improved.
Niagara goalie Jeff Van Nynatten, co-player of the year with Munroe, has also moved on. Former NU goalie Greg Gardner is a new assistant coach at his alma mater and both of WSU's assistants, Willie Mitchell (Vermont) and Damon Whitten (Alaska-Anchorage) left for other gigs.
On the ice, Boucher is the active leader in minutes played for the CHA and should be the backbone of a suddenly-old Colonials' squad.
"We're not the new kids on the block any more," RMU head coach Derek Schooley said. "But we know the league and we know each game will be a closely-contested game. There are no easy games in the CHA."
"Robert Morris is quite a story in how they've risen," said Purple Eagles' head coach Dave Burkholder. "Alabama-Huntsville scares you every time you play them, Bemidji has pretty much all their guys back and if Wayne State stays healthy, who knows what they can do. The CHA will be a tight league this year, just like it is every year."
At the Michigan State Fairgrounds Coliseum last March when the Beavers knocked off Niagara for the CHA title, it proved the regular season goes out the window once playoff hockey hits. NU went 3-1-0 against BSU last season, but fell to the defending champs in Motown.
"This is a new season now," Serratore said. "Each team in our league brings something different to the table. I don't think we have any pressure on us as the defending champions."
Bemidji State lost to the eventual national champion in both 2005 and 2006 at the NCAA tournament. Does that experience help?
Obviously, but in a perfect world, the CHA title goes down to the wire. Then the second season — which this year takes place at 95KGGO Arena, home rink of the USHL's Des Moines Buccaneers, last year's Tier I national champions — becomes just as unpredictable as the regular season.
It's happened before and odds are that's how the CHA will be this coming season.
Below are individual previews for each of the five CHA teams, listed in order of predicted finish. Each separate preview can be accessed by clicking on a given team's name.
Niagara
Last season: 20-15-1 overall, 13-6-1 CHA
Head coach: Dave Burkholder (88-83-12, 6th season)
2005-2006 team offense: 126 goals scored (1st)
2005-2006 team defense: 121 goals allowed (5th)
2005-2006 power play: 45-238 (18.9%)
2005-2006 penalty kill: 160-201 (79.6%)
2006-2007 predicted finish: 1st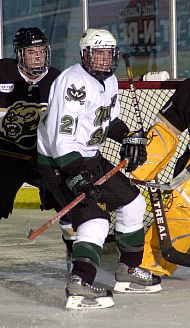 Bemidji State
Last season: 20-14-3 overall, 12-7-1 CHA
Head coach: Tom Serratore (89-72-20, 6th season)
2005-2006 team offense: 125 goals scored (2nd)
2005-2006 team defense: 97 goals allowed (1st)
2005-2006 power play: 39-229 (17.0%)
2005-2006 penalty kill: 217-253 (85.8%)
2006-2007 predicted finish: 2nd
Robert Morris
Last season: 12-20-3 overall, 7-11-2 CHA
Head coach: Derek Schooley (20-41-7, 3rd season)
2005-2006 team offense: 94 goals scored (5th)
2005-2006 team defense: 119 goals allowed (4th)
2005-2006 power play: 34-189 (18.0%)
2005-2006 penalty kill: 163-197 (82.7%)
2006-2007 predicted finish: 3rd
Alabama-Huntsville
Last season: 19-13-2 overall, 12-7-1 CHA
Head coach: Doug Ross (365-235-39, 22nd season)
2005-2006 team offense: 105 goals scored (3rd)
2005-2006 team defense: 103 goals allowed (2nd)
2005-2006 power play: 32-197 (16.2%)
2005-2006 penalty kill: 223-270 (82.6%)
2006-2007 predicted finish: 4th
Wayne State
Last season: 6-23-6 overall, 3-12-5 CHA
Head coach: Bill Wilkinson (101-122-24, 8th season)
2005-2006 team offense: 87 goals scored (6th)
2005-2006 team defense: 140 goals allowed (6th)
2005-2006 power play: 30-224 (13.4%)
2005-2006 penalty kill: 181-233 (77.7%)
2006-2007 predicted finish: 5th