It's the proverbial "nowhere to go but up" for Wayne State this season.
"I should hope so," WSU head coach Bill Wilkinson said. "I don't know how much lower we can go."
The Warriors won six games all of last season and had one two-game winning streak all year in a sweep of Merrimack at home in December. They finished the year on a horrid 1-8-1 bender and lost in the quarterfinals to Alabama-Huntsville in the CHA postseason tournament.
"Last year was physically and mentally tough on us, the whole nine yards," said Wilkinson, WSU's only head coach since its inception as a program in 1999. "But we never quit even amidst the injuries and the losing, so that would be one positive we can take from last year."
Wayne State is a senior-laden team this year, with its starting goalie, five forwards and four defensemen all gearing up for their last go-around in Motown. Leading the way offensively will be co-captain Jason Bloomingburg and Nate Higgins, two 10-goal scorers a season back. Bloomingburg tallied 20 in 2004-2005 and looks to reclaim that form this season.
Seniors Jason Baclig and Mark Nebus should add offensive touches and senior defensemen Taylor Donohoe and Dan Iliakis play in all situations. Junior forward Stavros Paskaris, the 2005 CHA rookie of the year, had an injury-plagued season in 2005-2006, but looks to rebound. Tylor Michel sat out much of last season with a fibula problem, but returned to score WSU's lone goal in the tournament loss to UAH.
"It seemed like last year that the harder we worked and the harder we tried, the worse it got," Bloomingburg said. "We didn't make the big plays when it mattered and we didn't get the bounces. This year won't be like that. Our training camp has been the hardest one I've been involved with since I've been here (Bloomingburg transferred from Providence in 2003-2004) and the guys have a better attitude because we've had all summer to think about those six wins."
The 6-23-6 WSU team of 2005-2006 is in the past and with the passing of that season saw the journey out of town of Wilkinson's two assistant coaches, Willie Mitchell and Damon Whitten. Mitchell had been with Wayne State since 1999 along with Wilkinson, but took a job as an assistant with Vermont. Whitten bolted to Alaska-Anchorage.
"To be a head coach in this business, you have to be an assistant and work your way up," said Wilkinson. "Willie got a heck of an offer from Vermont and he'll be an excellent addition out there. He's going to be a head coach some day."
On a team where finding positives some times can be rough, a couple can be found with a handful of freshmen. Goaltender Brett Bothwell will battle senior Will Hooper for playing time and forwards Jared Katz and Ryan Ward have shown some skill in early captain's practices. Defensemen Ryan Bernardi and Jeff Caister should also settle in nicely.
"We're going to work hard every game — we have to," said Bloomingburg. "No one's going to give us any wins and we're not handing two points over to anyone else. Last year we didn't get the bounces; well, this year we're going to have to make them ourselves."
Steady four-year defenders Greg Poupard and Steve Kovalchik graduated along with forward John May and goalie Matt Kelly. Last season's seniors were the last remnants of WSU's 2003 CHA championship squad. The Warriors have gone 29-64-13 since then.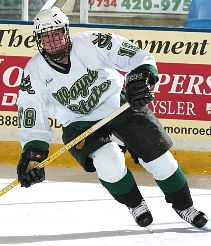 Two transfers hope to leave their mark at Wayne State this year in forward Jordan Black and huge defenseman John Nogatch. Black is a Michigan native who came over from Merrimack and will be eligible in January. Nogatch started 2004-2005 with Lake Superior State, but went back to play juniors and transferred last season. He's eligible right away.
Another skater, redshirt junior Mike Forgie, is back after nearly paralyzing himself in practice last year. He'll wear the other 'C' with Bloomingburg.
"Forgie, I guess, is a story all by himself," said Wilkinson. "He hurt his shoulder two games in as a freshman and redshirted and last year crashed into the boards."
Forgie's injury was a microcosm for WSU's season in 2005-2006, but if hard work pays off, Wayne State is in for a big payday in 2006-2007.