Rick Comley wants everyone to know that Michigan State is still Michigan State, even without Drew Miller.
"I think in our locker room, we believe in what's there," said Comley. "We believe that we have the opportunity to be a good team, we believe that if we go through the process properly and if we do everything it takes to be a good team by the end of the year, then we'll get rewarded.
"I think last year's team found out that you can get off to a good start and then go through a tough stretch — when we didn't win a game in November — and then you can put together a real good stretch of games together like we did in the second half.
"We're not about individuals, we're not about any one player; we just have a collection of good kids who work hard, and we're hopeful that it's going to be a very good season in East Lansing."
All right already, Coach.
This preemptive strike, issued at the league's 2006 Media Day, was designed to countermand any talk of a Spartan letdown without the presence of Miller, who opted to go pro after his junior year.
There is no question that Miller was the heart and soul of the 2005-06 MSU squad; more importantly, he helped hold together the 2004-05 team, the one plagued by injury and illness, the team that finished below .500 in league play with a rocky start and a very bad midseason.
But Comley's right. The Spartans are far more than the sum of any Millers, with all due respect to that family's legacy in East Lansing.
Take, for example, Tim Crowder. Crowder, as a freshman, netted six goals in postseason play last year, the very definition of "stepping it up."
Including Crowder, the Spartans return six double-digit goal scorers, a returning collective offensive output equaled only by the Michigan Wolverines — and with fewer marquee names.
Readiness
When the Spartans ignited in the second half of the 2005-06 season, going 12-3-3 in their final 18 regular-season contests, they did so by playing better than anyone else in the league in their opponent's end, with input from more than just Miller and fellow seniors David Booth and Colton Fretter. Crowder's classmates Justin Abdelkader and Tim Kennedy were certainly part of the offensive mix, and another freshman no longer a rookie in the second half, goaltender Jeff Lerg, came into his own.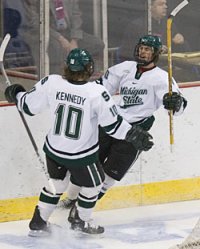 If the Spartans are to contend this season, they will do so because they are deep at every position, with talent spread throughout their classes. They will, as Comley said, work as a committee, but by midseason they should drop the false modesty of claiming to be a working-class team. If they pick up where they left off last season, they will clearly be among the elite teams in the country.
All they have to do, is keep on doing.
Resilience
This is a program that defines the word. It took some time for those in East Lansing to see the Comley light, to see the value in his vision of a different kind of post-Miller world.
As long as his team stays healthy, the only thing standing between the Spartans and success is, perhaps, the Spartans. And this is a team that knows how to recover from slumps, as it's clearly shown.
Reality
The reality may be that Drew Miller was the deciding factor. Look at Ohio State last year without JB Bittner, or Ferris State of several years ago with and without Chris Kunitz. Sometimes, that single player is what balances your chemistry.
Of course, the fourth R that the Spartans possess is Rick Comley, their head coach. He may not yet have an MSU team completely of his own making, but Comley's success is due to more than just his longevity in the game, no matter what he says.
"I know it's going to be a very exciting year," said Comley.
I believe him.