For a team that couldn't buy, borrow, or requisition a goal last year, this was bad news: junior Tom Fritsche, the Buckeyes' would-be lead returning scorer, probably won't be returning.
At the start of the season, Fritsche is still hospitalized in Cleveland with ulcerated colitis. Not only is this season uncertain for the Buckeye, but he may not be able to play hockey again.
"I truly don't know if it is something he can live with [as a hockey player]," said Markell. "This isn't 'When are we going to get him back?' It's 'Are we going to get him back?' or 'Is he going to play hockey again?'"
Fritsche's circumstances, said Markell, do put things in perspective. "At least he knows it isn't life-threatening. And it shows the guys how fast … things can be taken away from you at this or the next level."
While everyone is hoping the best for Fritsche, his loss is one that the Buckeyes may have difficulty weathering; he was just one of two players last season to score more than 10 goals (with 11), on a team that scored just 97 total for the 44th "best" offense in all of NCAA hockey. Senior Andrew Schembri returns having netted 12 last year.
The Buckeyes, the preseason No. 1 pick at the start of the 2005-06 campaign, finished 10th in CCHA play last year, a solid defensive team that couldn't find the basket with the biscuit … and how is that going to change this year?
Readiness
During OSU's darkest times last season, captain Nate Guenin insisted that the coaching staff had more than adequately prepared the squad for every opponent, so preparation isn't an issue this season.
It's more a mindset with the Buckeyes. From 2004-2005 to last year, OSU lost one key player, captain JB Bittner, the guy that apparently held it all together for the Buckeyes. Guenin had a terrific senior season and led as well as he could by example, but still OSU was inconsistent from game to game, opponent to opponent.
Markell said that it was the lower-tier teams that did them in, and he's right; given that the Buckeyes went 1-4-1 against Western Michigan and Bowling Green, the two teams at the bottom of the CCHA standings, it's a wonder that the Bucks finished as high as they did.
The mental toughness that OSU displayed two years ago was completely missing last season.
Resilience
That brings us, of course, to resilience. Can Ohio State bounce back? Under Markell, the Buckeyes have shown that they can rebound from an off year or two … but there's always something with the Buckeyes.
"We started off with such high hopes," said Markell of last season. "We kept hearing that No. 1 ranking. Six guys with broken bones…we just didn't have that last little bit of firepower. I guess you have to go through years like that to appreciate where you're at or where you're playing."
And now Fritsche's gone. And would-be junior goaltender Ian Keserich, who opted out.
Yup. It's always something.
Reality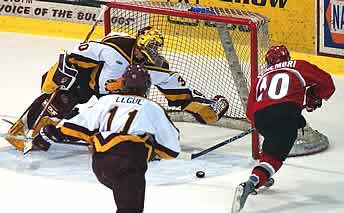 The Buckeyes have to score goals.
"The strength of our team is our defense," said Markell. "You've got Jason DeSantis back from his injury. You've got Johann Kroll, our highest plus-minus, so we're looking for things from him offensively."
But what about the goals?
"We feel good about our defensive responsibilities. Our guys are willing to block shots."
Um, the goals?
"We're going to have to score by committee. You lose Fritsche, but you're gaining a guy like Goebel, who's a good offensive player. Matt Beaudoin is back and hungry. Schembri had a great second half. Corey Elkins is a kid that possesses some offensive skills. We're going to call on him to produce. That's why he's here."
Yes, there are skilled offensive players returning who didn't have the seasons they would have liked last year. Yes, former Spartan Tom Goebel is eligible to play this season after transferring at the end of the 2004-05 year.
And, yes, no one doubts the Buckeyes are good defensively.
But there's that little matter of goals …
And did I mention a brand-new guy in net?
It would help if the Bucks learned to stay out of the penalty box, too.