It is becoming a tradition that the Minnesota Gophers lose an abundance of key players every year.
Equally traditional, however, is that they bring in talent capable of filling those voids, and this year is seemingly no different.
The Gophers lost four of their top five scorers, and defenseman Alex Goligoski is their leading returner. But all seems well for Minnesota, which was picked as the co-favorite in the coaches' poll to finish atop the league and defend the MacNaughton Cup.
"It's kind of a big change in our locker room, obviously, from a year ago," head coach Don Lucia said. "The freshmen are obviously going to have to play a big role on our team this year."
In fact, Lucia posed pretty much every question that is on the minds of college hockey fans around the country at Tuesday's WCHA teleconference.
"Can (the older players) make another step in their development?" he said. "Can Tyler Hirsch return to the level that he was when he was our leading scorer?"
Hirsch will be one of the most intriguing stories in the league as the season rolls along. After leading Minnesota in scoring with 11-33-44 two seasons ago, he took a medical redshirt last year.
If he returns to form, he will certainly provide a spark and fill some of the gaps.
But like many teams, Minnesota will rely on freshmen up front. They brought in three players from the U.S. NTDP who should be ready to step in right away along with Kyle Okposo, who showed he can score in the USHL and got some attention as a potential Rookie of the Year candidate — though his teammate, defenseman Erik Johnson, took the honor.
"The good thing is we have four kids that are coming from Ann Arbor," Lucia said. "Some of these freshmen are going to be put in key situations from the get-go. They're going to have to play and grow up in a hurry."
Up Front
Like many teams, this is where the real questions lie. But it seems like Minnesota has more legitimate answers than anyone else. If Hirsch is back and ready, he can take this team places.
But he will not necessarily make or break this team, especially with three forwards stepping in from the NTDP in Mike Carman, Jim O'Brien and Ryan Flynn.
Lucia also said he hopes Mike Howe — the team's leading returning goal-scorer — is on track to step into a role where he scores about 20 goals.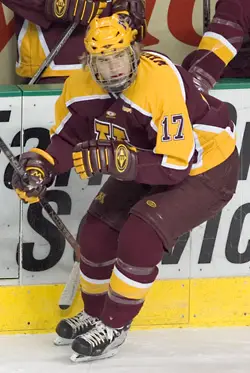 Ben Gordon and Blake Wheeler will also be expected to step up.
On the Blue Line
Paired together, the team's leading returning scorer in Goligoski and the NHL's No. 1 overall pick in Johnson should be one of the premier tandems in the league. Both are not only solid on defense, but are two-way players who are capable of filling scoring holes as well.
"With Erik, what you're going to see is a two-way player," Lucia said. "He's a big defenseman who can play all facets of the game."
The Gophers did take a hit in losing Nate Hagemo, who will be unable to return from an injury, leaving the team with just seven defensemen. It will be imperative that this unit stay healthy.
In the Crease
Senior Kellen Briggs led the way for the Gophers last season, going 21-6-3, but is still trying to prove critics wrong by playing more consistently.
Sophomore Jeff Frazee stepped in at times and went 6-3-2 and is sure to battle for starts this year as well.
"With the goaltenders coming back, they'll provide good competition with each other," Lucia said.
Across the board, it comes down to consistency game in and game out. After going 20-4-1 to end the season last year, this team has proven it knows how to be consistent.