Every year there is a team that surprises in the WCHA. This year's top candidate to fill that role is Minnesota-Duluth.
Sure, the Bulldogs finished a dismal ninth a year ago, but it was a rebuilding season and one that should springboard UMD into a successful 2006-07 campaign.
Head coach Scott Sandelin will look to his sophomore class to boost his team up the standings, perhaps even into the upper half of the league. Consider this: Eight of the team's top 11 scorers last year were freshmen.
This team will show what a difference a year makes.
"Certainly they're kind of our core group," Sandelin said of the now-sophomores. "We feel we've got a good group there that got an opportunity to play a lot and learned, kind of the hard way at times, but got a lot of experience."
Improving special teams could take this team a long way. Eighth and 10th in power play and penalty kill a year ago, it all starts there for the Bulldogs.
And when talking about special teams, especially the penalty kill, it really comes down to goaltending, a spot where Sandelin will have some decisions to make.
Junior Nate Ziegelmann saw action in eight games a year ago and senior Josh Johnson seven, as now-graduated Isaac Reichmuth saw the brunt of the starts.
It should be an interesting battle between Ziegelmann, Johnson and rookie Alex Stalock, a highly-touted netminder who comes from Cedar Rapids of the USHL. He was 28-13-3 and could wind up being the starter and difference-maker on this team.
"Obviously it's a good battle," Sandelin said. "I didn't bring Alex in here to sit, so he's probably the lead candidate right now but that could certainly change."
It is that potential, yet uncertainty, which makes this team the darkhorse in the WCHA, a tag that Sandelin is a little unsure about.
"We'll see," he said. "I certainly like our group. I think we've got a good mixture. We're excited, but obviously being in this league you're very cautious because a lot of teams are improving. Time will tell."
Yes it will.
Up Front
Sophomores Mason Raymond, Andrew Carroll and Michael Gergen all posted double digits in the goal category in their rookie years and will only improve from there.
MacGregor Sharp, Matt McKnight and Nick Kemp, with another year under their belts, will all be capable of hitting the 10-goal mark as well as this team searches for more goals.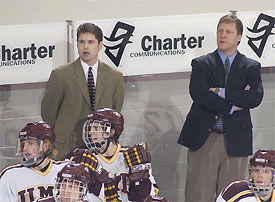 Rookie Mitch Ryan proved that he could score in his time in the USHL and it will be interesting to see if fellow rookie Jordan Fulton can make the jump straight from prep school to the college ranks.
On the Blue Line
Sophomore Matt Niskanen led all defensemen with 14 points last year and the biggest loss on the blue line was Steve Czech, who had eight points.
This group definitely has some depth and should be helped by the addition of former U.S. NTDP defenseman Trent Palm.
But the defensive corps will probably be asked to do a lot. Not only could they be charged with helping out a freshman goaltender behind them, but also to step up and help on the offensive end, something that they really did not do last year.
In the Crease
As noted above by Sandelin, he did not bring in the freshman Stalock to sit on the bench. He will get his chance to prove himself the regular starter and could take this team to the next level.
There is a reason he received votes for the preseason Rookie of the Year by the league's coaches.
However, the transition may not be easy. Luckily, Sandelin has a couple of veterans at his disposal who have shown they can play and win in the WCHA.