If Troy Jutting's Minnesota State team has shown anything over the past few years, it is that the Mavericks have a knack for playing their hearts out and using that energy to grab league points.
It has to be a good sign for him, then, that despite the fact that his team is like most — full of youngsters — that the underclassmen are continuing to bring that mentality to the rink.
"The one thing that I've been impressed so far with this group, is the overall speed and competitiveness," Jutting said. "I think one of the things that we've been able to do is play pretty hard as a team, and I think this group of freshmen exemplifies that."
The Mavericks are going to need some help from those young players up front after losing key players from last season in David Backes, Ryan Carter and Rob Rankin.
Then again, in Jutting's mind, the forward position is the best place to have young players.
"There's a lot of new stuff going on and a lot of learning that needs to take place," Jutting said. "While we're very young … most of those kids are up front. And I guess if you're going to be young, up front is the place to be."
While those young players adapt to the college level, sophomore goalie Dan Tormey will be called upon to take his game to the next level.
Tormey was the All-Rookie Goaltender last year and posted respectable numbers, going 14-13-4 with a .902 save percentage and 2.83 GAA.
"With Dan Tormey back and (Mike) Zacharias back in net I feel fairly comfortable with our goaltending situation," Jutting said. "It will be a matter of how fast those young forwards really adjust to the pace and the speed of the WCHA."
Up Front
The Mavericks return their leading scorer in Travis Morin (20-22-42), but as the only player coming back with more than eight goals, you can expect opposing teams to clamp down on him.
Juniors Joel Hanson and Austin Sutter are prime candidates to use their experience to step up their games, along with Mick Berge and Jon Kalinski. Jutting has also brought in a couple of freshmen whom he says can contribute right away.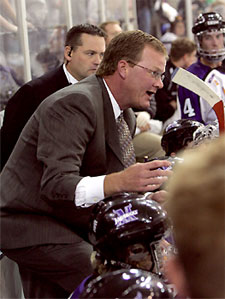 Geoff Irwin scored 88 points in 57 games in the BCHL last season and Kael Mouillierat had 71 in the AJHL. It will also be interesting to see if Nick Canzanello can make a quick jump, coming from prep school.
On the Blue Line
Jutting said he felt pretty comfortable with the amount of experience in his defensive corps, despite the fact that the Mavericks return just two defensemen who scored more than four points a year ago.
"I don't know that we have the real flash back there that maybe we had with Kyle Peto … but I think we have very solid kids," Jutting said. "They are big kids that can skate … and they're going to need to be very strong defensively very early."
In the Crease
Tormey's confidence should be at an all-time high heading into his sophomore season. He put up strong numbers, as did classmate Zacharias, as they helped Minnesota State get 11 of its 17 victories after Jan. 1.
They both showed the ability to beat strong teams down the stretch and as Jutting said, he is comfortable with either one of them heading into their sophomore season.