Second-year head coach Dave Shyiak knows where the Seawolves have to improve to move up in the WCHA ranks; it's just a matter of getting them there.
Alaska-Anchorage has a capable goaltender in Nathan Lawson, but got absolutely no help last year as his teammates were last in the league in scoring and second-to-last in both the power play and penalty kill.
The team looks to have shored up some of those concerns this year by adding some high-scoring freshmen. Ken Selby, Kevin Clark, Josh Lunden and Trevor Hunt all scored at least 57 points in Canadian junior leagues a year ago.
"It's a totally different look this year," Shyiak said. "We've addressed a lot of the needs … and as everybody knows, I think you have to recruit guys that have the ability to score."
Unlike most teams in the league, Alaska-Anchorage really lost very little, at least in terms of offensive output, from last year's squad. The most notable player gone is Ales Parez, who put up 6-7-13.
That has to be healthy news for Lawson, who put up a .908 save percentage last year, but came out with just a 4-11-3 record.
The Seawolves really have nowhere to go but up on the offensive end. They are coming off a season in which no player tallied double-digit figures in goal-scoring and their leading scorers posted just 15 points.
"If we're going to gain some wins in the league this year, we've got to be good on the special teams," Shyiak said. "Our freshmen are certainly going to help."
They seemed to help last weekend when the team took on the U.S. NTDP team and scored nine goals in a victory. Nine goals probably will not become a habit, but it is a good place to start for a team that was 58th in the NCAA last year in scoring.
"We're hoping to jump by some teams," Shyiak said.
Up Front
Chris Tarkir led the way in his sophomore year, scoring eight goals. and classmate Merit Waldrop contributed seven. Those players will have to take it to the next level if this team wants to move up in the league.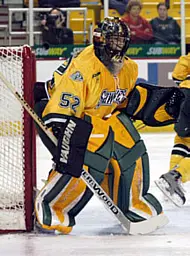 The veteran players should feel some pressure and should be hungry to take this team up in the standings, especially with some talented rookies that will be counted on early and often.
Selby, Clark and Lunden all scored at least 34 goals in either the MJHL or the BCJHL last year, proving that they have the knack of finding the back of the net. We will see if they can do that in the WCHA.
On the Blue Line
The only major loss here is Spence Gilchrist, who put up 0-8-8 a year ago, so the Seawolves should be well-stocked on defense.
Shyiak said he is looking for Luke Beaverson — a Florida Panthers draft pick — to step up his game in what will be his junior season.
The key for the defensive corps will be trying to cut down on the shots that get to the goalie, Lawson.
In the Crease
Lawson has shown flashes off brilliance at times in his career. But despite his efforts, it is hard to carry a team when the players in front of you allow 50 shots on goal weekend after weekend.
"I think we're going to be led by our goaltending," Shyiak said. "When he's at his best and he's healthy, he's certainly capable of being one of the better goaltenders in the league. He can steal a game or two."
If he can continue to steal a game or two, and the players in front of him can pick it up a bit, then Shyiak's goal of jumping some teams in the standings could become a reality.