There sure are some young teams in the WCHA, but as far as the youngest, you have to look at North Dakota.
So what is the focus this year? In a word, development.
"We're a very young team with a theme of development and overall improvement from week to week throughout the year," head coach Dave Hakstol said. "At this point in time we have 18 freshmen and sophomores out of eligible player pool of 25 guys."
The team will have to grow up very quickly, too, with two teams in Wisconsin and Maine that made Frozen Four appearances a year ago on the Sioux's October schedule.
Of course, North Dakota was pretty green last year, and it was not just the team's uniforms. Considering almost all of the leading players coming back will be sophomores, this team has a good base.
And it was a team with plenty of freshmen that showed that they can win.
"We know that we have some good ability, but they still have to prove that they can step up and play a prominent role night in and night out," Hakstol said. "And those are the guys that will be keyed on by the opposition."
While many teams lost their one-two scoring punches — Robbie Earl and Joe Pavelski at Wisconsin, Marty Sertich and Brett Sterling at Colorado College, etc. — the Sioux should be strong in that regard.
Sophomores T.J. Oshie and Jonathan Toews showed the league a thing or two last year, combining for 84 points. They were rewarded with votes as potential league Players of the Year.
It is another case of stepping up and filling gaps — and especially finding a consistent goaltender — but it would not be all that surprising to see North Dakota playing in the last weekend of the college hockey season again next spring.
Up Front
Sophomore Ryan Duncan and his classmates Oshie and Toews bring back a combined 120 points from their rookie efforts. If they can take their game to another level, the Sioux could be scary good on offense.
But it is some of those mid-to-low range scoring players from last season that Hakstol says will need to step it up to draw defensive pressure away from those high-end scorers.
Andrew Kozek, Matt Watkins and Rylan Kaip are all forwards who have been drafted by NHL teams, but they were called on minimally at the offensive end.
"There's a lot of names there that I can mention," Hakstol said. "They have to take advantage of the opportunity to step up into more prominent roles."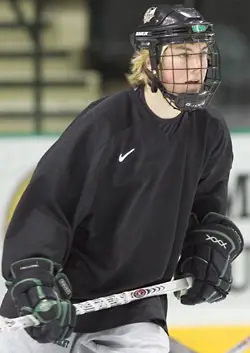 The Sioux will also look to rookie Darcy Zajac, who scored 80 points last season in the BCHL. And they also have a pair of players that should be intriguing to watch as they try to make the transition from high school to college.
On the Blue Line
UND lost a leader in Matt Smaby on defense, but otherwise should be sound heading into the season.
Sophomore Brian Lee returns after a rookie campaign that saw him tally 27 points.
"We don't have a lot of changes from last year," Hakstol said. "We're dominated by a sophomore group back there that is still developing."
The third-year head coach will also look to Robbie Bina and freshman Chay Genoway.
In the Crease
Philippe Lamoureux appears poised to take over the everyday role in net for the Sioux after a sophomore year where he went 5-7-0, but put up respectable numbers.
Hakstol is counting on him and counting on history repeating itself.
"History sometimes can predict the future to a certain degree, and Phil has been most effective when he's begun the season as the No. 1 guy," Hakstol said. "Although he's got a pretty high level of competition … he's starting the year as the No. 1 guy with the opportunity to take the ball and run with it."