It's going to be tough to top last season, but the Holy Cross Crusaders are going to try.
For starters, there won't be a team in the land taking the Crusaders lightly, not after Holy Cross' dramatic 4-3 win over Minnesota in the NCAA West Regional. Also, coach Paul Pearl and company will be without six key players from last season, including leading scorer and overtime hero Tyler McGregor and star goaltender Tony Quesada.
"We lost a lot, but we have a lot coming back," said Pearl. "We'll be a work in progress for a while, but I think we'll be all right."
Quesada will be especially hard to replace, logging 105 games in net in his career, and registering a .925 save percentage last season. Holy Cross will looks to recruits Ian Dames and Tyler Chestnut, both star netminders from the CJHL, to fill the big skates.
"We have two freshmen (in net), and they've got to learn to play at this level. They only way they're going to do that is to get out and play. Tony Quesada wasn't Tony Quesada his first day. The quicker they adapt to the college game, the better team we'll be."
Pearl says he expects to platoon the two rookies and see what develops.
"We'll spend the first half (of the season) flip-flopping them and getting them experience. I don't want to go with the hot hand early. Just because one might get hot out of the chute doesn't mean he's the long-term starter."
Forwards James Sixsmith (40 points last season) and Dale Reinhardt will be called upon to replace the 99 points produced by McGregor and Pierre Napert-Frenette last season.
"We need some guys to step up. It's their turn now," said Pearl. "Guys like (Brian) Kolb, (Dewey) Thomson and (Cal) St. Denis were important role players for us last season, but now they have to take on a bigger role."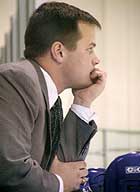 Pearl is not worried about expectations put on his team after last season's success.
"I don't think there'll be a letdown. Every year is different. We're going to try to stay in the hunt and be one of the last four teams playing. If you get that far, anyone left has a shot. The regular season isn't always a predictor of the playoffs, but you have to put yourself in a good position."
One things for sure, the Crusaders won't be sneaking up on anyone this year, in or out of Atlantic Hockey.
"I was amazed at some of the condescending questions we got before we played Minnesota," Pearl said. "You'd think we were Hickory High coming to the big city for the first time. They didn't realize that we have a lot of quality teams and quality players in this league."
They do now.