Maine's resilience shone through last year both as a program and as a team. After losing All-Everything goaltender Jimmy Howard, the Black Bears were expected by many to fall on comparatively tough times. Howard had stood head and shoulders above all others as the team's go-to guy, its one indispensable part.
Instead, Maine roared out of the gate, winning seven of its first eight games, several over heavyweights. Then the tough times did hit, and in mid-January it became put-up-or-shut-up time.
The Black Bears forced their doubters to do the shutting up, however, charging into the postseason with only a single loss to New Hampshire after Jan. 20. Although they lost to Boston College in the league semifinal, they advanced to yet another Frozen Four before losing in the NCAA semifinals to eventual national champion Wisconsin.
Come rain or shine, it seems, Maine rolls on. The NCAA Selection Show may still be six months away, but you can already count on the Black Bears being in one of the brackets.
"We certainly like to believe that we can be there, but every year is different," Maine coach Tim Whitehead says. "Last year was a pleasant surprise for us in some respects after losing Jimmy. This year we hope to surprise a few people again. But you have to be careful. There are so many strong teams in college hockey."
How will Maine do it this time? Last season, a stronger offense overcame Howard's loss. This year, the opposite might be true. Four of the top eight scoring forwards — All-American Greg Moore, Derek Damon, John Hopson and Jon Jankus — have graduated. Even so, seniors Michel Léveillé (16-24–40) and Josh Soares (15-26–41) as well as juniors Billy Ryan (10-18–28) and Keenan Hopson (4-19–23) form a strong nucleus.
"We're going to have to wait and see." Whitehead says. "That's a work in progress. Last year, we put a lot of effort into improving our offense and our power play and we got good results. [But] we also had a very good senior forward class.
"I think we've got guys coming back who can take over those roles and hopefully a couple freshmen can step in and help us. We didn't get a lot of offensive contribution from our freshman class last year, but hopefully this year we do get more and that's going to help us."
Despite all the scoring that has departed, the losses of defensive defensemen Steve Mullin and Travis Wight may be felt even more severely. Bret Tyler and Mike Lundin return to keep the offensive dimension strong on the blue line, and Travis Ramsey recorded a plus-minus of plus-11, second only to Wight's plus-15, but Mullin and Wight will be tough to replace.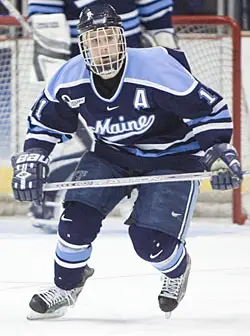 "Oddly enough, those might be the biggest holes to fill of all," Whitehead says. "Mullin and Wight were very valuable defensive players. Looking at the point production from the outside, someone might think that those are easy holes to fill, but it's going to be very difficult.
"Both of them were great leaders for us. They were great competitors, guys you wanted on the ice in the last minute, They're going to be very tough to replace, but that's all part of the process. We've got some young guys who we're excited to see expand their roles."
Considering the holes on the blue line and at forward, goaltender Ben Bishop (2.28 GAA, .907 Sv%), who often excelled as a freshman while evoking comparisons to Garth Snow, will be counted on to take his game to the next level. With backup Matt Lundin off to the USHL for a year, freshman David Wilson provides the depth.
"Ben had a tremendous freshman year," Whitehead says. "He was thrown into it a little unexpectedly; he thought he was going to be Jimmy Howard's understudy for a year. But to his credit he did a fabulous job helping us get to the Frozen Four again.
"This year, it's going to be exciting seeing Ben take his next step, elevating to become an elite player at the collegiate level. That's a challenge I know he's looking forward to.
"David Wilson had a real good postseason run so we expect he'll challenge Ben right away. I know David's looking forward to pushing Ben and getting his own ice time. We've got to wait and see what happens, but I'm excited [about that position]."
Count on seeing the Black Bears in action late-March.