Last year, Massachusetts certainly enjoyed high notes, particularly wins over Boston University, Boston College, New Hampshire, Colorado College and two over Vermont. In doing so, the Minutemen proved that they could beat just about anybody. There were also two three-game win streaks. UMass finished eighth in the league with a 10-15-2 record, an improvement over the previous season's 6-16-2.
This year looks like another baby step forward for the program, but cracking the top six appears unlikely. Three mainstays of the program are gone — goaltender Gabe Winer, forward Stephen Werner and defenseman Marvin Degon — not to mention Jamie Solon. How smoothly they are replaced remains a big question.
"Marvin Degon had a career year last year and Stephen Werner was just a great player in his own right," UMass coach Don "Toot" Cahoon says. "Gabe was someone that we had a lot of success with from time to time and Jamie Solon was a constant. So there are four guys who will be truly missed.
"[But] I think the depth of the program is stronger now than it's been since I've been here. The issue will be who is going to emerge as the top-end player. Who are those guys who can really be difference-makers. We're waiting to see who develops into those players.
"I think we're going to be a good team in a very good league. What that means I'm not quite sure. If we play well as a good team then we'll have some successes. If we don't then obviously this league will eat you up."
In goal, Jon Quick (2.98 GAA, .920 Sv%) appears ready to succeed Winer based on a strong showing as a freshman.
"He's certainly is plenty athletic enough," Cahoon says. "His upside is right up there with the best of the goalies out there. What he needs to do is mature and develop, like all young players do. If he does a good job with that then the consistency factor will set in.
"Last year for John was a year of great growth and learning. If there was a struggle maybe he was somewhat inconsistent. I think that will take care of itself as he matures, because he's certainly capable."
Freshman Dan Meyers will back up Quick.
On the blue line, no one player will fill Degon's role.
"It will be by committee," Cahoon says. "I don't think you can take a guy like Marvin or in the past like Tommy Pock and say this guy's going to come in and fill that void. What we do have in this position is the best depth that we've ever had in the history of the program and certainly in the six years that I've been here."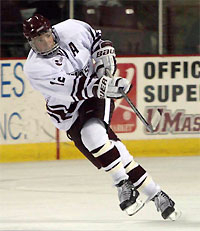 That depth includes Mark Matheson, who was recruited as a defenseman but has played a lot at forward, juniors Mike Kostka, David Leaderer and Patrick Dineen as well as sophomores Topher Bevis and John Wessbecker. Freshmen Martin Nolet, Justin Braun and Kevin Kessler will push the veterans.
"We've got a good number of players that have shown that they can play at this level and a couple of good kids that might be high-end kids," Cahoon says.
Up front, the scoring will be led by fifth-year players Matt Anderson (7-13–20) and Chris Capraro (8-11-19). Anderson redshirted in 2003-04 with a shoulder injury and Capraro missed all of the following year. Both had their most productive seasons as freshmen, Anderson with 31 points and Capraro with 23, so the potential for larger offensive contributions remains. Chris Davis and P.J. Fenton round out the top scorers.
"Matt Anderson has had the benefit of getting a good year under his belt [after two injury-plagued seasons] and I would like to think that he'd be a very good player up front in this league," Cahoon says. "Chris is back for his last year and he'll be a good player at this level.
"I also think we had a good recruiting class and they're going to make a nice contribution, but they're not going to win the league for us. Very rarely does that happen unless they're Paul Kariya.
"We're not star-laden like some of the other programs, but we have some very good players that I think are anxious to show themselves."