It was a trying debut behind the bench for first-year coach Mark Dennehy, as the Warriors suffered through a ten-game losing streak in December and January, ultimately going 2-16-3 in their last 21 games of the season after a promising 3-3 start.
That said, Dennehy realizes that neither Rome nor North Andover were built in a day.
"When I came last year, I knew and the players knew that we had a lot of hard work ahead of us," Dennehy said. "I've got on my desk Shawn Walsh's record his first two years at Maine. He was a cumulative 23-59-3. He wasn't any less of a coach the first two years than in the third year when they went .500, or when they won Hockey East. What it takes is a concerted effort on the recruiting front to bring in good players and holding the players to a certain set of standards.
"I'm happy to say that the guys we have returning have met those standards. When you talk about a guy like Ryan Sullivan who has a chance this year to be a three-time Hockey East Scholar-Athlete of the year — which is unprecedented — and add to that the fact that he's logging 35 minutes per game for us, those are things to be excited about. We've got a fresh outlook with ten freshmen and a transfer who will eligible this year. So right now there's only one way to look at it: Right now we're tied for first place, and we're also tied for last place. We're looking forward to the season; it's the best time of the year."
Playing in the most competitive college hockey league in the country, Dennehy is clearly tantalized by the slim margin that separates a win from a loss in Hockey East action. "Last year in 34 games, we went into 23 third periods either up a goal, down a goal, or tied," Dennehy said. "Those were 23 times that we gave ourselves the opportunity to win. Those are what we need to do on a more consistent basis. Hopefully we're a little deeper this year with ten freshmen coming in; hopefully some of the guys coming back will have better years."
The most promising sign for the Warriors is the return of sophomore Patrick Watson and senior Jim Healey between the pipes. Watson's 2.71 goals against average in league play, along with his .920 save percentage, are indicators that Merrimack should be able to stay close against ostensibly stronger, deeper opposition. "I know one thing for sure — we've got outstanding goaltending, which can really be a difference-maker overall," Dennehy said.
Rob Ricci (10-16-26) leads the returning forwards. Obviously, though, other returnees and newcomers will need to chip in much more if the Warriors are to avoid another last-place finish.
"Of the guys coming back, Matty Byrnes is a guy who gets a lot of chances," Dennehy said. "He's got incredible speed. I think, as a matter of fact, in one of our games against Maine last year he had three breakaways. But he's also the kind of guy who needs to throw a lot of spaghetti against the wall to get some stick. So I think he's going to get a lot of scoring chances and put some more in this year.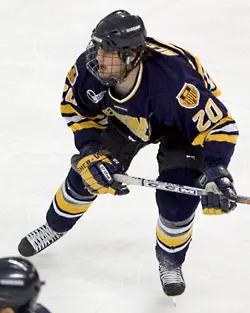 "Mike Alexiou was one of our leading scorers his first two years. I expect him to score more than two goals this year."
With a huge cast of characters coming into the mix as recruits, Dennehy cited a few who should play critical roles from day one.
"A guy that might be productive for us from the get-go is Mike Vaskivu, who scored a lot of goals at the prep school level," Dennehy said. "He's one of those guys that everyone talks about the five-hole: To me the five-hole is like Sasquatch. I've never seen it. He's one of those guys who knows where it is.
"A guy like Pat Bowen, who played for the New Hampshire Monarchs last year … We tried to bring in guys from successful programs."
Dennehy and his staff are hoping that it will help to bring in players who are used to success and who will not settle for less. The goal is to make the playoffs — not as modest an objective as it may sound given how deep the league is these days.
If all of the planets align, Merrimack could finish as high as seventh or eighth, depending on how quickly some very young teams in Northeastern, Massachusetts, and Massachusetts-Lowell develop.