Providence was the surprise story in the early going, going 9-2-1 in its first 12 Hockey East games last season and cracking the national top ten. With first-year coach Tim Army emphasizing offense, the team proved to be vastly entertaining as well as successful.
But the Friars faltered during the stretch run, going 3-7-2 in their last 12 Hockey East games. Was it just the fact that an offensive-minded approach doesn't hold up as the league moves toward playoff season? Quite the opposite, Army says. He believes it was a combination of injuries and the players losing the courage of their convictions in the high-tempo game.
"I think what happened to us was that he we ran into a couple of injuries, and our depth wasn't there in the speed department," Army said. "Certainly some teams were probably more prepared to play us, but I think the bigger thing for us what that as we got into February we started looking ahead. At one point we were ranked ninth in the country, and we started thinking 'We've got to win to stay there,' or 'We've got to win to hold home ice.' And that's the wrong approach — that's the inexperience of our lineup.
"In those games we lost our aggressiveness and thought a little too much about the stakes instead of just playing. As a coach, I don't ever want to play the score or the clock. If we're up 2-1, I want to win 3-1. If it's three minutes to go and we're on a rush, I want two defensemen jumping into the play. I want to outnumber them; I want to try and score.
"I think we were comfortable with that for three-quarters of the year, and then all of a sudden we were, 'Let's try to hold on.' We lost three leads last year late in games — six points — and as I evaluated it over the summer, we just took our foot off the gas."
Army is determined to make sure that the team will have enough personnel this year to sustain the attack at all times. "We're better. We're deeper; we're faster. We're more creative. We lost three players and replaced them with eight players who fit the model we're trying to create.
"We added two forwards up front: Chris Eppich from Chilliwack in British Columbia, the leading scorer in the British Columbia Hockey League last year, a combination of speed and skill; and Johnny Cavanagh from the famous Cavanagh family in Rhode Island. Johnny is as smart a two-on-one hockey player as I saw all of last year. He was part of the Salisbury School team that won the New England championship; he was also part, before that, of Colgate High School, who finally beat Mount St. Charles in Scholastic League play.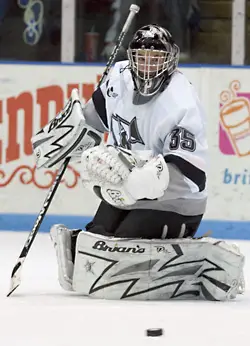 "On the back end we've got Mark Fayne from Noble and Greenough, the MVP of the Independent School League last year, a big 6-3, 225-pound defenseman, fifth-round draft pick of the New Jersey Devils. He's a combination defenseman who can play in any situation. He can add offense; he's physical; he's mean. And then we added David Cavanagh, Joe Cavanagh's son, Johnny Cavanagh's cousin. David fits the mold of what we want. He has a great offensive mind and moves the puck extremely well with willingness to get up on the rush.
"And then we added Ryan Simpson in the net, a real good complement to Tyler Sims. He's going to play — more than Stephen Ritter did last year. He gives us two things: He can play; he's capable of playing at this level. And we can give Tyler a little bit of an opportunity to share games in the first half and be fresher. I think he got tired late."
The Friars also get John Mori, a sophomore, back after he suffered a season-ending triceps injury last year in first game. This cluster joins a solid nucleus, led by top goal-scorer Jon Rheault.
"He's great around the net, explosive speed, and a great release on his shot," Army said of Rheault. "I call him a slasher — he comes up the ice and sees a hole and slashes through it. I played him and Colin MacDonald every other shift in New Hampshire [in the Hockey East quarterfinals]… He and Colin MacDonald can really drive the offensive engine of our club. He can really begin to become an elite player in Hockey East.
Add in the leadership of Tony Zancanaro along with leading table-setter Chase Watson and offensive-minded blueliner Cody Wild, and we could see the Friars racing toward home ice this season.