And so it goes.
Another year opens with Boston College as the top preseason pick within Hockey East, fresh off a great run at the national title followed by the departure of considerable talent.
Have we heard this song before? The lyrics may change from year to year, but the beat remains the same. The Eagles will be a handful, both within Hockey East and the NCAA tournament.
Last year, the exceptionally young Eagles had numerous holes to fill, but spent most of the season atop the league. Stumbles down the stretch opened the door for Boston University to leapfrog them in the final weekend and then knock them off again in the Hockey East championship game. It was a bitter pill to swallow, especially at the hands of their archrival, but BC exacted at least partial revenge with a 5-0 win in the NCAA regionals to advance to the Frozen Four. There, the young-but-grown-up Eagles came within a clanged post at the final buzzer of forcing a national championship game overtime in front of an arena filled with hostile fans.
This season, despite two huge losses in Hobey Baker finalist Chris Collins and All-American Peter Harrold, the Eagles appear to be an even stronger club. They took all but one coach's vote in the league preseason poll as Hockey East's expected standard-bearer as well as tying for the No. 1 slot nationally.
Not that BC coach Jerry York is putting a lot of stock in everyone else's high expectations.
"It's a poll," he says. "It's early season. We lost Peter Harrold and Chris Collins, who were First-Team All-Americans last year and really had a big impact in how successful we were. Can we get around their departure?"
Although he isn't counting the proverbial chickens before they hatch, York is confident.
"I feel pretty good about our returning players."
Heading that list is goaltender Cory Schneider, the team's other First-Team All-American. The junior set BC records last year for shutouts (eight) and saves (1,088). The former is a testament to his prowess, the latter a combination of that excellence and the extreme youth of the blueliners. Presumably, a more mature group in front of him will make for fewer required heroics.
"We certainly hope so," York says. "We gave up a lot of shots last year. Our goaltenders haven't been accustomed to being on the receiving end of that. We'd like to tighten up defensively and make things easier for Cory."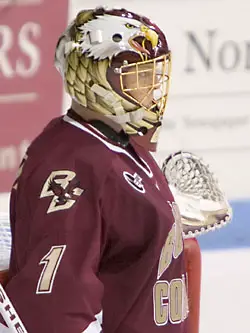 As a result, the blue line promises to be a key position. Harrold is the only loss, but he excelled at both ends and logged significant ice time. The most attention will be on last year's four freshmen: Brett Motherwell, Anthony Aiello, Tim Filangieri, and Tim Kunes. Motherwell is the proven stud in the quartet, totaling 23 points. The progress of all four will go a long way toward determining BC's fate. Mike Brennan, who could team with Motherwell as the leaders of the group, and Brian O'Hanley fill out the cast of returning blueliners.
"The maturity of those sophomore defensemen [will be pivotal]," York says. "I also think Mike Brennan will really be a leader on defense. He won't fill Peter Harrold's role. Peter was more offensive; Mike is more of a hard-core defensive defenseman. But he'll certainly be a leader for us back there."
Up front, Collins and Stephen Gionta are gone, but Brian Boyle (22-30–52) spurned the NHL's overtures to return for a senior year that should be dynamic. He'll clearly be the go-to guy, but Benn Ferriero, Brock Bradford, and Nathan Gerbe all impressed as rookies and should be ready to move into larger roles along with junior Dan Bertram and senior Joe Rooney.
"Brian Boyle is going to have a tremendous year for us and he'll have a long-time NHL career afterwards," York says. "We're proud of him coming back for his senior year. Sometimes the confidence you gain by becoming a dominant, dominant player at this level pays dividends at the next level.
"Joe Rooney is going to be another leader for sure and we're hoping that Danny Bertram has a breakout year. He has all the makings of joining that group of elite players. Nathan Gerbe should have his best year. He's only a sophomore, but he's shown a real step up from last year."