"The arena is awesome," Ed Gosek said. "Well thought out, well planned. I give our President credit for having a vision. She wanted it at the center of our campus, and it is the center of campus activities."
It may be the center of SUNYAC activities if Oswego can finally turn another healthy recruiting class and loads of talent into a winning formula come playoff time. Unfortunately, for the past two years, that has not been the case. A fine regular season turns into home disappointment at the hands of Plattsburgh. Even in Romney's farewell.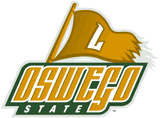 "To get over that hump is a series of little things throughout the season that prepares you for these situations," Gosek said.
Those little things include experience. "We're excited about this year," Gosek said. "A little more mature than last year. The 12-15 freshmen who played last year are now sophomores."
They include Ryan Ellis, Brendan McLaughlin, Peter Magagna, Rick Varone, Kyle McCutcheon, and Matt Whitehead. With only two seniors gone from last year, including Jocelyn Dubord, Oswego is bringing back a lot of firepower besides those sophomores. Last year's leading scorer, Ryan Woodward, is gearing up for another productive season as are C.J. Thompson and Ryan Koresky.
New forwards who should contribute include Neal Musselwhite and Brad Dormiedy. Junior Tim Vokey, a transfer from Ferris State, has to wait until December before he is eligible.
Tyler Lyon has the potential to be a solid defenseman and should display great poise as a freshman. He will be joining Francois Gagnon, Koresky, Mike Novak, Tyler Laws, and Rich Zalewski on the blueline.
It goes without saying that Ryan Scott will again get virtually all of the playing time in net. Though he may not have been as sharp as usual during the playoffs last year, he is still more than capable of leading a team to a title.
He will get that shot because Oswego will finish first in the regular season. The question is, will the Lakers be able to finally beat Plattsburgh at (the new) home in the playoffs.
"We've been using the new arena the last three years as a recruiting device," Gosek said. "Now, it's showtime."
Indeed it is.