When it came to picking where he wanted to go to college, Tom Train held out hope Alabama-Huntsville would come calling.
The phone rang.
Train, a Troy, Mich., native, played four years in the North American Hockey League with the Texas Tornado and won three Robertson Cup championships, two as Texas' captain. His family even moved down to the Dallas area and won't have to travel far to see the 21-year-old Train play for the Chargers.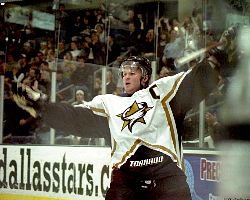 "I love it here," said Train. "The weather is pretty much the same, but going to class and going to practice took some getting used to at first, but I'm used to it now. We have a pretty good team and I'm looking forward to getting the season going."
The 6-foot, 190-pound Train scored his first collegiate goal against Bowling Green on Oct. 15 on the road. It was a game UAH almost won on Train's goal, only to see BGSU tie it up with an extra-attacker goal with under a minute left.
Still, his first NCAA goal was a milestone nonetheless.
"There were five or six minutes left and my linemate, Kevin Galerno, made a move in the corner and put it on net," recalled Train. "It went off the goalie's pad and I was right there for rebound and the one-timer."
And where is that puck now?
"My dad has my first goal from juniors at home someplace, so he'll probably be hounding me to ship this one to him here pretty shortly," laughed Train, who is on a full ride at Huntsville after a test score snafu had him defer to this season when he should have come to UAH a year ago.
Prior to the Bowling Green game, UAH ventured into Yost Arena in Ann Arbor and suffered an 8-1 loss to Michigan. Being a Michigan kid, playing at Yost had special meaning.
"I was there once as a kid and remember the atmosphere being awesome," Train said. "It's the best arena in college and it was everything I thought it would be. It was just a tremendous experience."
And as if the Michigan connections couldn't get any more relevant, Train played a handful of old teammates in last weekend's split with Wayne State. WSU skaters Mark Nebus, Derek Punches and Matt Krug played in Texas and co-captain Jason Bloomingburg was there a year before Train arrived.
With all the mentions of Michigan, Train said his goal is to complete his degree and stay south.
"My four years in Texas, I loved it and met so many people," Train said. "My coach there, Tony Curtale, basically became my second father and taught me really all I know when it comes to hockey. My relatives are in Michigan, but my family is down in Dallas. I haven't been back to Michigan in like four years, but when I went back (for the Michigan game), it was awesome to see some old friends. I think when I get older, I'd like to live in Texas."
The Chargers will do something this weekend that they have not done in more than 20 years and that is to head south to play a game. Participating in the inaugural Lightning College Hockey Classic hosted at the St. Pete Times Forum in Tampa, the Chargers' last trip down Interstate 65 came during the UAH club years, taking on interstate rival Auburn.
Train has only been scratched for one game thus far, but heading into this weekend, he knows if he makes noise, the UAH coaching staff should listen.
"I know I'm a freshman and the juniors and seniors get more opportunities, as well they should," Train said. "I just need to keep producing and we'll see what happens."
And as for realizing that hockey does have its share of diehards in the south?
"I still miss Dallas," said Train. "But here at school, we have a lot of loyal fans and a lot of students that paint their chests blue. It's a great town and I couldn't see myself any other place."
Bemidji Frosh Hopes To Be Impact Player
Joey Moggach led the Manitoba Junior Hockey League in scoring last season with 55 goals and 118 points. But so far with Bemidji State, the 21-year-old freshman has yet to dress for a regular-season game.
That's not to say the potential isn't there, however.
"Joey is a skilled forward who plays with intensity at a high tempo," BSU assistant coach Ted Belisle said. "He has proven his ability to put up points. His individual achievements were a big part of his team's success last year and he has the potential to continue that success here in Bemidji."
Moggach finished second in the MJHL in goals scored (55) and third in assists (63) a year ago. He was one of two MJHL players to score 50 or more goals and his 55 were 14 more than the third-place finisher in the league. Moggach was one of just three MJHL players to top 60 assists and he also tied for fifth in the league in power-play goals (17) and finished sixth in game-winning goals (7).
Warriors All Big Tigers Fans
With the Detroit Tigers looking to win their first World Series in 22 years just a mile or so from Wayne State's main campus, the Warriors have taken in many a game.
"We went to about 15 this past summer, but it was a different feel than past years," senior defenseman Taylor Donohoe said. "Last year, we could walk up and get tickets for $7 and sit wherever we wanted because no one went to the games. This year, we had to actually sit in our seats. They had a great year and it's great for the city."
If only that magic could rub off on WSU. And the Lions.
Niagara Embarrassed Last Weekend Out West
Losing a game is one thing. Getting blown out is another. But losing 10-1 is downright embarrassing.
Niagara played in the Mutual of Omaha Stampede last weekend at Nebraska-Omaha and suffered its worst defeat in school history with the 10-1 drubbing to the host Mavericks Friday night.
Brandon Scero scored four times for UNO and Alex Nikiforuk tallied five points in UNO's first-ever 10-goal output.
Saturday night was another loss, to UMass-Lowell and former NU coach Blaise McDonald, but it was a bit more respectable.
Niagara coach Dave Burkholder took the philosophical approach after the 7-4 loss to the River Hawks.
"We are a young team and we are learning some valuable lessons," Burkholder said. "Hopefully, it's days like these that will make us a better team in the long run."
On a positive spin, senior captain Sean Bentivoglio ended his personal point-less streak with a pair of goals in the loss. The slide had reached three games. Sophomore Les Reaney added three assists while classmate Ted Cook upped his team-high point total to 11 with a goal and an assist in the loss.
Colonials Finally Have Depth, Veterans
Robert Morris can finally boast a veteran-laden team after two years of freshmen and sophomores.
How that affects its record remains to be seen, but head coach Derek Schooley sees benefits in the not-so-distant future.
"We only lost two guys from last year," said Schooley. "Everyone's back and everyone knows our systems and has a ton of experience. Look at our defense. We have six juniors and one senior. For the first time, we're a team with depth."
The only notable players gone from last season are forwards Kurt Wright (graduated) and Jace Buzek (retired). RMU only has three seniors on the roster this year, but the senior class next season will be in the double digits.
"We're now an older team and we're going to be difficult to play against," added Schooley. "I think it'll be a challenge to play us and that goes for the entire league, where there won't be any easy games with anyone."
CHA – What Scares Me
OK, so having a child of my own has made me realize I'm still a kid at heart. And since Halloween is next Tuesday, I thought I'd make mention of something that scares me on each CHA team. I mean, I don't REALLY get afraid, but I'm trying to go along with the season. Throw me a bone here, people.
UAH – Unproven goaltending. No, Charger fans, Scott Munroe doesn't have any college eligibility left. Neither does Mark Byrne.
BSU – This team can be downright dominant. Forwards may be iffy, but an iffy Beavers forward squad is above-average on any of the other four teams.
NU – See UAH. Scott Mollison has shown flashes, quick flashes, of potential, as has Juliano Pagliero. The freshmen also will scare me in two years when they have experience. Ted Cook and Les Reaney are also pretty noteworthy.
RMU – Once this team hits its stride, watch out. The Colonials play well from behind (right, Air Force?) and are loaded with salivating upperclassmen.
WSU – I could say what scares me the most is seeing their superfan, a male, dress up as Tinkerbell this weekend. Don't laugh — he did it four years ago! But what really scares me is goaltending. When does Bonikowski play?
And not to beat the stereotypical dead horse, but the prospect of not having the CHA scares me outright. Can you blame me?