If last weekend was any indication what type of season we are in for, don't change the channel. While not a full slate of NCHA and MCHA teams were in action last weekend, the handful of teams who did play did their best to raise eyebrows across the nation.
On Friday, the first shocker of the season came in the first and probably most intriguing MCHA/NCHA interconference matchup of the season as MSOE put the throttle down on Lake Forest and ran the Foresters out of their own building. Lake Forest's history of being difficult to beat in its own barn didn't stop the Raiders, who on the strength of five powerplay goals rolled to a 9-0 win. As MSOE continues its rise to prominence, a potential win over Lake Forest was not unexpected but the manner in which it happened certainly was. Junior forward Blair Hanberg led the way with a hat trick, with freshman forward Jacob Anderson adding two goals, and senior forward Brian Soik posting one goal and two assists. Senior goaltender Joe Dovalina threw the shutout. To put MSOE's offensive outburst in perspective, the last time Lake Forest allowed nine goals was in a 9-3 loss to UW-Superior on Jan. 21, 2001.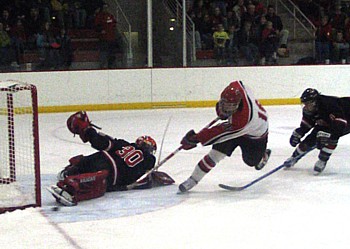 Looking to capitalize on the momentum of Friday's dominating performance, the Raiders were able to stay at home Saturday and go for the sweep in the Kern Center, an arena that boasts arguably the best college hockey atmosphere in the West. The sellout crowd — and the Klement's Racing Sausages of Milwaukee Brewers fame — went home unhappy, however. Despite being on the short end of a 47-24 shot count, the Foresters were able to jump out to a 4-2 second period lead and from there rely on the excellent goaltending of sophomore Scott Campbell to escape with a 4-3 win.
For the second straight season MSOE and Lake Forest played to a series split. MSOE's two victories over the Foresters the past two seasons are the only victories MSOE has ever earned against NCHA opponents. The Raiders are 2-29-1 all-time against the NCHA.
The second jaw dropper came from UW-Eau Claire as the Blugolds hit the road for a non-conference game at UW-River Falls and ended up coming home with a surprising victory under their belt, dropping the 11th ranked Falcons by a score of 3-2. The star of the night was Blugold sophomore goalie Ryan Mensing who, despite facing 44 shots, did not concede an even-strength goal to the Falcons. That subdued the Falcon attack long enough for goals from Evan Byers, Tyler Trudell and Sean Garrity to hold up for the win.
Though the season is still young, UW-Eau Claire's win may just be the first step in determining how quickly head coach Luke Strand can turn things around for the Blugolds. Likewise, MSOE's dominant Friday performance suggests the Raiders may indeed be on par with some of the elite teams in the West. While not easy to make a statement on opening weekend, MSOE and UW-Eau Claire certainly did their best to answer some of the early season questions surrounding each, in turn giving fans and future opponents alike plenty to chew on.
Eastward Ho
Last weekend also saw two teams from the MCHA and NCHA head to New York play a pair of SUNYAC foes in Fredonia and Buffalo State.
Representing the MCHA, Marian managed only four goals on the weekend while allowing 14. The Sabres were beaten 8-2 and 6-2 by Fredonia and Buffalo State respectively. According to head coach Jasen Wise, Marian was expecting a lot more out of the weekend.
"It was definitely disappointing," he said. "At times it seemed like our net was the size of a soccer net. Everything they shot was going in."
He added, "We also didn't help ourselves out by taking so many penalties."
Too many penalties is right: between the two games the Sabres took 27 penalties and allowed eight powerplay goals. Those numbers will have to change this week as things get no easier for Marian as they begin league action against, you guessed it, MSOE. More on that later.
NCHA power St. Norbert had a little better luck and managed to complete the weekend with a 1-0-1 record.
On Friday night, the second-ranked Green Knights outshot Buffalo State 43-18 en route to an 8-1 victory. A well-balanced attack saw seven St. Norbert players get on the scoresheet, and as usual junior goaltender Kyle Jones was reliable in net, turning back 18 of 19 shots to get the win.
Saturday proved to be a bit tougher of a challenge as the Green Knights traveled to Fredonia to take on a Blue Devil club who hadn't lost in 24 consecutive home games. Make it 25. In fact, the only offense St. Norbert was able to muster came in the form of two shorthanded goals, which was barely enough to earn a 2-2 tie.
While the result was a bit surprising, St. Norbert has tied or lost early season games the past few seasons and not suffered much in terms of after-effects. So while a bit surprising, a Green Knight tie on the road at an extremely difficult place to win shouldn't be too astonishing at this point of the season.
This Week in the MCHA
As the MCHA plays a 20-game league schedule, there is no time to waste and conference play kicks off this weekend. While Northland, Finlandia, Lawrence and Minn.-Crookston don't begin league play until next weekend, the opening series of the season features the top two teams from last season, Marian and MSOE.
Heading into the season, MSOE is a clear favorite to win the league, while Marian may be the most likely to challenge the Raiders. Marian handed MSOE one of its two conference losses last season; the Sabres are undoubtedly hungry for revenge following a loss to MSOE in last season's MCHA Championship game. Currently sitting on a disappointing 0-3 record, Marian coach Wise is more than aware of his team's underdog status this weekend.
"There is no question they (MSOE) are the favorites in the conference," he said. "They didn't lose much and are even better this year than they were last year. You'll hear some people say they aren't that good, but we are familiar with them. Let me just say they are good, they are for real. Let me put it this way: They don't win by getting lucky."
As far as dealing with a talented MSOE team, Wise says there are a few things the Sabres need to key on this weekend.
"We have five goals in three games," he said. "That isn't going to cut it. It sounds simple but the bottom line is we need to score more goals."
Keeping MSOE off the powerplay is another area he feels is crucial, especially considering Marian's propensity for taking penalties thus far this season.
"If you look back at the conference tournament, penalties really hurt us against them last season. Against a team this good you have to limit quality chances, and that isn't going to happen with them on the powerplay," he added.
Not all battles Marian will be fighting this week will be uphill however, as according to Wise the Sabres' familiarity with the Raiders should be something they can draw upon as Marian has no problems opening the season against the best team in the league.
"As I said, we are familiar with them," he said. "That should give us more confidence to go up against them as we know what to expect. I think we are a better team than last year, too, so while there's no question we need to improve and play a very good game, we are confident when we play them."
Some interesting facts regarding the MSOE-Marian rivalry:
• Marian is 26-10-0 all-time against MSOE
• MSOE is 9-2 against Marian over the past two seasons
• Three of the past five meetings have been decided by one goal
• MSOE has played Marian more times than it has any other school
MSOE and Marian weren't the only MCHA teams to see action last weekend. Lawrence hit the road for a couple of non-conference games against NCHA foes UW-Stout and UW-River Falls.
Before the season began, first-year coach Mike Szkodzinski spoke about the need to establish a positive attitude with emphasis on character and work ethic. It may already be paying off.
Despite losing 4-1 to UW-Stout and 6-4 to UW-River Falls, Lawrence showed a tremendous amount of resilience. For example, on Friday UW-Stout was unable to put Lawrence away until the third period despite outshooting the Vikings 39-4 through the first two periods and 53-12 overall.
The same can be said regarding Saturday's loss to River Falls. Lawrence was tied 4-4 with the 11th ranked Falcons in the final ten minutes of the game although they were outshot 45-10 through the first two periods and 61-25 overall.
All five of Lawrence's goals came on the powerplay. No one expected Lawrence to win either of those games, but their opportunism is an encouraging sign for a team in rebuilding mode.
Full MCHA schedule:
Friday, Nov. 3
Marian @ MSOE
Saturday, Nov. 4
MSOE @ Marian
This Week in the NCHA
While five NCHA teams saw action last weekend, this week things really pop into gear as it's everyone's favorite and most unpredictable time of the season: MIAC Interlock time. For the next two weeks, the NCHA and MIAC will participate solely in games against each other. Bragging rights have been with the NCHA recently as the conference posted a 37-20-6 record against the MIAC last season and a 30-18-9 record in 2004-05.
The interlock affords teams in both leagues the luxury of facing some quality competition before beginning their conference schedules. Although these games will not count in the conference standings, don't be fooled into thinking they are merely exhibition games.
It's fair to bear in mind that all of these games will come into play come NCAA selection time and as one memorable anecdote suggests, one game can make a world of difference.
As a UW-Stevens Point alum, I remember it well. In 1999-2000, UW-Stevens Point won the NCHA with a 12-2 record. Despite being the No. 1 seed in the NCHA playoffs, the Pointers lost the Peters Cup Finals to UW-Superior, thereby making the pool C bid their only route into the NCAA tournament.
With every other autobid except for the MIAC's already determined, the Pointers were the clear frontrunner for an at-large bid. That is until Concordia-Minnesota beat St. Thomas for the MIAC Playoff Championship, thereby earning the MIAC autobid.
No problem, right? Wrong. The Pointers had played St. Thomas that year in a seemingly meaningless game over Winter Break. The Steve Aronson-led Tommies came into Point and thumped the Pointers 8-5.
Two months later it was that head-to-head meeting that sent St. Thomas to the NCAA Tournament instead of the Pointers. The Tommies made it all the way to the National Championship where they suffered a 2-1 loss to Norwich.
So what's the point?
With the volatility of the NCAA selection criteria, one game can make or break a team's chances at making it to The Dance. Come March we could very well be looking back on a MIAC-NCHA Interlock game as an explanation for why one team received a bid over another. It's that tight.
With sixteen games on the docket this weekend there is going to be top-flight hockey getting played all over the Upper Midwest. As sixteen games are too many to focus on, here are five that I find especially intriguing. Most analysis will likely prove futile as these all are toss-ups. With that in mind I'll even try to pick a few winners. For fun I'll put my guesses up against those of a coin. I bet I'll lose.
Friday, Nov. 3: #8 St. Thomas (0-0-0) @ UW-Eau Claire (1-0-0)
The Blugolds pulled a fast one on everybody last week with their win at UW-River Falls. The Tommies are always one of the top teams in the West Region. Can UW-Eau Claire pull the shocker two weeks in a row? A win here and it will be impossible to pass last weekend off as a fluke.
• I say: St. Thomas; Coin Says: UW-Eau Claire
Friday, Nov. 3: #16 Bethel (0-0-0) @ #10 UW-Superior (0-0-0)
Last season Bethel clipped the Yellowjackets 4-3. This time the game is in Superior. UW-Superior will get a strong test in their opening game of the season, and their performance against a quality Bethel team will be telling in terms of how well the Yellowjackets have addressed questions on offense and in goal.
• I say: UW-Superior, Coin Says: UW-Superior
Saturday, Nov. 4: #16 Bethel (0-0-0) @ #20 St. Scholastica (0-0-0)
An interesting matchup between two teams in similar positions, both had surprising seasons last year and both are garnering a lot of praise from around their respective leagues. Bethel is expected to be near the top of the MIAC, and the Saints' performance on Saturday will be an early indicator of exactly how potent this St. Scholastica club may be.
• I say: Bethel; Coin Says: St. Scholastica
Saturday, Nov. 4: #8 St. Thomas (0-0-0) @ UW-Stevens Point (0-0-0)
Let's be honest, the Pointers should beat St. Mary's on Friday, which sets up a home showdown with the Tommies. The Pointers beat the Tommies on the road last season and if the Pointers wish to step back up into the elite teams in the West Region, it's games like this they need to win.
• I say: UW-Stevens Point; Coin Says: UW-Stevens Point
Saturday, Nov. 4: #13 St. John's (0-0-0) @ #2 St. Norbert (2-0-1)
The marquee matchup of the weekend. MIAC power vs. NCHA power. St. Norbert isn't happy with their tie at Fredonia last weekend and things get no easier with the Johnnies coming to town. St. Norbert rarely has two off-games in a row, but will continue to be the case with a shuffled up offensive lineup?
• I say: St. Norbert; Coin Says: St. Norbert
Full NCHA Schedule:
Friday, Nov. 3
Hamline @ St. Scholastica
Bethel @ UW-Superior
UW-River Falls @ Gustavus Adolphus
UW-Stout @ St. Olaf
St. Thomas @ UW-Eau Claire
UW-Stevens Point @ St. Mary's
Augsburg @ St. Norbert
St. John's @ Lake Forest
Saturday, Nov. 4
Bethel at St. Scholastica
Hamline at UW-Superior
St. Olaf at UW-River Falls
Gustavus Adolphus at Stout
St. Mary's at UW-Eau Claire
St. Thomas at UW-Stevens Point
St. John 's at St. Norbert
Augsburg at Lake Forest