Team Overview: The Pilgrims were on the bubble last year when it came time for the at-large bids for the NCAA tournament despite almost twenty wins. This year's team looks to be markedly different from recent teams in terms of age and experience. "We graduated a big class and lost some other kids from the program," said head coach Tom Carroll. "We are still working through what we have which will have to take advantage of our quickness over our experience."
One player who can be counted on for both is junior center Mike Carmody (19-27-46) as well as junior forward Mike Mullen (8-11-19). They are expected to lead the offense for the Pilgrims who are looking for a balanced attack and contributions from a number of new players to the roster.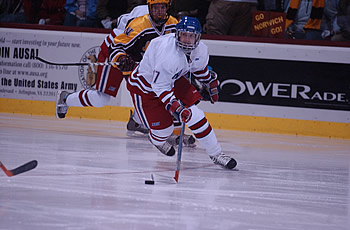 The goaltending situation should be very competitive following the departure of Scott Gray. Jim Ryan posted solid numbers in just three games played last season and will be challenged by some new recruits brought in by Carroll.
Special Teams: While NEC scored an impressive 111 goals last season, the Pilgrims scored just 33 on the power play; improving their percentage a little bit will help to take some pressure off of the 5-on-5 play. Defining the goaltending early will help to limit the stingy 22 goals given up last season while playing a man down.
Schedule: The Pilgrims face some stiff competition over the holiday break while playing in the Oswego Holiday Classic which includes Elmira, Oswego and St. Thomas from out West.
During the month of January, NEC plays ten games in just over three weeks against the top talent in both the NESCAC and ECAC East conferences including Bowdoin, Colby, Middlebury, Williams and Norwich.
Summary: As Carroll commented, "the opening games will be important — it will be important to have a good first semester." How quickly this team comes together will impact where they will end up in the conference.