Team Overview: For St. Michael's, the battle for recognition in the ECAC East is focused on the regular season. The Purple Knights are a D-II school like St. Anselm's and hope to earn the respect of their opponents in the conference by succeeding during the season before the playoffs.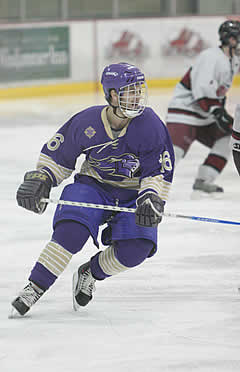 Head coach Lou DiMasi likes his team this year and feels they are improved and compete at a higher:. "We have added a nice bunch of players through transfers and new students. We are going to be led up front by senior Jared Silver (12-35-47) who makes everyone around him better. I also like our two senior goaltenders — Derek Jackson and Erik Smith, who should bring a lot of experience and competition into this season. We have a good supporting cast that gives us some better depth than we have had recently so it is exciting to see what will happen when we get out on the ice — I am very optimistic."
The primary benefactor of Silver's prolific passing of the puck has been junior forward Tim Dancey who last year scored 19 goals, including five on the power play. Silver prefers stinging opponents while a man down as he totaled six shorthanded goals last season — half of his season total.
Special Teams: As most teams looking to improve, St. Michael's will need to improve their power play out put as well as their overall scoring ability which produced a total of 89 goals last season. Moreover, 43 of the team's 123 goals against came while shorthanded so staying out of the box and killing penalties better will help the Purple Knights as try to move up the standings.
Schedule: St. Michael's opens the season with a number of key D-II match-ups that should help them get out of the gates quickly. The Purple Knights host their own tournament this year which includes Assumption, Hamline and Johnson & Wales. A good start is really needed to set the tone for league play coming out of the holiday break.