Team Overview: For head coach Chris Potter, this is the third recruiting class coming in as he has built the program. His primary focus early on has been on the defensive end of the ice and it has paid dividends with the Cardinals yielding only 61 total goals last season. "When I first came here we lost a huge class," said Potter. "We couldn't replace all of those guys in one year and we really didn't have any defensemen so our focus was on building the back line to get competitive."
Sophomores Dallas Bossort and Scott Burns along with junior Brenton Stafford have stabilized the defensive corps and added some much needed offense from the back line.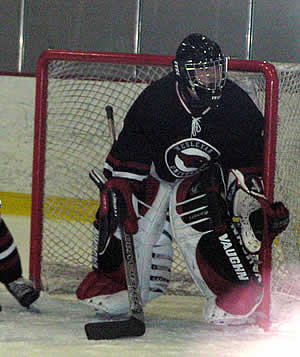 Senior captain Will Bennett and assistant captain Ryan Hendrickson will lead an offensive group that looks to have a number of new freshmen hoping to add to the teams total of fifty-five goals for last season.
Senior Dave Scardella returns having had a sensational season with a 4-3-2 record, 1.87 goals-against average and .941 save percentage. Sophomore Mike Palladino provides great support as a back-up giving Wesleyan a terrific goaltending tandem. If the Cardinals can score a few more goals, they will be in the hunt for a home-ice playoff berth as they don't often beat themselves.
Special Teams: Last season the power play was an enigma for the Cardinals. In fact if Bennett (six goals) or Bossort (seven goals) didn't score, not many other players did while a man up. Those two totaled thirteen of the team's seventeen power play goals for the season so some improvement will be needed there to take the pressure off the defense and goaltending.
Schedule: The Cardinals have a unique exhibition schedule this season in December when the team will be traveling to Europe for games in Italy and Innsbruck, Austria. Last year Williams enjoyed great success following a European excursion and Coach Potter is hoping the experience will work well for his young team as well.
Summary: Continued improvement over the past couple of seasons has the Cardinals reaching for lofty status this season. They need to score more but aren't going to give up much which should help them play for a potential home ice berth in February.