No less than Boston University coach/legend Jack Parker ordained him the "best player" in Hockey East this season, but it has been an arduous road to ice stardom for University of Maine forward/puck magician Michel Leveille.
The 25-year-old Quebec native was an NCAA non-qualifier during his first year at Maine while improving his English skills, and as such couldn't skate with team, work out at the team facilities and, most importantly, couldn't play in any hockey games during that first year — a sport that had been the dominant, nourishing force during his entire French Canadian life.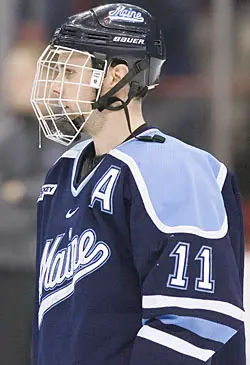 Frustrated with his scholarly progress in a second language, feeling like an outsider on a team that NCAA regulations forbade him to bond with and lost without his beloved game of hockey, it grew so difficult for Leveille that he considered dropping out of school during the Christmas break of the 2002-2003 season.
"It hasn't always been easy for Michel here at Maine," said Maine head coach Tim Whitehead. "For all intents and purposes, he wasn't allowed to be with the team that first year and he's such a coachable, likeable kid who just loves being with the other guys in the locker room.
"Michel has had to work hard for everything he's attainted and he's suffered some loss in his life too; his dad passed away when he was three years old and that's really created a special bond between him and his mom," added Whitehead. "He turned into an honors student in the classroom that freshman year despite the language barrier, and certainly he's always been an honors student on the ice."
The collegiate crossroad led Leveille to have separate soul-searching type conversations with the Black Bears coaching staff and with his Maine "big brother" Francis Nault — a fellow Quebec native, standout defenseman and fan favorite for the Black Bears.
The then-senior talked the despondent 5-foot-9, 193-pound freshman into sticking it out on the Orono campus, and things quickly improved for the gifted skater. He made it through that first difficult season and then showed off the puck playmaking skills that had drawn Maine recruiter/assistant coach Grant Standbrook to him in the first place.
Leveille totaled 34 assists in that first year, placing him second in the nation in that statistical category and netting him the Hockey East Rookie of the Year Award — a season that also saw his Black Bears face off against Denver in the Frozen Four title game.
"I think that whole first year was my favorite moment in hockey," said Leveille. "From the year before when I couldn't play, to playing in the big game against Denver and winning the rookie award — I had always realized just how much hockey was a part of my life and it was so good to have it back. It made all the difficult times worth it for me."
Leveille has since piled up honors and staggering statistical totals during a successful run with the Black Bears, ringing up 116 points (40 goals, 76 assists) in 121 games and serving as an assistant captain the last two seasons before being named sole captain this season.
All the while, he has wowed Black Bears fans, teammates and coaches alike with his ability read the play, find the offensive seams in the neutral zone and create with the puck.
"The puck is absolutely glued to his stick, he can get where he needs to go with his quick skating ability, and he is so crafty with his passing and his ability to create on the ice," said Whitehead. "Michel is one of those players where the guys on the end of the bench will stand up and look out over each other to watch him when he takes the puck into the offensive zone. They never know when he's going to do something that they've never seen before."
Leveille is so good, in fact, that he's been instrumental in improving the defensive work of the Black Bears blueline corps — showing off the flashy moves and instinctual passing in practice that they likely won't see in most games.
"I love practicing one-on-one drills with him," said fellow Quebec native and Maine defenseman Simon Danis-Pepin, who Leveille has taken under his wing and proudly calls his protégé. "The one thing I really wanted to improve on this season was containing the small, quick forwards and not letting them sneak around me — there's nobody better to practice against than Michel."
"He just sees the ice in a different way than just about everyone else," added Danis-Pepin.
After a junior season that saw Leveille total 40 points in 37 games, earn Second Team All-American and All-Hockey East honors and again return to the Frozen Four, the 25-year-old was ready to at least dip his toes into the professional waters and test the temperature levels. Leveille had a nagging knee injury scoped after last season, and waited in hopes that an NHL team would come calling last summer — a scenario that never materialized likely due to both the knee injury and lingering doubts about his size and ability to play in the pro game.
"I never really got the offer I was looking for and decided to come back to school for my fifth year," said the perennial Hockey East All-Academic Team member, who is pursuing a third minor during his time at Maine this season. "I remember hearing that one person — I don't remember who or what team he was from — said that I was 'slowing things down too much with my creativity' and I guess maybe they're not sure that I could play in the new, fast-paced NHL."
"I don't quite understand it and don't even really know how to comment on it," added Leveille. "All I can say for sure is that this is a game I've played all my life, and that I have a lot of confidence in my abilities at this level and making the step to the pros next season. I know how to play this game."
Whitehead was a guy that was fully aware of Leveille's flirtations with the pro ranks, but sees his seasoned senior enjoying a dominant final campaign — much the same as Greg Moore's return to the Black Bears for one more year.
"New York was looking to sign Greg after his junior season, and he decided against going with them and instead came back for a senior season that saw him develop into a dominant force in college hockey," said Whitehead. "It's early yet, but Michel looks like he's ready to have that kind of a season and then I think some pro organization is going to be awfully happy with him next year."
Leveille is making even more believers this season — sharing the Hockey East scoring lead coming into the weekend with UNH's Trevor Smith and Black Bears freshman Teddy Purcell. Those believers include Parker — a keen hockey talent evaluator who doesn't haphazardly toss around verbal bouquets and who paid Leveille the ultimate compliment by shadowing him during BU's first game against the Black Bears this season.
"We decided we were going to cover Léveillé," Parker said. "He's the best player in the league, and when you take him out the game, things change. I haven't covered anybody since Ben Eaves was at BC, but we just said had [BU forward] John McCarthy cover him wherever he went and keep him from getting the puck. Without him making the plays that he can make through center ice going into the zone, that took away their first line."
"He is the guy that's the seam-finder on that club," added Parker. "[Assistant coach] Mark Bavis called me after he'd watched films of their games against North Dakota and UMass tapes, and said 'This kid is their entire offense."
Purcell and senior winger Josh Soares might take exception to Léveillé being called Maine's entire offense, but there's no doubt that he's the motor that makes everything run at optimum levels.
"He such a coachable, likable kid, he understands that he has to work hard and he has a very unique ability to totally focus on hockey; his mom comes down from Quebec City for every one of his home games … he's the kind of player that you find yourself rooting for," said Whitehead. "Looking at Michel as a player and, more importantly, as a person, his dad would be very, very proud."
The kind of words any hockey-playing son would love to hear.