Downtime
The Mercyhurst Lakers had last weekend off, and coach Rick Gotkin can't decide if that was a good thing or a bad thing. His team is off to a 2-6 start, and has had almost two weeks to dwell on an epic collapse at Sacred Heart, where the Lakers surrendered four goals in the final four minutes and wound up losing to the Pioneers 5-4 in overtime.
"It was a crazy four minutes," said Gotkin. "Everything that could possibly go wrong, did."
How did he feel about having some time off right after the debacle?
"I've had mixed emotions," Gotkin said. "It's been tough waiting for two weeks. We wanted to get right back at it. That said, we had eight straight games to start they season, with only two of those at home. We've played in some tough places — Ferris State, Holy Cross and Sacred Heart. We had set the schedule up to give us a break at this time, and in many ways we needed a weekend off."
While the 2-6 start is uncharacteristic for the Lakers, Gotkin isn't overly concerned.
"Sure I wish we were 8-0," he said. "We've had three one-goal losses. Two overtime losses. Don't let anyone know this yet, but we're going to be a good team. We're very young. It's a different team than the one we've had the past couple of seasons. Not that the cupboard is bare — not when you have players like Ben Cottreau and Scott Champagne. We're close."
One area of concern I expressed to Gotkin was goaltending — his team's GAA is 4.88, worst in the league.
"There's been flashes of greatness," said Gotkin. "I think we have a great set of goaltenders, but we need more consistency,"
The Lakers get back into action with a home-and-home series this weekend against Canisius, which sports a similar record (2-9). The teams have not been close in the standings in recent years but their games have been nail-biters.
"We played them five times last season and I think four of them were decided by a goal," said Gotkin. "We are very focused on Canisius. The league games are so important. The way this league is now, you have to bring it every game. Three or four years ago we could just play OK and still win most games. Not anymore."
Weekly Awards
Player of the Week
Pierre-Luc O'Brien, Sacred Heart — O'Brien wins the award for the second week in a row. The junior forward picked up nine more points last week in a sweep of Holy Cross and a win over AIC . He scored the overtime winner last Saturday, and now has 19 points to lead the Pioneers, good for second overall in Atlantic Hockey.
Goaltender of the Week
Ray Jean, Bentley — The senior from Randolph, Maine, made 25 saves to record a shutout against Army, handing the Black Knights their first conference loss of the season.
Rookie of the Week
Josh Heidinger, Canisius — Another ROTW week award goes to the Griffins. Heidinger, a Buffalo native, recorded two goals and an assist last weekend to help Canisius to a split against visiting Air Force. Heidinger has 15 points so far, tops on his team and fourth in the league.
Awards vs. Results
The youth movement is in full force at Canisius. Freshman have won five of the six Atlantic Hockey Rookie of the Week awards so far this season. Defenseman Carl Hudson has won it three times already, joined by goaltender Andrew Loewen and forward Josh Heidinger, this week's winner.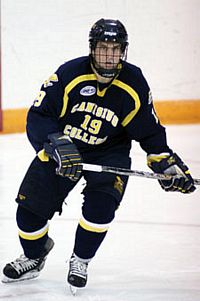 Coach Dave Smith is proud of his frosh, but it's tempered by his frustration with the Golden Griffins' record, which stands at 2-9.
"We have a young team," said Smith. "I'm glad that (the freshmen) are having individual success, and I'm hoping that translates into team success sooner than later. But it's part of the learning process."
Smith points to breakdowns in key situations as something his squad needs to improve on.
"We're giving up late goals after playing pretty well," he said. "It's growing pains, but it's frustrating. One game the power play is good, but the penalty kill is not. The next night it might be something else. We've having trouble playing a complete game. We've been close; we've been in all of our conference games. We've spent a lot of time making improvements and trying to gain confidence."
Last weekend against Air Force, the Griffs found an ingredient they've been missing — scoring from upperclassmen.
"On Friday (a 5-3 loss), we had to kill too many penalties and couldn't get it going," Smith said. "On Saturday, we got shorthanded goals from Joey Coccimiglio and Chris Angelo, both seniors. We really needed that. I'm happy that the freshmen are succeeding, but what we need to win is senior leadership stepping up in key situations."
A home-and-home series with rival Mercyhurst awaits.
"They should be good games," Smith said. "We had four one-goal losses to them last season. Every weekend it's a different challenge. Our goal is the same as every other team in this league — finish in the top four. To do that, we want to get better every day, get better every weekend. That's our goal."
Around the League
Air Force: The Falcons' Eric Ehn continues to lead the nation in goals with 13. Ehn's line, which also includes Mike Phillipich and Andrew Ramsey, has been responsible for 23 of the team's 39 goals to date. They're a combined +33 so far this season and have been on the ice together for exactly one goal scored by the opposition — Canisius' first goal last Sunday.
AIC: The Yellow Jackets scored two power-play goals last weekend after getting just one in their first 46 attempts.
Holy Cross: Senior captain James Sixsmith tallied three points last weekend and is tied for first in the nation in points per game (2.00) and is tops in assists per game (1.56). Teammate Jon Landry's 1.56 points per game is best among defensemen in Division I.
RIT: The new kids on the block are leading Atlantic Hockey in attendance so far, averaging 1,591 fans per game. Right behind the Tigers is fellow newcomer Air Force at 1,406 per game. RIT is undefeated at home and entertains Bentley for a pair this weekend.