Giving Thanks
I was all set to do the typical "What teams have to be thankful for" column this week when I was alerted to a couple of stories that transcend college hockey. Thanks to Eric Melanson, Athletic Communications Assistant at Army, and Greg Royce, Sports Information Director at AIC, for their assistance with this week's column.
We Can Be Heroes
This is the time of year when people pause and appreciate all that they have. A time to reflect on their lives and give thanks. There are two families in Springfield, Mass., who have a lot to be thankful for this year. They are alive and well thanks to the quick and heroic actions of two AIC players, senior goaltender Matt Tourville and junior defenseman Chris Bolognino.
In the early morning hours of Sunday, November 12, Bolognino was dropping his friend Tourville off at his home when they noticed what looked like a bonfire in front of the house across the street.
"It looked just a small fire," recalled Bolognino. "It looked like it was on the front porch. But then we got closer and realized that it was spreading fast."
The two began pounding on the doors and windows of the two-family structure.
"I called the fire department and then we started banging and trying to wake people up," said Bolognino.  "It took a while to get everybody out. The flames spread really fast. There was an older lady on the right side of the house that we finally got out. We asked her if there was anyone else still inside and she said that her son was still in the house."
Tourville and Bolognino went back into the burning house, up to the second floor where they found the man still in his bed. The smoke was so think that the players had to hold their shirts over their faces in order to breathe.
"He was still half asleep," said Bolognino. "The house was pretty smoky by then. Matt and I were able to bring him out. By the time we got him out the flames had spread everywhere. It was pretty intense."
The house was destroyed and the two families lost their possessions, but thanks to the quick actions of the two players, no one was injured.
Bolognino disputed the idea that he and Tourville are heroes.
"We feel pretty good about it," he said. "But it was instinct. We just did what anyone would have done."
I had reached Bolognino on his cell phone as he and the rest of the Yellow Jackets were in Colorado Springs last weekend for a two-game set with Air Force. AIC has been though some rough times this season. The Yellow Jackets are 0-11 after 6-1 and 3-0 losses to the Falcons. But Bolognino was fairly upbeat.
"We're struggling right now but we're not giving up," said Bolognino. "Coach (Gary Wright) says to forget about everything and focus on doing what we need to do which is score goals.
"We're battling. Nobody gives up."
The same could be said for the actions of Bolognino and Tourville last Sunday.
"We were just in the right place at the right time," said Bolognino. "We're thankful for that."
And so are two families who will be celebrating a very special Thanksgiving this year.
Weekly Awards
Player of the Week
Andrew Ramsey, Air Force – The senior forward scored a career-high four goals on Friday in a 6-1 win over AIC. He also scored the eventual game winner in a 3-0 win on Sunday. Ramsey has three GWG on the season, tied for first in Division I.
Goaltender of the Week
Andrew Loewen, Canisius – The rookie goaltender stopped 47 of 51 shots as the Golden Griffins took three points from rival Mercyhurst.
Rookie of the Week
Louis Menard, RIT – Menard made 29 saves on 30 shots to earn a 5-1 win and give the Tigers a split with Bentley.
Duty, Honor, Country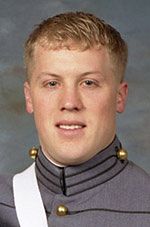 On September 1, 2005, Derek Hines, a former player and assistant captain at Army, was killed in action in Afghanistan during a skirmish with Taliban soldiers. Hines had distinguished himself in battle on several occasions during his relatively brief time in Afghanistan and made the ultimate sacrifice at the age of 25.
On November 9, the NCAA Honor Committee announced that it had chosen Hines as the recipient of the 2007 Award of Valor. The award, which is not automatically given each year, is presented to a coach, administrator or player who, according to the NCAA, "when confronted with a situation involving personal danger, averted or minimized potential disaster by courageous action or noteworthy bravery."
Hines will be recognized at the NCAA Convention on January 7.
"We are very grateful to the NCAA for choosing to honor Derek Hines' memory with this prestigious award," Army head coach Brian Riley said. "I think if Derek was here today he would be embarrassed by the attention given to him and he would ask for everyone to remember all those soldiers engaged in the War on Terrorism."
Riley and the team took it hard when they got word of Hines' death, the first for an Army player since the Vietnam War. He was popular with his teammates and his inspired play made him a fan favorite. Fans would show up at home games and bang Heinz ketchup bottles against the glass to cheer for Hines, who scored 32 points during his career.
"Derek was truly a special young man," said Riley. "He was a leader in every sense of the word. He had the unique ability to lift the spirits of those around him and would draw everyone closer together. Derek made a lasting impression on our program and the Military Academy as a whole."
The Black Knight program has established the Derek S. Hines award, which recognizes a person who over the course of time has displayed extraordinary support to the Army hockey program.
"When you leave this world and you can impact as many people as Derek did in such a short amount of time, that speaks volumes about the type of young man he was," said Riley.
At this time of the year, when we are giving thanks, please remember Hines as well as AIC's Bolognino and Tourville. Atlantic Hockey has a lot to be proud of this season.
Around the League
OK, so I will play the "Thankful for" game after all. Just can't help myself:
Air Force: The Falcons are thankful for improved goaltending over last season. Air Force have recorded two shutouts in the past three weekends. On November 3, Ian Harper stopped all 24 shots in a 3-0 win over RIT, and last Sunday, freshman Andrew Volkening blanked AIC by the same 3-0 score. It was the first league shutout by a rookie goaltender in school history. The other Falcon goaltender, Peter Foster, allowed just one goal last Friday.
AIC: The Yellow Jackets are thankful for the return of goaltender Tom Fenton. Fenton was AIC's MVP last season as a freshman, but injured his groin against RIT in AIC's second game of the season. He returned last Friday and made 38 saves in a losing effort against Air Force.
Army: The Black Knights are thankful for going where no USMA team has gone before. Despite a pair of losses to Holy Cross last weekend, the Black Knights are tied for first place, the latest in the season to be on top of the standings in school history.
Bentley: The Falcons are thankful for one of the best penalty kills around. Bentley has the second-best PK in the conference (tied for eighth in the nation) and has three shorthanded goals in ten games, two by sophomore Jeff Gumaer.
Canisius: The Golden Griffins are thankful for momentum. Despite a strong start by its freshman class, Canisius opened the season 1-9. But the Griffs are 2-0-1 in their last three games, taking three points from rival Mercyhurst last weekend. Dave Smith's squad is hoping to keep it up when they travel to Bentley on December 1.
Connecticut: The Huskies are thankful for the law of averages. UConn is outshooting most opponents, averaging almost 34 shots on goal per game, tops in the league. But so far, only about three a game are going in (3.06 to be exact), just sixth in the league. UConn hopes more shots will start finding the back of the net.
Holy Cross: The Crusaders are thankful for iPods and PSPs, because they'll be on the bus quite a lot in the coming weeks. Holy Cross plays the first of nine straight road games this weekend and won't be on home ice again until January 12. Holy Cross has only six remaining home games compared to 16 road contests.
Mercyhurst: The Lakers are thankful that there are still 23 games left in the regular season, including 20 league contests. At 2-7-2, there's still plenty of time for the pre-season favorites to turn things around. A tie against Yale on Tuesday was a step in the right direction.
RIT: The Tigers are thankful for their special teams. With the tenth-best power play and the eighth-best penalty kill in Division I, RIT has the top ranked combined special teams ratio among the 59 D-I schools.
Sacred Heart: The Pioneers are thankful for an explosive offense that's helped them a seven game unbeaten streak, including a 5-4 win at Rensselaer last Friday. Sacred Heart has scored five or more goals in six of its last eight games.