Former Norwich captain Michael Serba has died after being struck early Saturday morning after leaving a Toronto bar.
Serba was struck in the head with an unknown object — possibly a brick — according to police. He had been on life support since the attack.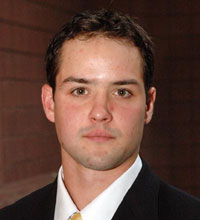 A Toronto police press advisory filed at 5:07 p.m. ET today read in part as follows: "On Saturday, November 25, 2006, at approximately 12:30 a.m., the victim was with his friends at Brydon's Bar, at 2455 Bloor Street West, in the laneway north of Bloor Street, between Jane Street and Armadale Avenue.
"The victim was allegedly struck with an unknown object after being 'suckerpunched' by an unknown man. Since the incident, the victim had been suffering from lifethreatening injuries as a result of serious trauma to his head."
Nicholas Crowdis, 22, of Toronto, was arrested and charged with attempted murder on Saturday, Nov. 25, 2006. The charge is expected to be upgraded at his next court appearance on Dec. 4, according to police. A postmortem examination is scheduled to take place tomorrow afternoon.
Serba was captain of the 2005-06 Cadet team and had been attending graduate school at Norwich from which he was expected to have graduated in the spring. He scored 33 goals and had 49 assists for 82 points in 104 career games at Norwich and was a member of the Cadets' 2003 championship team.
Toronto police Det. Shehara Valles told media on Monday that Serba's parents described their son as having "a passion for life and family, hockey and his friends."
After winning the Primelink Tournament on Saturday, players held Serba's No. 20 jersey aloft and had hung it behind the bench at Kreitzberg Arena during the game.
Anyone with information is asked to contact Toronto police at 416-808-1100, or Crime Stoppers anonymously at 416-222-TIPS (8477), or online at www.222tips.com.