For many teams, this week will wind up the first part of the season as most schools are headed into exam periods and the holiday break. For some teams, the break comes at a time when they are on a roll and you would like to keep playing with momentum apparently on your side. For other teams, the break is well timed as an opportunity to rest, heal up, re-focus, or fix some things that haven't necessarily gone as planned to start this year's campaign. It's about streaks, good and bad. You want to stay on the good ones and stop the skids as soon as possible.
"I think you'll see a lot of teams go through streaks during the season," noted Bowdoin head coach Terry Meagher. "At the end of the day, 24 games is a pretty small sample so you'll see some fluctuation in the trends. Teams will win three, four or maybe five in a row and then lose a couple or so. What you really have to watch for is the downside of that equation. You want to try to keep positive momentum but in college hockey today the results are not a guarantee for any team playing out there. You want to do what you can to come away with points, especially when you are on the road."
St. Anselm Head Coach Ed Seney agrees with Meagher in that he doesn't think anyone should be surprised by any results when they do a little scoreboard watching: "There are a lot of good hockey players out there right now. There are so many junior leagues and coaches are finding quality players all over who can make an impact on a team's level of play quickly. I don't think any result should really be that shocking anymore – teams can't just put on the uniforms and go out and skate and expect they are going to win without putting out the effort. There are too many teams that are competing hard out there."
The first few weeks have certainly demonstrated that anything is possible. Not many prognosticators would have had Amherst and Skidmore at the top of their respective leagues at this point in the season but there they sit and they are playing well. Here's look at a few of the other teams who are pointed in the right direction coming into the break. With results like this to start the season, the second half ought to be great!
Huskies Heading In Right Direction
For Southern Maine almost anything would be a better start than the 1-8-2 record they launched last season with. It hasn't really been a mantra for Coach Jeff Beaney's team, but getting off to a better start this year was important so there would be less pressure on the team to perform in the second half of the season. So 4-3 through the first seven is just north of the .500 mark but when you look at the schedule, the Huskies have got things going in the right direction following consecutive wins over Middlebury, Williams and Colby, all traditionally strong teams in the NESCAC. With two games remaining before the break including one league game against travel partner Salem State, Southern Maine is looking to keep their winning streak alive going into the holidays.

"The most important game is the next one you are going to play," said Beaney. "We have had a history of very close games against Salem where the home team has seemed to get the edge. We're hoping to reverse that a little this Friday but it will be a tough game."
Coming off a disappointing showing at the Babson invitational tournament over the Thanksgiving holiday, the road for USM did not look pretty with Middlebury and Williams coming to play. Trying to break a three game skid against the Panthers was a tall order but one the team stepped up to take the challenge head-on. The game was hard fought and even included a power outage in the rink that suspended action with USM holding a 2-0 lead.
"It was a great win for this team," noted Beaney. "In fact the next night may have been more impressive because you would almost expect to see a drop-off in play after the big win on Friday. Our guys came out and played really well on Saturday and that impressed me to go out and beat a tough Williams team."
The Huskies looked to complete the NESCAC trifecta on Tuesday when they faced Colby in a game that became the Chris Sparkes show. The senior forward scored four goals in the last two periods of the game, including a power play hat trick to lead the Huskies to a 5-3 win over their in-state rivals.
"He really could have had five," Beaney joked. "He ringed a couple of posts besides the four that went in but four is big for a guy wearing a cast on his hand. I told the team doctor that I had a few other guys that he needed to get fitted with casts if that was going to boost the offense."
Besides some timely scoring from Sparkes and fellow senior Mark Carragher, USM has benefited from some solid goaltending from senior David Beckles and junior Ryan Sullivan. "I thought David was just a little off in the tournament down at Babson," Beaney said. "But since then he has been solid and certainly a big part of why we have been winning."
The Huskies will look to carry a winning record into the second half where they historically have played very well in the New Year. That's something that has their coach feeling pretty good about.
Hawks Eyeing a Move Up the Standings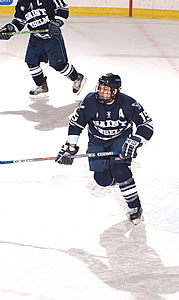 For the St. Anselm's Hawks, their 3-1-1 start is not really a surprise based on their experience and a returning group of some very talented players hungry for success in the regular season. After starting the season with two overtime games where they tied one and lost one, the hawks have found their stride in winning three straight heading into their final game before the holiday break.
"I have been really pleased with the effort the team has put out on the ice the past few games," said Ed Seney. "I am not sure it was there when we started the season but it was obvious during our weekend games with Tufts and Conn College and was definitely a part of the wins where we came from behind in both games and really showed some character."
On Friday against Conn College, it was a game of twos. St A's trailed by two, then tied it at two. In the second period they went up by two before giving up two goals to be tied with less than seven minutes in the third period. Tom Kerwin picked a good time to score his first of the season on the power play and the Hawks killed off a penalty to win the game 5-4.
On Saturday, the Hawks found themselves playing catch-up all night against Tufts as they came from a goal down four times before senior Brett Smith scored the deciding goal while being shorthanded with less than five minutes in the third period. "It was good to see the effort to keep coming back," Seney said. "We really showed a lot of effort in close games and that is important looking to the next games and getting consistency."
While the Hawks are a veteran team, there have been some notable contributions from some younger players including a pair of freshman defensemen Tim Ivers and Seth Goodrich who have played some steady hockey in the first five games of the season. Another contributing freshman has been goaltender Jason Zuck who picked up his first two collegiate wins over the weekend.
The Hawks will try to make the streak four in a row this weekend when they travel to New England College and play what has traditionally been a very close contest. "I think they all have been close," noted Seney. "The games always seem to be one goal games so we know it will be tight but if we play with the same effort we have been I will be pretty happy with the team."
Travel Partner (Part II)
For New England College coach Tom Carroll, the early season has been an odyssey to find out what his new young team is about. Through their first six games, the Pilgrims find themselves at 3-3 after Tuesday's win over Plymouth State by a 4-1 score. The team is still looking for a second win a row this season having alternated wins and losses over the first few weeks of the season.
"We are still learning about what we have got," Carroll explained. "We probably aren't much different than a lot of other teams out there in that regard. The chemistry is still evolving with the new guys and the upperclassmen that are in different roles than where they have been before. It's a little tough to get consistency when you have had as many breaks so far in the season as we have, especially with a young team. I feel like we have had three 'first' games. We started on November 1 and had our tryouts and then a couple of games before Thanksgiving where we didn't play and then back again where we will have played five games in the last ten days after the game with St. A's."
At the beginning of the season goaltending was an area of concern for Carroll who was looking to replace All-ECAC east goalie Scott Gray. He has four goalies on the roster and three have already seen some game action which the coach views as a good thing. "We have four guys that are really working hard in practice everyday, stated Carroll. They are pushing each other and we have seen three play pretty well in some of the early games. We are going to give them all a chance and we'll see where we end up."
Freshmen Matthew Lyon and Ron Baia have posted the three wins with Lyon collecting a shutout in the win over Castleton State. Sophomore Jim Ryan has also seen some time in net in the loss to Wentworth at the end of November.
Freshman Trevor Turner (1-6-7) is leading the Pilgrims in scoring from the blue line as NEC hopes to find a little more production from some if its returning forwards.
"We hope we can grab one tomorrow night," stated Carroll. "We have the break which will be great for our kids to rest and go home for the first time since school started. It will give them a chance to relax and enjoy the holidays with family and friends before they come back to the second half."
The Pilgrims open the second half with a visit to Oswego and the Pathfinder Bank Oswego Hockey Classic along with Elmira and St. Thomas. Getting healthy and finishing the first half on a high note heading home for the holidays would surely create some positive feelings for the second half when league play heats up in January.
Lords of Their Domain
No paraphrasing or Seinfeld references here — when it comes to hot starts and playing well Amherst takes a back seat to nobody right now. Their 5-0-1 start has them at the top of the NESCAC standings following last weekend's sweep of Norwich and St. Michael's at home.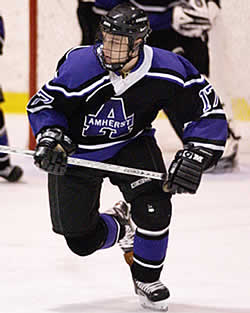 The win on Friday night was indicative of the resilience of this team early in the season and brought out some character that the confident Lord Jeffs will look to parlay into 2007 success.
"We were up 2-0," remarked head coach Jack Arena. "They came right back to tie it up at 2-2 and I was wondering what was going to happen next. Last year they beat us pretty good so I didn't know if the quick comeback was going to affect us negatively. It had just the opposite effect as we scored the next three goals and responded well to some pressure from a good team. The next night against St. Mike's we gave up a goal in the first fifteen seconds and your wondering if the kids are thinking is it going to be one of those nights? We came back strong in a game where we could have had a let down after the big win on Friday — it's great to see the confidence growing."
Amherst has a number of things going their way right now. First on the list is depth. Arena has great confidence in the eighteen skaters that dress every night and can put them on the ice in virtually any situation. How deep is deep? How about seven goals already this season from the fourth line. How about your thirteenth forward, Olufemi Amurawaiye, who doesn't dress to start the season and when he does get in has scored a goal in four consecutive games — don't think he is No. 13 anymore.
Number two item that has helped Amherst is a seriously effective power play. They lead the conference and nation in effectiveness at 36.8% and actually have had the numbers bolstered by the third and fourth lines who have had the opportunity to play a man up in the late stages of games and scored goals. Specialty teams are huge and when you are clicking at over 35% you are making the offense more relaxed. "We got on a streak like this last year too," commented Arena. "It's really fun to watch since everything is just clicking in those situations right now. No doubt it helps out a lot to have that kind of success."
Lastly, the leadership has been terrific for a team that is pretty young. Senior captain Sean Ellis (7-3-10) is setting a great example for the team and has definitely led by example. Arena noted that his team lacked some jump in the game with St. Michael's last weekend and spoke with the team about the energy level in the locker room between the second and third periods. "At the start of the period who was the guy that went out there and set the tempo? Sean Ellis," answered Arena. "That's the kind of example we see from Sean all of the time and it was contagious on Saturday night. The other players saw it and picked it up too. Ironically, after the game Sean told me his legs were dead all day – he just found a way to take it up the next level and get the team there too."
Amherst closes out the first half of the season on Saturday night against Fitchburg State. The Times-Argus tournament at Norwich awaits them after the break and a possible rematch with Norwich in Northfield if both teams can win to get to the final. "That would be great," commented Arena. "A big crowd in a great rink would be another terrific experience for this team as it matures through the season. Absolutely, we would welcome that chance if it happened."
For now the Lord Jeffs can hope to go the break, albeit reluctantly with a big goose egg in the loss column. There aren't many teams who can claim that at this point in the season and it would be a great confidence booster for a team to start the second half unbeaten in their first seven games. "It's a different place to be — being the hunted not the hunter," said Arena. "It's different but also a fun place to be." Just in case he doesn't already know it, hunting season is open and Amherst looks ready for the challenge."