Though final exams loom for players in both leagues, the semester isn't quite over yet and most teams, as well as myself, have one more weekend of games to focus on before being fully able to shift their attention to hitting the books.
NCHA teams continue their impressive starts to the season, though the league no longer boasts the No. 1 ranked team in the nation. Last weekend's 3-3 tie at UW-Stout and 3-2 loss to UW-River Falls knocked formerly top-ranked St. Norbert down to third in the USCHO.com national poll. Despite their win over St. Norbert, UW-River Falls checks in one spot behind the Green Knights, while another weekend sweep by UW-Superior moves them up to fifth. A three-point weekend from UW-Stout moves them up three spots to ninth, and St. Scholastica's weekend split keeps them in the poll, but out of the top fifteen.
After a weekend sweep, MSOE remains the only MCHA team to receive votes, but like St. Scholastica they fail to crack the top fifteen.
Home Cooking?
In most any athletic endeavor, it is perceived that a team benefits from playing at home. So far this year, however, home-ice has meant little to teams in the NCHA. Sure there are exceptions, as a team like St. Norbert is historically nearly unbeatable and this year is no exception as the Green Knights are a perfect 7-0-0 at the Cornerstone. Collectively though, NCHA teams are an identical 26-13-4 at home and on the road. This phenomenon serves to back up the belief it is an incredibly tight conference in which any team can win on any night, regardless of where the game is played.
Conversely, home-ice is thus far paying big dividends in the MCHA. MCHA teams currently hold a 12-10-2 record on their own ice, but are a mere 6-18-2 on the road. Even more interesting is that both of league favorite MSOE's losses have come at home, albeit to teams from other conferences.
Another Stout Start
Perhaps the biggest surprise in either conference this season is UW-Stout. The Blue Devils are currently 8-1-2, with their only loss coming against nationally-ranked Neumann in a game in which UW-Stout held a 3-0 second period lead.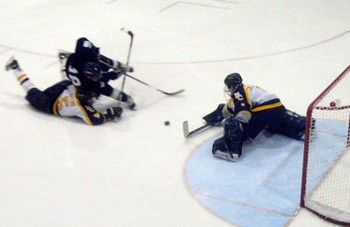 The Blue Devils are no stranger to fast starts, as just last season they opened 11-6 before tailing off as the conference season wore on. Similarly, in 2003-04 they opened 10-3 before the conference schedule caught up with them and they finished 4-7-3 down the stretch.
Though nine of the Blue Devils' final thirteen games are on the road, for now they look like one of the top teams in the NCHA. After snagging three more points last weekend, including a tie against St. Norbert in which Stout outshot the Green Knights 33-20, the Blue Devils sit only two points out of the conference lead while having two games in-hand on leader St. Norbert.
Unlike in past seasons, this year's edition of the Blue Devils offers little to suggest they will tail off as the season wears on.
Heading into the season, head coach Terry Watkins was quick to point to his defense as perhaps the greatest strength of the team. While Mike Stone (4-1-1, 2.03, .919) and Matt Koenig (4-0-1, 2.65, .866) have performed admirably as expected in net, it's the blueliners who may be playing the biggest role.
The Blue Devil defense is conceding only 2.36 goals per game while allowing a paltry 22.8 shots per contest. For the sake of comparison, St. Norbert is renowned for their team defense and is allowing a comparable 21.1 shots per game.
At the heart of the defense are seniors Todd Wynia (0-3-3) and Adam Boche (3-2-5). Throw in seniors Scott Hellquist (1-1-2) and B.J. Garczynski (0-1-1), along with sophomore Jake Wolgemuth (0-4-4) and freshman Bobby Kuehl (1-8-9), and the Blue Devils offer three lines of defensemen who average over six feet tall and almost 200 pounds.
It's not only their size that is imposing, however, as the entire corps is comprised of solid skaters who can move the puck and play excellent positional defense. Following their meeting in the MSOE Thanksgiving Tournament, even Neumann head coach Dennis Williams was impressed with the Stout defensive unit, and that's high praise as Williams' Knights play in the big, fast and physical ECAC-W.
"They are a fast team, but I was most impressed with their defense," he said. "They are big, fast, can move the puck, and can hit. Who was that one defenseman they had out there? He was an absolute horse."
The speed Williams referenced is more than evident up front as well; as this is the most offensively gifted group of forwards the Blue Devils have featured in a long time. Prior to the season Watkins commented on a few freshmen who would be expected to contribute immediately and they have not disappointed.
Freshman forwards Scott Motz (7-4-11) and Derek Hanson (6-4-10) rank second and third on the team in scoring respectively, and most notably bring the element of speed to the Blue Devil attack. They are book-ended in scoring by seniors Andy Wiesner (6-7-13) Andrew Stearns (2-7-9). Senior Matt Mlynarczyk (2-4-6), junior Jake Erickson (3-4-7), and sophomore Corey Mozak (4-2-6) have also been major contributors to a revitalized offense.
In the past when the Blue Devils got off to fast starts, many pointed to wins over lesser competition and even predicted their inevitable slides in the conference. This year is a different story though, as anyone who has seen this team play can confidently tell you that so far these guys have very few weaknesses. The toughest part of the Blue Devil schedule still lies ahead however, and it will be interesting to see if there are any weaknesses that decide to present themselves.
This Week in the MCHA
After last weekend, the conference takes on somewhat of a new look. By taking four points from Lawrence last weekend, Finlandia sits in second place with ten points, only one point behind MSOE. The winless weekend for Lawrence, coupled with the split between UM-Crookston and Marian leaves all three tied for third with five points. Meanwhile, Northland remains in the final spot as the Lumberjacks have yet to win this season.
The most competitive series of the weekend finds Finlandia traveling to UM-Crookston. Though the two sit five points apart in the standings, the gap likely isn't as big as it seems. Finlandia has thus far been the beneficiary of not having to face MSOE, while the Golden Eagles have faced the most difficult schedule in the league, already playing Lawrence, Marian and MSOE. Take out the two losses at MSOE and they are 2-1-1 in the league – not too bad at all. As is usually the case for series involving Finlandia, the power play could play a major role. The Lions are firing at 23.6% with the man advantage while Crookston leads the MCHA with 33.6 penalty minutes per game. Finlandia also brings the leagues second-rated offense (3.75 g/gm) into the game while the Golden Eagles are second to last in goals allowed (4.14 g/gm). Finlandia took three of the four meetings between the two last season.
After getting swept by MSOE last weekend, things get a bit easier for Northland — but not by much as they remain home to host Marian. Not much has gone right for the Lumberjacks this season as they bring a 0-6 league record into the weekend while having been outscored 41-12. Freshman goaltender Bo Storozuk remains a bright spot for Northland, as despite owning a 0-9 record, still has posted a healthy .909 save percentage which is enough to rank him in the top half of the league. If the Lumberjacks plan on getting in the win column this week, Storozuk might be the guy who carries them there. Marian possesses the second-lowest scoring offense in the MCHA, and though the Lumberjacks rank dead last with only 12 goals through nine games, they did have some scoring success against the Sabres last season, despite losing all four meetings.
The Final series of the semester finds MSOE playing a home-and-home with Lawrence. Since a tie against Marian in their league opener the Raiders have been perfect, running off five straight wins against MCHA foes. On the win streak, MSOE has put up 23 goals while only conceding seven. MSOE is tops in the league in almost every team statistical category and will be Lawrence's toughest test since losing 6-4 at UW-River Falls back in October. The Vikings have only amassed one point in their last two weeks of league action, and are only 1-9 in their last ten meetings with MSOE which does not bode well for their chances this weekend.
Full MCHA Schedule
Friday, Dec. 8
Marian @ Northland
Lawrence @ MSOE
Saturday, Dec. 9
Finlandia @ UM-Crookston
MSOE @ Lawrence
Marian @ Northland
Sunday, Dec. 10
Finlandia @ UM-Crookston
This Week in the NCHA
With St. Norbert, UW-Eau Claire, UW-Stevens Point, and Lake Forest done with conference games until January, only four league games will be played this weekend. Despite that, this week's slate features perhaps the most intriguing four games possible that don't involve St. Norbert.
The combined record of the teams in action is 32-6-3, and the four are currently bunched up in second through fifth in the league standings. Pending other results, a weekend sweep from UW-Superior, UW-River Falls or UW-Stout could vault any of the three into first in the league, while St. Scholastica has the potential to climb as high as third.
Two games will pit teams ranked in the top ten against each other, and all four will feature teams who are at least getting votes in the USCHO.com poll.
Any of these could be analyzed to death, but forget it as once again it's coin flippin' time!
Full NCHA Schedule
Friday, Dec. 8
UW-Superior at UW-Stout
UW-River Falls at St. Scholastica
UW-Eau Claire at St. Thomas
Saturday, Dec. 9
UW-Eau Claire at UW-Stevens Point (nc)
UW-River Falls at UW-Superior
UW-Stout at St. Scholastica