The University of New Hampshire honored a legend in women's hockey recently when the athletic department established a gallery reflecting the achievements of former coach Russell J. McCurdy.
"He was a fantastic coach and a legend at UNH," said former player Bridget Stearns who helped organize the Dec. 10 unveiling of the gallery before 80 former players, their families and countless others connected with the university and the program.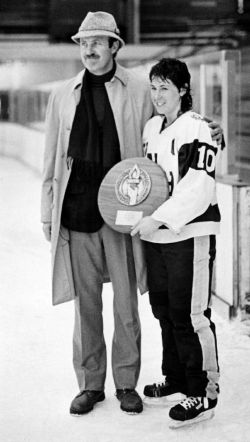 From 1978 to 1992, McCurdy coached the Wildcats to a 264-36-10 record (.868 win percentage) and carried them to undefeated seasons in his first four years at the helm. His teams won EAIAW championships from 1980 to 1983 and four ECAC titles in a six-year span from 1986-1991. He lay the groundwork for what is now the winningest women's hockey program of all-time.
"He basically took decent hockey players and turned them into a machine," said Stearns. She played from 1982 to 1986 under McCurdy, who she described as a very reserved and modest man.
McCurdy was touched upon discovering an entire wall in the school's Whittemore Center filled with pictures, plaques and other tokens of his years as coach. The wall was also formally named "The Russell McCurdy Gallery."
"It was very moving. I never expected anything so elaborate with gold letters on the wall," said McCurdy, who makes his home in Lee, N.H., not far from Durham, where he coached for nearly 15 years. He was most touched by the turnout of players and their families.
"I hadn't seen some of them in years — they all look so great with their beautiful children with them," he said. "I started remembering things I had kind of forgotten.
When McCurdy first arrived in Durham, he wasn't sure how it would all play out. He had been an assistant men's coach at Yale, but he left knowing UNH was committed to building a women's program. "I needed a change of scenery," he said.
Women's college hockey was still in its nascent stages back then. The players were initially all walk-ons. Many played in Sunday leagues in their hometowns. Many players were from Massachusetts, which had a strong high school and prep hockey leagues. Eventually Canadians took notice of the Wildcats' success and began to join them.
"They were like a blank slate. I could introduce new things," McCurdy said of his first players. Many had played during their lives but weren't used to coaching and other aspects that go into building a contender.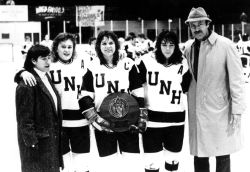 At the time he took the job, the Soviets were dominating world-class hockey. "They moved the puck well and were more elusive in their play than physical," he said, adding that this style fit the women's game since there was no body checking.
Stearns said McCurdy was devoted to the Soviet style of hockey. "He was very strategically oriented," Stearns said. "He studied their practices and their players, and then he taught us how to play."
Although he introduced methods he had picked up studying the Russians (he even went to Lake Placid when they were playing the U.S. leading up to the 1980 Olympics), he was careful not to make them self-conscious about using them. "Then they would stop and think and become too studied," instead of just going with the flow of the game, he said.
Modest to the core, McCurdy likes to think about his success at UNH as a "happy coincidence" of timing, players and skills. "I kept thinking 'How did this happen?'" he said. But he acknowledges that he knew what to do with the talent he was given. "I'll take credit for that," he said. "I had some players who already excelled and they had my highest regard," he said.
Gaby Harooules Fecteau, who played for McCurdy in his first four years, praised her former coach "as a true student of the game. His demeanor was quiet but always purposeful, and you always knew what he wanted," she said.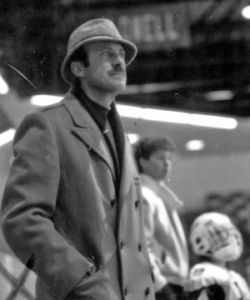 She also pointed out McCurdy's willingness to fight for things — ice time, equipment — to improve the team. He was successful in getting a skate sharpener and then sharpened the blades, himself, she recalled.
Fecteau, who played basketball her freshman year, used to sneak into the rink to see the team and check out the coach. She had played with boys most of her life. "He never knew this but I decided about halfway through my first year in basketball that I wasn't quite ready to hang up my skates," Fecteau said. Inspired by McCurdy's knowledge and presence on the ice, she tried out the following year and made the team that she captained her senior year. "We never lost a game and I learned quite a bit about hockey and life being part of his teams," she said.
Fecteau, who is vice president for the Wakefield Cos. of Danvers, Mass. and Stearns, who is a cost analyst in industry in New Hamsphire, said they were happy that the UNH administration took the time to recognize McCurdy's contribution to the sport in a lasting, memorable way.
McCurdy's legacy also continues in former players who have become coaches themselves. One is Erin Whitten Hamlen '93, the goalie for McCurdy's last two ECAC championship squads. Hamlen was an assistant on the UNH women's coaching staff for six seasons, and she was promoted to associate head coach this past year. She has also recently served as an assistant on the U.S. national team staff.
"Coach McCurdy's ability to be inventive in aspects of our game influences me in my coaching tendencies," Hamlen said. "I'm willing to take more chances in my decisions on the ice. Also, his passion for the well-being of the players (as people too) really struck me as something that I wanted to carry into my coaching career."
Katey Stone '89 began her college coaching career in 1994 shortly after McCurdy ended his. Stone's 13-year tenure at Harvard has included four ECAC postseason titles, four Frozen Four appearances, and a national title in 1999. With her 20th win this season, she will surpass her former mentor's career win total.
"Coach taught me the importance of fundamentals and the little things," Stone said. "His discipline was apparent in repetition. We were the best passing team year in and year out."
"Coach was adamant that education came first. He was a quiet man with a fierce competitive nature. Calm, yet aggressive. I admire Coach for his dedication and passion for hockey and
education through sport."
After retiring from coaching women's hockey, McCurdy coached boys high school tennis for a while. He still plays tennis himself. He gets to most UNH games and thinks the No. 3 Wildcats (14-2-3) are poised to challenge at the highest levels this season.
McCurdy says he misses coaching but there are so many other things that go into a program. "It would be hard to pick it up again," he said. So he'll enjoy his old team and watch as they continue to excel.