Minnesota announced today that senior forward Tyler Hirsch has been dismissed from the team.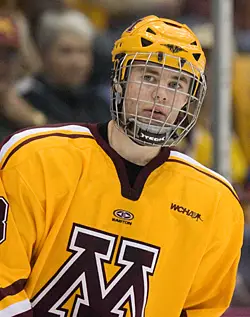 "Tyler Hirsch's hockey career at the University of Minnesota has come to an end," head coach Don Lucia said. "This is a private and confidential matter between Tyler and the coaching staff, and there will be no further comments from any members of the hockey program or the University of Minnesota. We wish Tyler success in his future endeavors."
Hirsch played in 15 games this season, scoring four goals and tallying 18 assists. In his career Hirsch made 144 appearances for the Gophers, gathering 117 points (31 goals and 86 assists).
Hirsch's career at Minnesota was plentiful in the scoring department, but also became controversial. In 2005 after a game at the WCHA Final Five, Hirsch had a post-game incident that made many wonder about him.
Hirsch came back at the start of the 2005-06 season, played in two games and scored two assists, but then decided to file for a hardship waiver as he missed the rest of the season due to personal reasons.