HAPPY NEW YEAR!
Well here we are in the first week of 2007 and several teams are already out on the ice having played in tournaments over the holidays before the competition of league play begins yet again this weekend. The break really hasn't been long enough for too much rust to settle in on any teams but the way the first half went, everyone better be ready to play their best because the league races are wide open and the conference in-fighting really begins in earnest this weekend.
So strap in and get ready for a great second half where the fun won't be contained to watching your local team but also to the prerequisite scoreboard watching that will surely keep fans intrigued right up until the end of the season.
Before we get started on the second half, let's take a quick look at some of the teams making noise over the holidays.
Camels Continuing to Get Results
OK, so they didn't win the tournament up at Plattsburgh. But their official tie with the host team (lost in shootout) has Connecticut College looking at some decent results coming out of a difficult first half schedule. The team's four wins in their first 10 games matches the total for last year and the results have had a positive influence on both coach and team headed into 2007.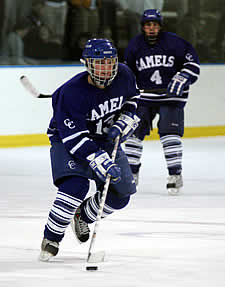 "We have always seen a good effort from the kids in the past but really didn't have much to show for it," said head coach Jim Ward. "This year we are getting the effort and the team is being rewarded for their play with some positive results. Our game with UMass-Dartmouth was probably our biggest win in a long time here and it showed a lot of character for this team coming from behind against a nationally ranked opponent."
Conn College has seen significant improvement in the defensive end of the ice and in their goaltending. Led by freshman Greg Parker and Senior Matt Gluck, the Camels have been outright stingy in giving up goals, having surrendered just 29 through their first 10 games of the season. Freshman Greg Parker has been an early season phenom with a 3-0-1 record to go with a 1.47 goals against average and incredible .949 save percentage. Solid goaltending like the Camels have been getting all season will keep you in just about every game and with timely scoring like Conn has delivered, wins have been a more regular occurrence.
Junior forward Rob Campbell (5-5-10) leads the team in scoring and has provided great leadership for one of the younger teams in the conference. With upwards of sixteen freshmen and sophomores seeing significant ice time every night, the Camels are expecting to get better as the season progresses. In fact, four of the team's top seven scorers are all freshmen. Trevor Bradley (5-4-9), Sean Driscoll (1-5-6), Ryan Joyce (0-5-5) and Ryan Howorth (3-1-4) all have been contributors to the team's early success and are looking for more in the second half.
Nobody is taking the early season results for granted, least of all Ward: "There is a long way to go and we will need to continue to get better and stay healthy if we want to contend for a playoff spot in our league. It is nice to have had some early success but we know now we aren't going to sneak up on anyone — we are going to need stay focused and put out a maximum effort every game."
If the first half is a good barometer, the Camels may find themselves playing some really important games in late February and it all starts with Norwich and St. Michael's this weekend.
Eurotrip (no, not the movie)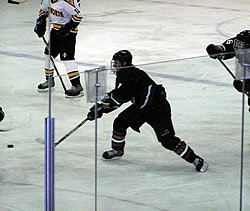 Last year the Williams Ephs used a holiday trip to France to jump start their season and go on a run that took them to a second place finish in the NESCAC conference. This year the Wesleyan Cardinals hope a little time spent in the Tyrolean Alps will have same effect as they return to play this weekend having just arrived home from playing in Germany and Northern Italy. The Cardinals played two games each in Munich and outside Balzano, Italy and also spent some time touring in Innsbruck, Austria.
"We went 4-0 on the trip," commented head Coach Chris Potter. "The competition was not what we face here but it gave us a chance to work on a lot of things especially with maintaining possession of the puck and working on some passing timing. We also experimented with some different power play set-ups that we will probably incorporate into our scheme here so all in all the trip was pretty good from the hockey standpoint."
"The guys had a good trip," Potter said. "I think they definitely had some fun together and got closer as a group — a little team building stuff. The only concern now is how tired they are so we will try to get them a little rest, a couple of days off here and there so we can compete at the level we need to be at in the conference games."
The Cardinals got off to a slow start going just 1-3-1 in their first five games but finished strong before their trip going 2-0-1 to finish the first half at 3-3-2. A strong game against previously unbeaten UMass-Dartmouth which ended in a 1-1 OT tie was probably the team's best overall game showcasing some key performers that will need to play prominent roles in the second half of the season.
Goalie Mike Palladino has stepped into play very well in front of senior Dave Scardella who has been off to a slow start. Palladino is 2-1-1 with a 2.12 goals against average and .923 save percentage and having two or three strong netminders, including freshman Tim Archibald, in Head Coach Chris Potter's system would be a definite asset in the back half of the season.
Senior co-captain Will Bennett (3-11-14) leads the team in scoring while freshman David Layne leads the team in goals with seven in his first eight games including five on the power play. Another freshman, Jeff Beck (3-4-7) is third on the team in scoring as the new additions have already been key contributors in jump-starting the offense this season.
"We definitely have guys who can play and one of the key things in the second half will be balancing our roster," said Potter. "Balancing ice time and who's going to play will be a challenge for us as we have guys that can do a lot of different things. We have been healthy so far which is a good thing but it definitely creates the challenge to keep everyone involved on a daily basis."
Thirteen different players have already scored this season for Wesleyan and that kind of balance will be needed as the league battles heat up starting with hosting Southern Maine and Salem State this weekend.
Holiday Tournament Wrap-up
Several ECAC East and NESCAC teams either participated or hosted tournaments over the holidays with varied results:
Norwich avenged an earlier regular season loss to Amherst by defeating the Lord Jeffs in the final of the Times-Argus Tournament held in Northfield, Vt. The Cadets overcame a 3-1 first period deficit and rode two shorthanded goals by Eric Lauriault and five unanswered goals to a 6-3 win.
Middlebury won its invitational tournament with a shootout victory following a 3-3 overtime tie with Hobart in the championship game. Middlebury reached the final with a 3-2 victory over St. Anselm's while Hobart defeated Trinity to make the final. Trinity took the consolation game with a 4-1 win over the Hawks.
Skidmore continued its torrid play by winning the Codfish Bowl at UMass-Boston. The Thoroughbreds outscored their opponents by a 15-2 margin in the two games and defeated the host Beacons by a 5-0 score to take the title.
Bowdoin remained unbeaten (6-0-3) in the season by winning the Salem State Classic. The Polar Bears defeated the host Vikings by a 2-0 score in the final after beating Fitchburg State by a 8-1 score in their opening game. Salem State reached the final by downing Plymouth State
8-3.
St. Michael's reached the final in its own tournament by beating Assumption by a 6-0 score behind four assists from Jared Silver. The Purple Knights fell in the final to Hamline by a 5-3 score as Hamline's Steve Festler scored once in each period for a hat trick.
New England College played in the Pathfinder Bank Oswego Hockey Classic where it fell to the host team by a 5-2 score before losing a tight game in the final seconds to St. Thomas, 4-3, in the consolation round where UNH transfer Brian Pouliot chipped in with two assists for the Pilgrims.
In the Cardinal Classic, host Plattsburgh defeated Conn College in a shootout after a 2-2 overtime tie while Neumann defeated Babson by a 3-2 score to reach the final. In the consolation game the Beavers needed two third period goals to break open a close 2-1 game despite outshooting the Camels 41-19.