Bearing Gifts
Did Santa bring you what you asked for? The SUNYAC teams also had their holiday list (or in some cases, what they did not want), but we won't know whether Santa actually delivered what was on the list or whether he left a lump of coal in their stocking until the season is over. Here is the top gift each team is hoping for as we look forward to a great second semester.
Oswego is hoping they do not receive something in the second half — overconfidence. The Lakers remain undefeated (13-0-3) and for the first time in school history, are ranked number one in the country, albeit tied with Manhattanville.
"It is an honor that the voters in the poll consider us to be among the best teams in the nation," Oswego coach Ed Gosek said. "We've played well and the players have worked hard this season, but there's a long way to go. We have a difficult second half of the schedule remaining, with tough SUNYAC games and non-league games, so we'll be challenged."
Lucky for them, they only have three games left on the road (Utica, Fredonia, and Buffalo State) with some tough contests against Hamilton, Geneseo, and Plattsburgh at home. Remaining undefeated is a double-edged sword. You go into every game to win, but when does the pressure of staying perfect overcome the pressure of a single game?
More importantly, come playoff time, how does the pressure of a recent history of losing at home in the playoffs affect playing at home in the playoffs. Like I said, the last thing Oswego needs to find under the tree is overconfidence.
"Better first periods," is what Geneseo coach Chris Schultz hopes was left by Santa. "We've struggled in the first periods consistently. I think if we get better first periods, we'll get better results."
The stats certainly prove him right. The are minus 11 in overall goal differential in the first period while they are on the positive side the other periods. In league play, the first period also shows the only negative goal differential. In all the games they lost, they were never leading after the first period. In fact, in their 15 games so far this season, they led after one period just twice.
Brockport, like Oswego, also does not want to receive something — a collapse. The Golden Eagles are the surprise of this year's SUNYAC. However, they have their work cutout for them as the next seven games are on the road and four of those are league games. The upside is the last three games of the season are at home. Will they still be in a position by then to have it matter? Only if Santa doesn't bring them what they don't want.
Road victories is what Fredonia hope they get. Though they lost twice at home this year, before those two losses, they had a 25-game home unbeaten streak. This year, they are 2-3 on the road. Last year, 4-9-2 away from Steele Arena. Seven of their remaining 12 games are on the road, and more importantly, four of their next seven conference games are on the road, including Plattsburgh and Geneseo. If Santa doesn't deliver, Fredonia may also be stuck on the road in the playoffs.
Plattsburgh asked for some goals. The Cardinals goals per game average has dropped compared to last year from 4.47 to 3.67 overall and 4.79 to 4.14 in the SUNYAC. This comes from a team that usually has one of the top offenses in the country. This has led them to a mediocre looking 5-6-4 record. All but three of their last ten games are home, which means just two conference games are on the road, though one of those is at Oswego.
Potsdam's wish is the opposite of Plattsburgh. The Bears want less goals scored against them. They have let up an average of 4.79 goals a game while only scoring 2.57 goals a game. It doesn't get much better when you look at the conference stats.
Buffalo State needs some memory. They need to remember what it took last year that made them the turnaround story of the SUNYAC where they went 8-6-0 and finished tied for fourth. Halfway through this season they have already lost four times at 2-4-1. To make it difficult, five of the last seven conference games are on the road, including the four teams just ahead of them in the standings.
Santa needs to give Cortland their confidence back. The Red Dragons started out well at 3-0 and were 5-3-1 before going into a four game losing streak and suffering through a goaltender meltdown and then a blowout at the hands of Castleton State. In fact, Cortland was shutout twice in a row at the start of that losing streak and let up 25 goals in the last three games. It doesn't get any easier as they return to action against Hobart and Utica. Santa definitely needs to find that confidence fast.
Morrisville needs victories against SUNYAC teams. The Mustangs have done well so far in their first season of Division III at 4-6-0, and they have already beat a future SUNYAC opponent. Granted, no matter what happens the rest of the year, Morrisville will still have a lot to look forward to. However, there's nothing like wins against your future league members to hang your hat on. They will have plenty of opportunity to do that as their next five games are against SUNYAC teams with four of them on the road.
SUNYAC Short Shots
C.J. Thompson scored a hat trick for Oswego in their 5-2 victory over New England College where the Lakers went two for three on the powerplay … These two teams traded goals 16 seconds apart in the first and 20 seconds apart in the second … That game took just 1:58 to play after starting late due to a fire in the concession stand that caused an evacuation … Oswego beat Elmira, 4-1, for their tournament title by scoring three goals in the third period … After a 2-2 tie against Connecticut College, Plattsburgh advanced in their tournament with a 2-1 shootout win after five rounds … Plattsburgh and Neumann traded goals 11 seconds apart in the first period as the Cardinals lost 8:47 into overtime.
Game of the Week
There are more games on Tuesday (7) then there are during the entire upcoming weekend (4). Since this is still the between semester break for students, it's not too much of an oddity to see so many teams travel during the week.
This is also the time when non-conference games are prevalent, especially match ups between the SUNYAC and the ECAC West.
"Anytime you go up against an ECAC West opponent, you are in for a good game," Geneseo coach Chris Schultz said. "It will give us an indication of how the second semester will go."
There are two intriguing games on Tuesday: Norwich at Plattsburgh and Fredonia at Utica.
The former is a rematch of the Primelink final. In fact, Plattsburgh plays both Vermont schools at home after playing them in the Primelink. They already lost to Middlebury, 2-1, after beating them in the tournament, 4-2. This time, they play Norwich after losing to them in November, 4-2. Does this mean they win, 2-1?
Fredonia always plays Utica tough. Last year, they split with the Pioneers, with the home team taking the win. The Blue Devils' lost was in overtime. The year before, both games went to overtime, with Fredonia winning at home while tying on the road. This season, these two teams play just this once. Too bad, since they are always good games.
The game that I am choosing as the game of the week occurs during the weekend in the only afternoon game — Geneseo at Hobart, two teams that finished second in their respective league standings last year.
The Statesmen, despite being in fourth place in the ECAC West, is ranked 10th in the nation thanks to a 7-2-3 record, with both losses coming in league play. Geneseo, despite a 10-5-0 record, is not ranked, thanks to poor showings against ECAC Northeast teams.
Thus, this game gives Geneseo something to prove. Last season's SUNYAC champion against a national semifinalist. An opportunity to overcome the two losses to UMass-Dartmouth and Curry. And, being the two schools are relatively close to each other, a bit of regional bragging rights as well.
"Hobart is going to be a very, very worthy opponent," Schultz said. "They skated well with Middlebury [they tied, 3-3]. Hobart has been skating for a week, and we have not played since the Skidmore game [December 9]. Hobart is not going to be an easy team to go up against in our first game back."
On The Periphery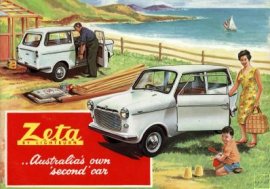 Perhaps the worst design decision in the automotive industry — and unfortunately there are plenty of losers to choose from — occurred in the early 1960s. The Australian washing machine company, Lightburn, regrettably decided to enter the car business, and they did it with the Lightburn Zeta released in 1963.
This was a 2-door station wagon. Notice that I wrote 2-door. There was no rear door, rear hatch, or even a removable rear window. The only way you could access the rear storage area — which is the whole purpose of a station wagon — was to get out of the car and remove the seats. To add absurdity to ridiculousness, they actually marketed this feature as an advantage!
I kid you not. You can't make this stuff up.
Luckily, none of that brain dead thinking was involved with the new rink in Oswego. I finally had the opportunity to see the Campus Center Ice Rink for myself on the final day of the Pathfinder Bank Oswego Hockey Classic. It lived up to all my expectations and the well deserved hype. It truly is, along with Middlebury's Kenyon Arena, the finest Division III on-campus facility in the country.
I couldn't find any flaws in the layout, sight lines, accessibility, walking areas, comfort (well, there are no cup holders), pressbox (except the table supports had a knack for painfully smacking your knees), and concession stand.
Of course there was one key item that could have turned this into a Zeta-like colossal failure — the pretzels. They hit a winner there as well, as they were everything a hot, soft pretzel is supposed to be. The only factor that keeps them from topping the pretzels at Brockport and Buffalo State is Oswego's were too small.