In a season where there has been a razor-thin margin between a win, a tie and a loss, Boston University fortunately has been led by a goalie who is razor-sharp.
If anyone has any interest in debating whether senior John Curry is far and away the team's Most Valuable Player as well as a contender for any number of postseason honors, consider a few facts.
In politically correct parlance, we can say that BU has struggled through an offensively-challenged season. Although BU is second in the nation defensively — giving up just 1.72 goals per game — they are scoring just 2.39 goals per game, seventh-best in Hockey East. Curry is fifth in the nation with a 1.82 goals-against average and 11th with a .928 save percentage.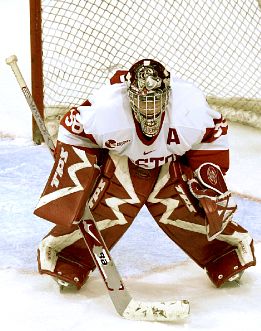 Fourteen of the team's 18 games have been decided by one goal or less. In fact, if Curry had given up just one more goal in each of the 16 games he's played, the Terriers' record would be a woeful 5-10-3 instead of 8-4-6.
"I think that my expectations — as well as my teammates' and my coaches' — are a little bit higher this year," Curry said. "We lost some good forwards, and we've struggled at scoring a little. I do think it will come around, and it's starting to come around. But I might be forced to play that much better to get a win, and I expect that of myself. So if I play a good game, I don't try to pat myself on the back too much. It's just that's the way I should play, and my teammates should expect that out of me."
Curry's startling rise from third-string, walk-on benchwarmer to Hockey East standout in his sophomore year has been well-documented. Two years on from opportunity knocking when Stephan Siwiec and Karson Gillespie struggled at a season-opening tournament in Dayton, Ohio, Curry has matured into a remarkably poised, composed netminder.
"It's not more relaxed, but there's more confidence," Curry said. "There's nothing unexpected. When you've been in pretty much every pressure situation besides the Frozen Four, the pressure's not daunting, I guess. I feel like I've been there before and I don't have to worry about getting messed up mentally too bad. So I go into a game probably with a clearer mind about what I need to do.
"Two years ago — or even last year, a little bit — I went into games with confidence but also with a lot of uncertainty about not knowing how the game is going to go and maybe worrying about that too much. I don't do that any more."
As unlikely as it would have seemed when Curry humbly started his BU career, Terrier fans have to start to reflect on Curry's legacy in team history. Despite playing all of 310 seconds his freshman year, Curry has passed Terry Taillefer in career saves and is now fifth in team history with 2,067. He could finish second in that category, passing Michel Larocque (2,412), Cleon Daskalaskis (2,440), and Scott Cashman (2,468). Only Sean Fields (3,055) is out of his reach.
He also appears to be a near lock to have the career save percentage and goals against average records, as he started the year with program-best marks of .920 mark and 2.11, respectively, and has improved on those figures to date.
Of course, a skeptic may point out that college hockey has changed considerably since the era of a Cleon Daskalaskis. Goals are much harder to come by these days across the sport. Still, Parker insists that Curry has been at least as valuable to his team as any goalie in Terrier history.
"In any era, he'd rank very, very high," Parker said. "The difference is that I remember that Jim Craig used to talk about how this idea of greasy goals or bad goals given up by a goaltender — that's ridiculous, that doesn't matter at all. It was a late goal; it was a greasy goal — it never should've gone in. 'The only thing that counts as a goalie,' he used to say, 'is after you give up three, you can't give up any more.'
"Now, in this day of age, it's almost like once you give up one … or certainly once you give up two, you can't give up any more. The game is over if you do. So he's in an era where the goaltending is much better, the defense is much better. One of the reasons that goals are down — and I've said this a thousand times — is that no position in any sport has made the jump in how to play technically better than goaltenders have made in the last 10 years."
Parker also pointed out that some of the changes in college hockey have led to a counterintuitive development.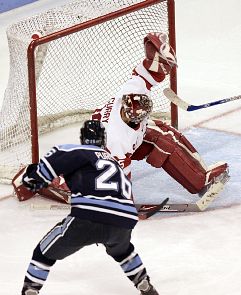 "The other thing that's happened, however, is that because goals are so hard to come by, you'd think coaches would coach for more offense," Parker said. "But the reality is that everybody's coaching for more defense and playing it much more conservatively because if you give up two goals, the years of telling Ricky Meagher, 'Hey, go and tie it up this shift' — those days are long gone. So you can't fall behind two-nothing.
"It's amazing how many times you see a team going up and down the ice, up and down the ice, team A scores, and Team B goes into a trap. They just pack it in because they can't give up the next goal. They just say, 'Let's hang in and try to keep it close for a while.' So there's so much more emphasis on defense as well as great goaltending that it's hard to judge Jimmy Craig versus Cleon Daskalaskis [let alone versus Curry].
"But if you look at wins and pressure games in consecutive games, overall contribution, and value to the team, I don't think that there are have been too many goals here who have been as valuable to their team as John Curry has. Maybe Cleon. Jimmy Craig played on great teams. Curry this semester alone has held us in, taken us by the bootstraps, and said, 'We're not going to take a dive while we've got these guys out with injuries or while we're not scoring goals.'
"He might be the MVP of the league."
Curry doesn't think much about that — especially at a time when all parties agree that BU is deeper in goaltending than at any other time in its history. Junior Karson Gillespie was brought in to play but just hasn't had many opportunities. The fact that Gillespie is 2-0 this season with a shutout and a .978 save percentage and still struggles to get more playing time says something about the play of Curry.
Likewise, freshman Brett Bennett was on the U.S. Under-18 team last year and has NHL potential … but given the tight games and play of Curry, Parker laments not being able to get him even a minute of playing time outside of the opening exhibition game.
For Curry, the competition has been both friendly and highly motivating. "I hear stories about other goalies on other teams, but the entire way up for me there were other goalies on the team that I had good relationships with, so this certainly isn't any different," Curry said. "We're all really good friends. I probably talk to Karson more than anyone else on the team, and Benny too. You've got to be pretty good friends. We push each other. There's definitely competition: They want to get in there, and I want to stay in there.
"But it's a good problem to have, I think, to have too much goaltending as it might seem. As we saw last weekend [against Dartmouth], when Giles gets in there, he plays really well. That helps to push me a bit more and also get some rest here and there. I like the situation. You get complacent if you don't have competition every day. Even though I may have established my No. 1 position, every day I think I've got to keep going because these guys are good goalies, and I can't give them any room."
Amidst all his success, Curry has remained an unusually down-to-earth and normal guy — especially as hockey goaltenders go. He shrugged when asked about superstitions, allowing that he has the same meal at Bertucci's the night before each game. "But I don't put my underwear on backwards on game days or anything like that."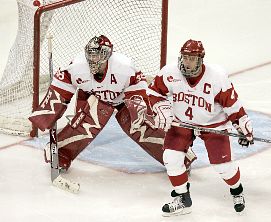 Parker has had some relatively normal goalies before, but not too many of them. "Eddie Walsh was a very, very normal guy, great goaltender, even-tempered guy," Parker said. "[Curry] might as well be a forward or a defenseman in terms of the way he's conducted himself around the team. Mostly goals have quirks: 'Don't talk to me before the game.' Or they're out there standing barefoot staring at the rink for an hour."
So what rinks will Curry be staring at in the future? It remains to be seen.
"It's interesting," Curry said. "Coming in to BU, I didn't know if I'd have an opportunity to play here. And opportunities beyond BU are coming up now. It's something that it doesn't help you too much to think about, so I'll think about it when the season's over. But it's an exciting situation, I guess, and we'll see what happens."
Parker acknowledged that one reason the team brought in Bennett was "you never know what's going to happen. Curry could've signed this summer. I remember when Tommy Noble was coming out of Catholic Memorial, I tried to talk him out of coming [when he did]. I told him 'We don't have a scholarship for you. We want you to come, but we want you to come the year after-then we can give you a full scholarship.'
"And he said, 'No, no, I want to come now.' And we said, 'Okay, but you're probably not going to play. We've got J.P. [McKersie], and we've got Derek [Herlofsky].' And then J.P. ends up having an accident [on his bicycle] that summer, and he's gone [with a serious head injury]. And Noble ends up winning the national championship for us."
Curry would love nothing more than to wind up his career as a guy who came in not expecting to play and who ended up winning a national championship — even if takes Three more years than it took for Tom Noble.
If BU does make it to the Frozen Four for the first time since 1997, you can bet that a key component to its success will be the hottest Curry in college hockey.