Last year was the first time that Boston University hit the "play" button with Division I women's hockey.
Now it seems as if head coach Brian Durocher actually hit "fast forward" instead.
Even those who were excited about the Terrier women bringing D-I hockey back to Walter Brown Arena had modest expectations about the early returns. Those aware of Durocher's conservative deployment of scholarships had additional reason to anticipate a few long seasons in terms of wins and losses. The former associate coach of the BU men's hockey team opted for a strategy that ultimately will favor long-term national results instead of being only pretty good in a hurry.
"The maximum you can have is 18 [scholarships], and we will have that after four years," Durocher says. "But I've been kind of sitting on a read-and-react thing. My whole mode is don't give money out until you get some people that you think are really quality kids. Quality doesn't mean you're playing .500 in Hockey East; quality means that you're fighting to play well against UNH and BC and also Dartmouth and Wisconsin. That's the challenge of Hockey East is to grow as a league. My plan is something in the neighborhood of five, five, five, three [scholarships over the first four years of the program].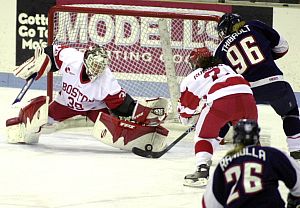 Given the lack of scholarship players as well as a lineup that featured only three non-freshmen on a regular basis, "I thought we'd win three, four, or five games, and we won 12 and tied another four," Durocher says. The team ended up with a respectable 12-17-4 inaugural campaign.
"So obviously we were well in over half our games, including some one-goal games, like with Dartmouth and Harvard. That really did make it a lot of fun last year."
In explaining the quick success, Durocher credits various factors. "All of the people I've talked to said that there was a pretty deep pool of kids the year we started. I think that and the combination of Boston University's stature as an academic institution and location yielded a much larger group of pretty solid hockey players — not college hockey superstars, but a core of kids that was much deeper than I ever envisioned."
One key to the quick start has been goaltender Allyse Wilcox. When it's suggested that it would take a "special type of person" to turn down opportunities to play at Mercyhurst, Ohio State, and Connecticut to face a barrage of rubber in a program's first D-I season, Wilcox laughs. "That was the main reason that I came here — because it was a new program. So I figured I'd be facing a lot more shots than on a more developed team."
Wilcox's play has caught the attention of BU's best-known D-I goalie, senior John Curry.
"You can be talented — and she is — but mentally she's got it too," Curry says. "I'd say she almost has a similar style to me. She's athletic; she's smart, very quick. You see a lot of goalies in girls' hockey — my sister plays — and she moves a lot better than a lot of the girls I've seen."
Wilcox agrees with Curry's assessment but cites other influences as well. "I was big on Dominik Hasek because I don't think I have that much of a set style — you know, a stand-up or butterfly goalie."
This year freshman Melissa Haber has emerged as another netminding stalwart. "They're both playing really well," left wing Nicki Wiart says. "When they're hot, they're hot, and they're never not hot.
"Wilcox is a little fancier, but Haber gets it done — pulls some saves from out of nowhere."
But if goaltending has kept the fledgling team competitive in most games last year and just about every game this season, they are developing offensively as well. Even with Laurel Koller, last year's leading scorer, out of action due to injury, BU now has a first line that is big, physical, and aggressive.
Although currently out with a shoulder injury, freshman center Melissa Anderson leads the team in points and penalty minutes. "Anderson's such a high-energy player that a lot of times she just beats you into the corners on the forecheck," says senior captain Cara Hendry, who plays on Anderson's right wing. "She does a great job down there, so we just let her have at it."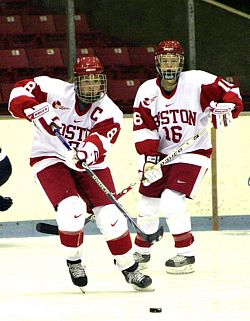 That said, Erin Seman is another hard-nosed winger who makes things happen. In last Saturday's win over Northeastern, Seman picked up the puck in her own zone and just overpowered the opposition, skating all the way in on the left wing before dishing to Hendry for a tap-in and the eventual game-winner.
"Me and Seman were together last year, and I think we really clicked," Hendry says. "We have good chemistry, and we get each other going."
When you add the scoring of Gina Kearns and Hockey East All-Star defenseman Amanda Shaw to the mix, that's a pretty solid nucleus as well as a strong foundation. But, again, the key truly has been many pleasant surprises.
"[Forward Melissa] Tetreau was a walk-on, and she's really been a contributor," Hendry says. "Maybe not on the scoresheet, but she works hard every day no matter where she finds herself in the lineup. She's a really nice girl to have on the team. [Sophomore Caroline] Bordeau works hard killing penalties, forechecking, backchecking."
All of these ingredients has added up to an impressive 13-7-2 record this season. The team is coming off two gritty wins last week. On Thursday, they came back from a 2-0 deficit in the third period on the road to beat UConn on Kearns's OT tally. They followed that up with a 4-2 win against a tenacious Northeastern team on Saturday.
In that one, left wing Nicki Wiart epitomized the grit that the team has shown of late. Smashed hard into the boards and on the ice for several minutes with the wind knocked out of her, Wiart came back and wound up sealing the win with a backhander from her own zone that chugged all the way into the net for the empty-netter.
So the team's primary goal of a .500 season is just about assured, and their more lofty goal of being just one of four Hockey East teams to make the playoffs is alive — thanks to the UConn win in particular.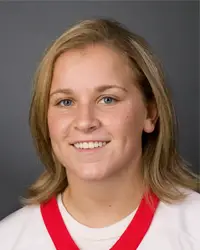 "Thursday night was a significant breakthrough," Durocher says. "We were down two-nothing but found a way to summon up some courage, some heart, some guts, and we get two and then one in overtime to win it."
All of these achievements haven't gone unnoticed. "I've been really impressed," Curry said. "I know Coach Durocher really well, and I knew he was going to do a good job, but they basically had nothing before last year. So the girls that they've brought in and the jobs they've done for a second-year program. … I expected it to maybe take five years to get off the ground. He's the right guy for the position."
He's also not your typical head coach. "He has a unique style: more of a quiet coach, doesn't get in your face," Wiart says. "When he gets disappointed in you, it's worse than when he gets mad at you because then you know you've really done something wrong."
Durocher acknowledges that the women's game has been an adjustment for him. He says that the women players are more thorough communicators, more interested in being sure they understand the nitty-gritty technical elements of the sport. The rule differences affect coaching as well.
"You can't check, so if you make a little bit of a bad decision coming up on a play or a bad read, you can't do what you sometimes can do in guys' hockey and just knock the guy over," Durocher says. "[If] you've got a bad angle or you don't have the foot speed, you have to regroup with your feet or make a pokecheck."
Terrier men's hockey coach Jack Parker thinks that Durocher has made the transition just fine, thanks.
"I think they've achieved more than I thought they would by now," Parker says. "They're a solid team; they've beaten some teams already this year and a few last year that I never thought they'd beat, and they've been hanging in against some teams that I thought they'd get hammered by.
"I think that there could be big benefits down the line."
Durocher hopes that the team will be competing for some serious hardware within the first four or five years of the program's history. In the meantime, "the amount of energy and effort they put in makes it fun for me to come to work each day."
So perhaps it won't be all too long before we see this program pull off some big wins in February.
Going forward, March.