Another week is in the books, and once again not much has changed in terms of the national scene. All four nationally-ranked NCHA teams went a perfect 2-0 against MIAC competition last weekend. All four also held their spots in the USCHO.com Division III poll. St. Norbert remains the third ranked team in the nation, with UW-River Falls, UW-Stout and UW-Superior once again checking in at fourth, fifth and seventh respectively. Despite splitting a series with conference foe Finlandia, MSOE remains the only MCHA team to receive votes, still landing a few spots out of the top 15.
With conference play finally resuming in the NCHA, it's safe to say the season has officially hit the home stretch. This week I'll break down what was a competitive week in the MCHA before getting out the crystal ball in attempt to forecast what will be a wild final four weeks in the NCHA. Additionally, I'll take a look at one player who excels not only on the ice, but in life as well.
MSOE's Soik Does It All
By now most people are familiar with MSOE forward Brian Soik's exploits on the ice. The senior captain and Stevens Point, Wis., native has scored 91 points in his three plus seasons for the Raiders. Centering MSOE's top line, he burst onto the scene last season by posting 45 points in 27 games. He has helped lead the Raiders to back-to-back Harris Cup Championships and has garnered his share of individual recognition in terms of all-conference and various all-tournament accolades — including picking up MCHA Player of the Year honors last season.
Those things most people are familiar with.
What they may not be familiar with, however, is that with a 3.9 GPA, the Mechanical Engineering major is a permanent fixture on MSOE's Dean's List. Not only that, but Soik also volunteers his time for numerous causes within the community. As a result of his selfless efforts, Soik was recently named one of thirteen nominees for the 2007 Hockey Humanitarian Award.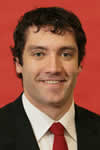 It's the extent of Soik's volunteer work that may be most impressive. For the past three season's he has helped organize an annual broomball tournament aimed at raising money for Toys for Tots, a program designed to provide Christmas toys to needy children. After raising another $10,000 this year, the tournament has generated over $30,000 since its inception.
It doesn't stop there, as last September Soik and teammate Ross Chawansky organized a team to participate in Dylan's Run for Autism, a 2 mile-run walk along the Milwaukee lakefront aimed at raising funds and awareness for autism. Soik also played a part in organizing a Boy Scout outing at a recent home game, including a post-game skate with the team.
Acording to MSOE head coach Mark Ostapina, Soik's efforts are clearly superlative.
"He's our captain, a great leader," he said. "For him to lead and do things in the community — it takes a rare individual to do that. He wasn't a finalist for the Humanitarian Award but he keeps on doing stuff. He's been doing stuff so recently the award couldn't even take it into account. He's a special individual."
Another factor that makes Soik's efforts impressive is the way the MSOE schedule is structured. On a quarterly system, players must deal with final exams twice during the course of a season. Between the rigors of successful hockey and academic careers, Ostapina often wonders where Soik finds enough time to do as much as he does.
"He tutors guys on the team also, he's a math whiz," he said.
Ostapina then added half-jokingly, "He spends so much time helping other people I sometimes have to make sure he is still worrying about Brian Soik."
Though Soik was not named one of the five finalists for the Hockey Humanitarian Award, it doesn't really matter. What does matter is that there are players out there like Brian Soik who remind us hockey is merely a part of what they do, and that after all, it is only a game.
This Week in the MCHA
Two big series last weekend offered an opportunity for the conference standings to get shaken up, but both resulted in splits thereby maintaining the status quo. Though Finlandia and MSOE split, the Lions may still have come out of the weekend a winner, as it's now official: MSOE has company at the top.
Early on in Friday's contest it looked like MSOE might run away with things, as the Raiders would jump out to an early 2-0 lead. Nick Bilpush would get the Raiders on the board less than six minutes into the game and R.G. Flath would extend the lead with a shorthanded goal a mere 53 seconds later.
They would be the only two goals MSOE would score all night, but it was all they needed.
Finlandia responded later in opening period as Ryan Sullivan cut the lead to one with a powerplay marker, but that would be it for the Lions. Behind a strong performance from goaltender Matt Burzon, who stopped 32 shots, and a fantastic penalty kill that held the Lions to one-for-ten with the man advantage, the Raiders would hold on for the 2-1 win.
Featuring the two highest powered offenses in the league, many anticipated a shootout between the two teams. While that wasn't the case, MSOE head coach Mark Ostapina was pleased with the way his Raiders held on for the win.
"Burzon played really well," he said. "It was really good to win a game like this. To be a good team you have to be able to win games in different ways."
He added, "We also gave them ten powerplay chances. I'm proud of the fact we were able to protect our lead and showed we have the ability to win in various ways."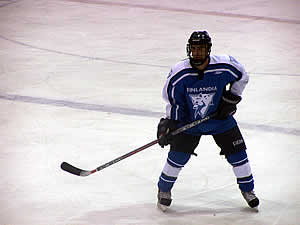 Finlandia head coach Joe Burcar was also impressed with the Raiders' ability to hold on to a one goal lead for over 40 minutes, stating, "You have to give credit to Burzon and the rest of the team. They came out and shut us down."
The win moved MSOE three points ahead of the Finlandia in the conference standings but unfortunately for the Raiders that lead would be temporary as they were unable to carry Friday's momentum into Saturday.
The Lions pounced early in Saturday's game as less than three minutes into the contest Mike Parks would spring free on a breakaway to give their Lions a 1-0 lead — one they never would relinquish.
"Unfortunately we weren't able to carry it over to Saturday," said Ostapina. "They got that breakaway early and unfortunately it got the ball rolling for them and things sort of snowballed."
Parks would strike again early in the second period and teammate Marc Marcotte would add another nearly five minutes later to put the Lions out front 3-0 midway through the game. MSOE would respond with a goal from Michael Duta, but a Josh Paquette tally less than three minutes later would reclaim Finlandia's three goal lead.
Despite firing 17 shots in the third period, MSOE would fail to find the back of the net, while Finlandia would score twice more for the final 6-1 margin.
In Ostapina's mind, all the credit for the Saturday win goes to Finlandia.
"They played very good hockey. You have to give them all the credit in the world. In my opinion they beat us in all phases of the game."
Similarly, Burcar was pleased that the Lions were able to respond after a tough defeat on Friday, stating, "We came down here very determined to get a point or two out of this weekend. I think this team has great character, and it showed in that game. It builds confidence to be able to battle back and rebound from a tough loss the night before."
What this series shows is that the MCHA season is not over by a long shot. Finlandia must travel to Marian this week and the Sabres have already beaten the Lions once. Meanwhile, Lawrence is playing much improved hockey and it's more than clear that MSOE can be beaten by numerous teams in the league.
For now though, Ostapina and the Raiders are still in first, though by the slimmest of margins.
"This is going to be a dogfight to the end," he said. "This is what college hockey is all about."
This Week's MCHA Schedule
Friday, Jan. 19
Finlandia @ Marian
MSOE @ UM-Crookston
Lawrence @ Northland
Saturday, Jan. 20
Finlandia @ Marian
MSOE @ UM-Crookston
Lawrence @ Northland
This Week In The NCHA
The NCHA finished off the MIAC-Interlock with their worst weekend of the season, but still posted a 9-6-1 record. With no more regular season meetings remaining between the two leagues, the NCHA claims this season's bragging rights by holding a decided 46-16-2 overall advantage.
According to just about everyone, the NCHA field was wide open heading into the season. Now that we are almost halfway home, things have stratified themselves out a bit, which now gives us a chance to speculate as to how things will look at the end of the season. That being said, here is a peak into my slightly cloudy crystal ball:
Who will win the league?
Right now any of four teams could do it. UW-Stout surprisingly sits stop the standings, and it's not a fluke they are there. Meanwhile, UW-River Falls, UW-Superior and St. Norbert are all easily within striking distance, and are all used to playing in high-profile games late in the year. There is one team, however, who for nearly a decade now has been able to win an overwhelming majority of the big games they partake in, and have been nearly indestructible in conference play. In my mind this experience goes a long way and between an offense loaded with scoring prowess, a stingy defense and a sophomore goalie who is already threatening the NCAA career shutout record, I see them ending up on top. It helps that they will be finishing the season with a series against Lake Forest, while UW-River Falls and UW-Stout must play twice and UW-Superior must play a good St. Scholastica team twice. For those reasons, your regular season NCHA Champion will be: St. Norbert.
Who will round out the top four and host playoff series?
The aforementioned top four look to be in good shape in terms of keeping themselves in the top half. UW-Superior is in fourth place with nine points, a full five points ahead of three teams who are all tied for 5th. Some might expect UW-Stout to fade, but the Blue Devils are for real. Though I didn't pick them to win the league they absolutely will not suffer a collapse of epic proportions – which is about what it would take for them to drop out of the top half. The elite teams in the league will beat up on each other somewhat and a few losses will be inevitable, but expect the top half to remain unchanged. I penciled in UW-River Falls at second before the season began and I'm going to stick with it. They will be closely trailed by UW-Stout and UW-Superior, but I'm giving the Blue Devils the edge for third.
If someone does emerge from the bottom half, who will it be?
It may be a better question to ask who it won't be. Lake Forest, with only one point, is just too far back. Mike Kneeland is one of the premier forwards in the league, but even his return and stellar second half from the Foresters will likely prove too little too late considering the hole they are currently in. UW-Stevens Point can probably be ruled out as well. Expect the Pointers to fare better in the second half than they did in the first, but like it has in the past, inconsistency is once again plaguing the Pointers. To pull it off the Pointers will have to be near perfect, and they have not shown anywhere near the consistency needed to pull it off. UW-Eau Claire has turned themselves around rather quickly, and are an impressive 8-7-2 overall. Unfortunately they are only 1-4-1 in the NCHA. Give the Blugolds a lot of credit for fielding a good team once again, but it's unrealistic to expect them to make too big of a run. That leaves St. Scholastica. The Saints are also 1-4-1, but it's the most deceiving record in the league. As mentioned in prior columns, the Saints have handed a couple of games away which has killed them in the standings, but overall they have played very good hockey and have proven they can not only play with any team in the league, but outplay every team in the league at times. Without question, the Saints are the most capable of making a run.
How will the bottom half sort itself out?
As mentioned, St. Scholastica has played the best out of anyone currently in the bottom half and I think they will continue to do so, which will be enough to land them in fifth. Though eight conference games remain, I don't foresee Lake Forest climbing out of eighth. Even if the Foresters improve over the second half I'm not sure who would surpass. That leaves us with UW-Stevens Point and UW-Eau Claire. On this one I'm deferring to the head-to-head criteria. The Pointers and Blugolds have met once this season and they tied. Therefore, I'm calling a tie for sixth. Pairing that with my call on the top half, that leaves us with final standings that look like this:
1. St. Norbert
2. UW-River Falls
3. UW-Stout
4. UW-Superior
5. St. Scholastica
t6. UW-Eau Claire
t6. UW-Stevens Point
8. Lake Forest
Who will win coach of the year?
Best I can tell, this goes to UW-Stout head coach Terry Watkins hands-down. The Blue Devils have yo-yoed around .500 for the past few seasons, but this year are off to a 14-1-2 start and currently sit atop the NCHA. They have already defeated UW-Superior and St. Scholastica, and tied St. Norbert. The Blue Devils only loss came to highly ranked Neumann, and it was a game in which Stout led 3-0 before a string of second period penalties allowed the Knights back in the game. I have seen the Blue Devils play three times this season and have been very impressed every time, so I see no reason not to hand the award to Watkins for putting a surprisingly potent team out on the ice this season.
Who will win player of the year?
Too close to call at this point, but I'll wager it's one of these three "finalists".
G, Kyle Jones, St. Norbert (14-1-2, 1.73, .919)
F, T.J. Dahl, UW-River Falls (10-25-35)
F, Marc Belanger, St. Norbert (11-14-25)
That's my take on things and even if yours are different I'm sure there are a few things we can agree on. Namely, it was a fun first half to the season and the second half is going to be even more so. Let's drop the puck.
This Week's NCHA Schedule
Friday, Jan. 19
UW-Stout at UW-Eau Claire
St. Norbert at St. Scholastica
UW-Stevens Point at UW-River Falls
Lake Forest at UW-Superior
Saturday, Jan. 20
St. Norbert at UW-Superior
UW-Eau Claire at UW-River Falls
Lake Forest at St. Scholastica
UW-Stout at UW-Stevens Point