Shaken and Stirred
I've toyed with the notion of a fancifully-written opening that would make the intro to any James Bond film pale in comparison but alas, my own words do fail in evoking any comparison that reflects appropriately on the level of competition seen this year in collegiate hockey in New England. The Bond-derived oxymoron of a title above is intentional and not a spoof in the vein of Austin Powers – it only represents the current state of hockey here in New England as well as the future state of the game here should some of the rumors floating around arenas today turn out to be true and we see the beginning of a new league based entirely upon conference alignments. Readers of legal age for consuming alcohol may want to consider an appropriate adult beverage at this point as we consider …
What If …
The rumors are abounding and there are many people inside of school athletic departments and hockey programs alike who will speak about what could be happening, probably happening and likely happening to league alignments in New England in the very near future. That being said, no one is willing to go record at this point because there is still too much that is unknown in comparison to the baseline premise of the new league and the teams that will make up the new alignment.
Based on a number of confidential sources, it is believed that a new league focused on participants from the MASCAC (Massachusetts State College Athletic Conference) and the Little East will align themselves to play ice hockey in a manner where their athletic departments currently compete in many if not all of their other intercollegiate sports. The new conference would have eight members including Fitchburg State, Framingham State, Worcester State and Salem State from the MASCAC group as well as Plymouth State, Southern Maine, UMass-Boston and UMass-Dartmouth from the Little East Conference (of which the MASCAC members are affiliated in many sports). Based on that configuration, the ECAC Northeast would be losing five schools from their current roster of twelve D-III programs (not including the arrival of Becker next season) and the ECAC East would be losing three D-III programs from their current roster of eight programs. So what does that mean — let's take a look at some of the scenarios we could be seeing soon.
The new league would have eight programs and have the opportunity to petition to the NCAA for an automatic qualifier to the national tournament. How the schedule would be configured is unknown but likely a home and away double round robin would be a possibility with teams then having the ability to schedule non-conference games beyond their fourteen league contests amongst other teams in the New England area. For the most part the birth of this conference would have minor impact on the ECAC Northeast and NESCAC but would have a significant impact on the ECAC East.
In the East, there would be seven teams remaining but two of those are D-II schools who have been unable to petition the NCAA for any kind of waiver allowing them to compete in conference tournaments or D-III championships despite playing strictly by D-III rules for scheduling, starting dates and scholarships. The remaining D-III schools, which include Norwich, Babson, New England College, Skidmore and Castleton State would have to find other interested programs to fill the open spots in the league or potentially forfeit their NCAA AQ based on not having enough programs in the league.
Another factor is found in the ECAC East and NESCAC schools playing an interlocking schedule with all games from the two 10-team leagues counting in the overall standings for each conference. With an imbalance in teams this may change and another scenario could find the NESCAC schools playing their own double round robin schedule with home and home games that would leave the ECAC East standing alone without any dance partner.
And what about geographic considerations? Skidmore and even Castleton State to some degree could be enticed to consider play in the ECAC West based on proximity to the schools in upstate New York. Not sure how likely this scenario is but this column did ask what if, and that's a big what if that would further complicate matters.
So, enough with conjecture what do we know today? We know that it is highly probable that there will be a new conference for men's ice hockey in two years but quite possibly one year from now. We know that the formation of the league will have a definite impact on the ECAC alignment and may result in some other domino effects from the NESCAC conference and other D-III leagues. Lastly we know that there is still a lot to sort out and when things become definitive we will have chance to speak from quoted sources on the record about the direction and timing of all related league, scheduling and program movements upcoming in the near future. Stay tuned on this one — it can only get more interesting by the minute!
Polar Bears Hunting
Following Bowdoin's 6-2 win over Middlebury this past Saturday, head coach Terry Meagher was having fun with his young team that is keeping this veteran coach feeling quite young.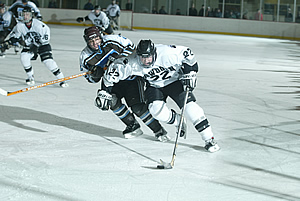 "They are a great group," noted Meagher. "You see them coming to the rink with big smiles on their faces and getting in their digs when I say something or get into a drill the wrong way. It's really a fun bunch and they have come together pretty nicely."
While Bowdoin is enjoying a strong season — currently sitting in second place in the NESCAC conference — there are still areas where the coach would like to see some improvement. "The game on Saturday was really more like a 4-3 game," stated Meagher. "Both teams played well and it was a very fast-paced game where we real happy to get the two points."
While the team is playing well and coming together as a group, there are still some concerns. Senior captain and leading scorer Brian Ciborowski went down last weekend with a knee injury that his him out for a yet to be determined timeline but a best case that may have him back for the last week of the regular season. "It's always tough to see a kid get injured, especially a senior, commented Meagher. Cibber went down and had to be helped off the ice and back to the dressing room. I turn around a few minutes later and there he is standing behind the bench with his skates off, all sweaty and in obvious pain, but there to support the team — I just looked and said, 'OK,' and he was right there supporting the guys."
Bowdoin has enjoyed a great deal of success on specialty teams this year but their coach still feels like his team is goal challenged. "We still need a lot of chances to cash in," said Meagher. "That may be as much a statement about the level of goaltending and caliber of play as it is about or scoring ability but I would still like to see the offense score a bit more than we have been.
With ten games left in the regular season, Bowdoin sees the rest of the schedule alternate between away and home dates starting this weekend at Tufts and Conn College. "It's good to get in that rhythm of one week at home and one week away," commented Meagher. "The kids get into the routine and it is predictable and easy to prepare for as compared to an unbalanced schedule of either a lot of games at home or on the road."
In a season where it has been difficult for teams to stay on a roll, Bowdoin has played well both at home and away to remain near the top of the league standings. "I think we talked about my thoughts that teams would win a few in a row then get off track for a bit and then get back on track," recounted Meagher. "This year the level of play top to bottom in both of our leagues has been very good so you can't expect anyone to run the table or get on a long winning streak. It's been that way most of the season and it will probably finish up that way since everyone is battling hard for those important points that make a difference in your standings every weekend. It's going to be fun to watch."
And while Meagher has an unrestricted view of the games from his perch behind the bench, he's right. We will all have a chance to watch the teams battle for position right down to the wire and nobody has anything locked up or guaranteed in terms of playoff position or home-ice seeding.