The Perfect Combination
Last week in my On The Periphery section, I complained about how the All-Star game is missing a key component of what makes hockey so exciting. This past Saturday, I watched a game that was everything hockey is supposed to be. It was a prime example of speed and force in just the right combination.
The Geneseo at Oswego game was played not only at a playoff intensity, but with a passion that makes us all love this great sport. It was fast, hard hitting, and most of all clean.
Even when it wasn't clean, it was still fun to watch, as it did not get out of hand. At one point, players squared off in what turned out to be mostly a wrestling match, and even though some punches were thrown, no fighting majors were handed out. A Geneseo player got checked through the Oswego bench door. And just about everyone was most likely applying ice packs somewhere on their bodies after the game.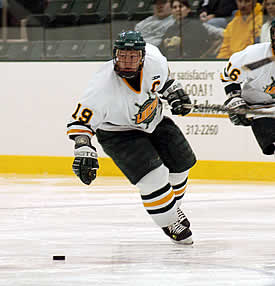 Yet, despite all the hitting, the players were able to skate as there was no clutching and grabbing, providing us some great plays. A gorgeous opening goal of precision passing. A last second first period tying goal on a fast rush down the right side and a massive slapshot. Two third period goals within ten seconds to send the home crowd into a frenzy. And a nail biting final moments to decide the game.
I was hard pressed to determine who enjoyed the game more: the fans, players, or coaches.
When I talked to Oswego's Brendan McLaughlin and Ryan Woodward after the game, they reacted in the same way when I asked them if this was one of the hardest hitting games they played in. They both broke out in a huge smile and shook their heads in joy.
"The bodies were flying," McLaughlin said.
"We were throwing the bodies around," Woodward said.
The coaches both appeared happy to be involved in such a game.
"It was a great college hockey game," Oswego coach Ed Gosek said.
"I think it's great for hockey," Geneseo coach Chris Schultz said.
Though these two teams have been at the top of the league the past few years — Oswego won the regular season title the last two years while Geneseo won the championship — they kept missing each other in the playoffs. Because of that, their rivalry hasn't always been mentioned in the same breath as the intense rivalry of Plattsburgh and Oswego or even Plattsburgh and Geneseo. This game, however, certainly ratcheted up the Oswego-Geneseo rivalry.
"I believe we've had a rivalry," Gosek said. "We look at them as one of the top teams year in and year out. They've won the championship two years in a row. They're a quality team. Tonight was a huge swing in the standings. I think it's a great rivalry."
"Our guys always look forward to playing Oswego because of the talent they have," Schultz said. "And obviously now playing in this building. What a great atmosphere in Division III hockey. I told the guys before the game if you can't get up for this game, you may as well not consider yourself an athlete."
Notice I didn't even mention the score? That almost seems incidental, the game was so much fun to watch.
Speed and Force. Hockey at its best.
A Wild Ending
While the Geneseo at Oswego game was the best game of the weekend, the Brockport at Cortland game had the most thrilling ending of the weekend, and it too took place on Saturday.
Cortland took a 2-0 lead only to have Brockport score the next three goals before Cortland tied it up with six seconds left in the second period. It stayed that way till the waning moments of the game when the excitement broke out.
First, Brockport's Anthony Leccese hauled down Buddy Anderson on a breakaway with 1:41 left in the third period. Cortland had to make a difficult decision. They already had a player in the penalty box, so should they take the minor or accept the penalty shot. If they accepted the penalty shot, then they would be shorthanded for another 51 seconds whether they scored or not. If they took the minor, they would end the game on the powerplay.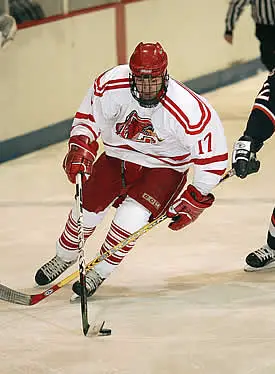 They decided to take the penalty shot. Anderson kept it very simple, shooting it low on the stick side to beat the goalie. However, Cortland was still a man down, and to make matters worse, they took another penalty 32 seconds later. They killed off the first penalty, but with it still five-on-four, Brockport pulled their goalie.
With 21 seconds left, Gordon Pritchard tied the game, one-timing it off a blast of a pass from Chris Koras. Neither team was able to win in overtime as Brockport outshot Cortland in the extra period, 4-2.
I hate to play the what if points counting game, but the one point Brockport lost by not winning this game may haunt them down the road. It reminds me of the end of the 2002-3 season when Cortland tied Brockport with one second left in the third period, also 4-4. That one second and one point cost Brockport a playoff spot.
It always appears Brockport finds themselves in these sort of situations. This year was supposed to be different, but losing that one point may indicate otherwise.
"Disappointed we didn't get the split," Brockport coach Brian Dickinson said. "That was our goal for the weekend to come away with two points. We were hoping to come out of it three points over Potsdam going into their game."
This puts a lot of pressure on Brockport's upcoming weekend as they make the tough trip up north to play Potsdam and Plattsburgh. They absolutely must get at least two points, if not three, to keep themselves in the running for a home ice playoff spot.
"It's been a long time since we've controlled our own destiny," Dickinson said. "We're excited to go up there. It's going to be like a playoff game for us."
One thing's for sure, it will certainly be hockey weather the way Lord Stanley intended, even though they are playing indoors. The temperatures in the North Country this weekend are expected to dip below zero.
As for Cortland, they played well not only in that game, but also against Hamilton a few days later. Despite missing some key players resting from injuries, Hamilton needed a late goal and overtime to beat Cortland.
"Guys played well and put themselves in a position to win," Cortland coach Tom Cranfield said. "The guys are upbeat about this weekend because they know they have to win twice. We're not out of the playoff race!"
Cranfield emphasized the point about not being out of the playoff race.
SUNYAC Short Shots
Brendan McLaughlin scored three goals and three assists in Oswego's 6-0 victory over Brockport where the Lakers went three for seven on the powerplay … Ryan Scott made 19 saves for the shutout … Trent Cassan scored a hat trick as Geneseo went three for six on the powerplay in a 5-2 win over Cortland … McLaughlin and Cassan each scored another two goals in their game against each other which Oswego won 4-3 … Buffalo State went two for four on the powerplay and scored two shorthanded goals in their 5-2 victory over Potsdam … Potsdam let up another shorthanded goal against Fredonia as Neal Sheehan scored twice for the Blue Devils as they beat the Bears, 4-2 … Plattsburgh outshot Fredonia 9-1 in overtime but had to settle for a 3-3 tie … Plattsburgh went five for nine on the powerplay, beating Buffalo State, 6-1 … Steve Neiderbuhl and Matt Damskov each got a pair of goals but Morrisville lost to the GMHL All-Stars, 6-5, in overtime … The next night, Morrisville scored twice in 19 seconds to beat the GMHL All-Stars, 6-3 … Matt Nichols scored a shorthanded goal for Cortland with 1:58 left to grab the lead, but Hamilton tied it back 47 seconds later and won it 50 seconds into overtime.
Game of the Week
Though, like last week, every game and point is still ultra important, there are two contests that intrigue me. Both involve the teams in the first place battle from last week — Geneseo and Oswego. What intrigues me is how they will recover from such a tough contest, both physically and emotionally, even a whole week later. And, in both cases, they each play the tougher of the two weekend games on Friday.
Geneseo plays at Plattsburgh in a game that the Cardinals once again really need to win.
For the Ice Knights, first place may not be a lost cause, but now they have to be concerned with Fredonia catching them for second, as the Blue Devils are only two points back. They have to worry about this while playing another game that has rivalry written all over it as these two teams played for the SUNYAC championship the past two years.
"Our league is to a point now that you are not going to be able to take any night off, so there are a lot more rivalries," Geneseo coach Chris Schultz said.
The game that intrigues me a little more and gets my nod as the game of the week is Oswego at Fredonia. Granted, the Lakers can coast a bit from here on in, but that's the last thing Ed Gosek wants.
"We have to work to get better to keep building momentum heading into the playoffs," Gosek said. "We don't want to be hanging on here. We want to get going to head in the right direction.
"It will be tough going into Fredonia. We took it to them pretty good here, so I'm sure they have revenge on their minds. They always play strong at home. Sounds like they are playing pretty good hockey right now."
Speaking of Fredonia being tough at home, they are 5-2-3 at home this year and last year they went 13-0-1. So, you have the first place team still undefeated in league play coming off a thrilling victory to maintain first place going up against a team that loves to play at home, is unbeaten in their last seven games (and 8-1-3 in their last twelve), and looking to move into a bye position.
On The Periphery
Is Buffalo now Hockeytown, USA?
Sure, Detroit has that self proclaimed label. Minneapolis-St. Paul also likes to lay claim to it.
But lately, I believe Buffalo has the most rights to it at least when it comes to NHL interest. Just look at the most recent TV ratings for the NHL All-Star game. While the national average was a dismal 0.7, Buffalo led the nation with a whopping 7.1, way ahead of any other U.S. market, which would of course include Detroit and the Twin Cities in Minnesota.
Ever try getting a ticket to a Sabres game lately (with a population way smaller than most NHL cities)? Forget about it. It was easier to get a ticket for the Bills. In fact, many attributed the Bills inability to sell out their last few games to the popularity of the Sabres. Granted, the hockey team is doing great, but the Bills were improving throughout the year, and had a shot at the playoffs.
What city has their football team play second fiddle to their hockey team, no matter what the records? (Boston was that way for awhile as the Patriots played second fiddle to every other team in the area, until they finally started winning the past few years).
Maybe it's just temporary and mostly based on their recent success. But, hockey has always been popular in Buffalo, and right now, you'll be hard pressed to find another U.S. city that is more crazy about their hockey team as Buffalo. No matter where you go in Buffalo, everyone is talking about the Sabres.