The Oswego Situation
Snow began to fall this past Sunday evening, and it has not stopped. As of Noon on Thursday, Oswego had accumulated 71″. And there's no end in sight.
As of the writing of this column, all athletic events in Oswego are still on. They will reevaluate the situation early Friday afternoon. If you plan on traveling to Oswego for either Friday or Saturday's game, make sure to check with Oswego athletics to ensure the games are still on. We will also keep you posted right here on USCHO.
If they are being played and you decide to travel to the games, please make sure you have the car and tires capable of driving through those conditions and leave yourself plenty of time. And don't forget to pack a shovel, flares, blanket, and cell phone.
Be careful.
Normality
The more things change, the more they stay the same.
The SUNYAC season started out with a bit of a topsy-turvy look to it. However, down the stretch, the breakout teams began to slide down the standings while the traditionally strong teams began to move up the standings. It is beginning to look very familiar.
With three games left in the season, we see Plattsburgh in third place while Brockport suddenly has to be concerned about making the playoffs.
Sure, the Cardinals third-place standing is partially a result of Fredonia getting upset by Cortland, and Plattsburgh is only at .500 in league play. But, third place is third place, and right now they are looking to stay home for that midweek first-round playoff game.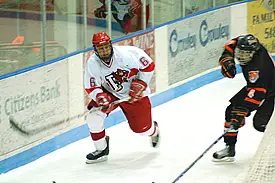 "I think the goal for everyone in the SUNYAC is to get home ice in the playoffs," Plattsburgh coach Bob Emery said. "Now that we can't get that, we have to set new goals, and that is to get home ice for the first round."
The weekend didn't start out as if Plattsburgh was going to make a leap in the standings. They certainly tried, however, as they outshot Geneseo, 42-18. Yet, they lost the game, 4-2. The Ice Knights scored three powerplay goals (in seven attempts), got a goal with one second left in the first period, and took advantage of a last minute penalty to score the clinching goal. Mitch Stephens assisted on all four goals.
"We don't have any big scorers," Emery explained, losing a game where they outshot their opponent by such a large margin.
Plattsburgh did come back the next night thanks to Nick Rolls scoring the first goal to tie Brockport, and then assist on two of the three third period goals to give Plattsburgh a key two points against the Golden Eagles who had third place within their sights.
So, when all is said and done, there is Plattsburgh in third place. True, the Cardinals are more used to being in higher spots, but it certainly is closer to where their fans expect them to be than battling just to make the playoffs.
Lots Of Excitement
Last week, Brockport was involved in the wildest ending of the weekend. This week, they were involved in the wildest game overall.
"The fans probably enjoyed it," Brockport coach Brian Dickinson said. "There was a lot of action, but it was a gray hair game for Glenn [Thomaris] and I."
The action Dickinson is referring to was 12 goals in a 6-6 tie, with an overtime that saw both teams nearly win it, and Potsdam playing all three goaltenders. The worst part of the game for Brockport was the fact they had a two-goal lead not once, not twice, but three times and couldn't hold on.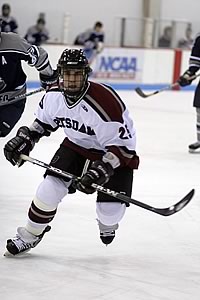 "We're still young enough that we can't separate the fact that there's a lot of hockey left to play in a game," Dickinson said.
Brockport got off to a quick start when AJ Maio scored 41 seconds into the game. Aaron Boyer gave them their first two goal lead. However, before the first period was over, Vince Tarantino and Ryan McCarthy tied it up, the latter goal with 35 seconds left in the period.
Two powerplay goals by Chris Koras and Mike Gershon restored the two goal lead. At that point, Potsdam pulled starting goalie, Rob Barnhardt, and put in little used third stringer, Mike Ehlers. It worked for awhile as Adam Gebara and McCarthy closed the gab again. Thirteen seconds after it was tied, Craig Carlyle gave the Golden Eagles the lead again and 1:16 later, Boyer once again gave Brockport a two-goal lead.
After letting up two goals on six shots, Ehlers did not start the third period as Vince Cuccaro was put into the net. Cuccaro was able to keep Brockport off the scoreboard the rest of the way. This allowed Connor Treacy and Tarantino to put Potsdam back in a tie.
Overtime saw chances by both teams, especially when Brockport went in on a four-on-two only to have the puck slide through the crease. Potsdam immediately turned it around for a breakaway, but Brockport was able to catch up with the tired Bears' skater.
"I went from thinking that we would get two points to thinking we blew our one point," Dickinson said.
SUNYAC Short Shots
Tony DiNunzio and Neil Musselwhite got a shorthander to lead Oswego over Fredonia, 4-2 … Buffalo State scored five powerplay goals and one shorthanded goal with Cody Cole getting one of each in their 6-3 win over Cortland … All the goals in Oswego's 2-1 victory over Buffalo State came in the second period with the Bengals scoring first … Geneseo and Potsdam traded their first goals ten seconds apart as the Ice Knights went on to win, 5-2 … Barry McLaughlin scored twice leading Cortland to a 4-3 upset over Fredonia … Matt Damskov scored twice and Morrisville took the lead over Penn State Berks with a pair of goals 16 seconds apart en route to a 5-2 victory in a game that took only 1:58 to play … The next night, Damskov got four assists and Evan Kernohan and Joseph Herman each got a pair of goals in Morrisville's 10-2 blowout over Penn State Berks.
Game of the Week
I sometimes try not to pick the obvious game, but this week, I have to go with the obvious. First, let's look at a few others.
A very close second for the game of the week has to go to the Buffalo State at Brockport contest, and not just because these teams are tied for fifth place. Because of the overall clumping of the middle four teams, this game is essentially each team's last chance to make a run for home ice in the first round. A loss will essentially eliminate that possibility as well as possibly put them into a fight just to get in the playoffs.
"We're still concerned about making it," Dickinson said. "We've got to take care of Buffalo State. If we win, we get the tie-breaker over them.
"Buffalo State and Brockport — we've played some wild games over the years. Next to Oswego, they're probably the hottest team in the league."
For this weekend, Brockport can take some confidence in knowing they have not lost to Buffalo State and Fredonia this season.
Speaking of Fredonia, depending on what happens Friday, the Fredonia at Brockport game could be a key match up in deciding some key positions. And if I want to be mean, I could mention the Potsdam at Cortland game might wind up being the battle for last place.
The obvious pick for game of the week goes to arguably the top SUNYAC rivalry — Plattsburgh at Oswego. Hopefully, without bagels this time.
"I think we need to win two out of the three remaining games to finish third or fourth," Emery said of the upcoming weekend. "In my mind, the Cortland game is more important being the first game of the weekend."
That may be so, and Cortland has been known to play Plattsburgh tough at home, but when it comes to the Oswego game, that's all that will be on the players' minds.
"If they're not ready for that game, they'll never be ready," Emery said. "We're going to really have to focus on defense and staying out of the box. We are the least penalized team, so that part we should be able to do."
In fact, Plattsburgh is not only the least penalized team in the league, they have the second lowest penalty minutes per game (13.2) in the nation.
Here is also the greatest irony of the week. As of now, barring any upsets in the playoffs, Plattsburgh and Oswego are not in the same playoff bracket, and thus wouldn't meet until the finals. The past two years, Plattsburgh has beaten Oswego in the semifinals in Oswego. If Oswego beats Plattsburgh, it could cause the Cardinals to wind up in fourth place, and thus on target for another semifinal match up between these two teams in Oswego.
The game of the week potentially could have the most interesting outcome of the week.
On The Periphery
My wife and I have been up to the Tug Hill Plateau many times for cross country skiing, usually in the Sandy Creek area. One time, we were up there when there was a gangbuster of a lake effect snowfall. It was coming down at a rate of 2-3″ per hour. Maybe even a little more.
When it comes down at that rate, it's like a wall of snow, instantly blanketing everything. If you stand still too long, you become part of the white landscape.
The current lake effect snow hitting that area and Oswego has at times dropped at a rate of about 5″ per hour. I cannot fathom what twice of what I've experienced is like. I can't even understand how clouds could produce that much snow, never mind drop it at that rate.
I was planning on covering the games in Oswego this weekend. I don't know whether I still will (assuming they are played) or take the easy way out and head to Brockport instead. I actually hope there is enough of a break that I can make it out to Oswego sometime this weekend. I have to see the results of this historic storm with its massive snowdrifts for myself.
If I do make it, I'll be sure to bring my camera.