The calendar will flip to March this week, and around here, they'll be talking PairWise and home ice.
And, yes, it'll be about Michigan Tech.
It's one of the signs of change in Jamie Russell's fourth year in charge of his alma mater, and, when it comes to college hockey in Houghton, change is good.
It has been 14 years since Michigan Tech has had a winning team, but the Huskies have a shot this season. They go into the final WCHA regular-season series, at No. 2 Minnesota, one game above .500.
A local radio commercial before last weekend's home series against Wisconsin advertised the Huskies' spot in the PairWise Rankings — then tied for 19th with the Badgers — and that they were still alive for home ice in the first round of the league playoffs.
"It's a good sign when you've got that kind of talk going around at the end of the year here," Huskies co-captain Lars Helminen said. "You always want to put yourself in a good position for the playoffs and obviously the tournament. This is by far the best position that we've been in going into [the end of] February here."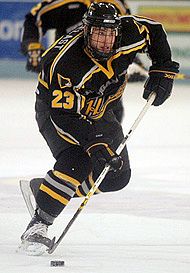 Michigan Tech (15-14-5, 10-11-5 WCHA) is tied for 13th in the PairWise when you don't include bonus points. It's one point out of the fifth and final home-ice playoff spot.
The Huskies have lost only once in their last nine games, and they went 6-0-2 at home after returning from the holiday break.
They earned three points at home against then-No. 14 Colorado College, three more against then-No. 5 Denver and claimed a sweep of then-No. 19 Wisconsin last weekend.
"I think the kids are really seeing some results," Russell said, "and that makes it a lot more enjoyable coming to the rink and putting the time in on the ice, off the ice and working hard when you're starting to see results."
Why have things changed? It goes back to a new way of looking at things inside the locker room.
The results of the reworking of a team's culture usually can't be seen right away. It's a process that has to start with acceptance, but if that comes, it can lead to big things.
The Huskies' work ethic is a major component in the alteration.
"Every day, guys are willing to show up," Helminen said. "We don't have the lulls in games that we used to. I know this team every night's going to come out and work their [butts] off."
The culture change is best noticed on defense, where the Huskies are blocking shots to a higher degree than they had in the past.
Last season, the Huskies allowed an average of 37.8 shots on goal per game. This season, that number is down to 24.5.
The team's defensive statistics have improved in kind. Where Tech was fourth from the bottom in Division I at 3.92 goals allowed per game in 2005-06, it's now sixth from the top at 2.15.
Expectations are different, too. Russell said his players were disappointed when they lost a lead in the third period of Game 2 of the series of Denver and came away with only three points.
"That's a real step forward in our expectation level, and I think we have a real quiet confidence about us right now where we believe we can win any game in the country against any team in any rink," Russell said. "That's a very different feeling than hoping to win."
If there's a shortcoming, it's that the Huskies' offense hasn't been steady enough to allow the team to spend time in the upper half of the league standings.
Still, Russell, who hadn't posted more than eight victories in any of his first three seasons at Tech, has noticed the extra national attention and has seen it pay off in terms of recruiting.
The Huskies' 2007 freshman class includes Casey Pierro-Zabotel, who has 108 points through 52 games for the Merritt Centennials of the British Columbia Hockey League.
A recruiting pickup like that could bring a new level of offensive talent to the Huskies, supplementing the group Russell and his staff brought in right away.
"When we started rebuilding things here, we brought 18 kids in in our first two recruiting classes, and that's the core of our team right now," Russell said. "We really focused on getting kids that were character kids who really work hard, competed and really had a very, very strong work ethic. And now we're starting to add a little bit more speed, a little bit more skill and we're starting to see some results with some real quality recruits committing."
The results on the ice this season could lead you to believe a corner has been turned in Russell's remaking of the Michigan Tech program.
Russell thinks so, anyway, calling this season "a significant benchmark in our rebuilding process."
"There's definitely some light at the end of the tunnel," said Russell, a top candidate to be the WCHA's coach of the year. "We're heading in the right direction. We're not where we want to be yet — we've got a lot of work to do and a lot of areas to improve on. But we're definitely making progress and the kids in the program deserve an awful lot of credit for their dedication."
Helminen, who was one of three Tech seniors saluted after last Saturday's 4-2 victory over Wisconsin, can appreciate how far things have come since he was a rookie. And he takes pride in being part of the change.
"In all my whole career here, it's been small steps," Helminen said. "They haven't been as noticeable in the past. This year, it all came together."