One more weekend of conference playoff action to go.
In the NCHA, St. Norbert and St. Scholastica will square off Saturday night at the Cornerstone Community Center in Ashwaubenon, Wis. Second seeded St. Norbert earned its trip to the finals by defeating third seeded UW-Stout 4-1 last weekend, while fifth seeded St. Scholastica makes its first NCHA finals appearance ever thanks to a 2-1 semifinal upset win over top seeded UW-River Falls. Saturday's winner will not only claim the Peters Cup, but also will earn an automatic birth into the NCAA Tournament.
In the MCHA, four teams remain in the conference playoffs and will participate in Saturday and Sunday's Harris Cup Finals in Hancock, Mich., home of tournament host and second seeded Finlandia. Early semifinal action will feature top seeded MSOE take on fourth seeded Lawrence, while the late game will feature the host Lions and third seeded Marian. Lawrence won its way into the semifinals with a series win over UM-Crookston, while Marian did the same with a convincing sweep of Northland. As the top two seeds, MSOE and Finlandia both received byes to the semifinal round.
NCAA Tournament Watch
The easiest way to characterize things may be this: UW-Stout, UW-River Falls, UW-Superior, Neumann, Manhattanville, Norwich, Mass.-Dartmouth and Oswego have all played seasons worthy of an NCAA tournament appearance. Unfortunately, at least two will be staying home. Whether that's fair or not is a topic for another day.
What is clear is that the closer the tournament gets, the more confusing things become. The biggest news from last weekend was Oswego losing in the semifinals of the SUNYAC conference tournament. This bodes ill for the NCHA teams as the Lakers are in good position to obtain one of the three pool C bids that UW-Stout, UW-River Falls and UW-Superior are all hoping to receive as well.
The other three teams discussed last week — Manhattanville, Norwich and Mass.-Dartmouth, all won their tournament games. Manhattanville has reached the ECAC West finals and will take on another tournament hopeful in Neumann, while Norwich and Mass.-Dartmouth have both reached the semifinals of their respective conference tournaments.
Conference championships by all three is what NCHA teams would most prefer, but a Manhattanville win would pull double-duty as a loss by Neumann can only help NCHA teams were it to come down to a comparison with Neumann.
While no one can be sure what color rabbit will fall out of the selection committee's hat on Sunday night, the more pool C bids available, the better it is for the NCHA hopefuls. So for one final week: Go Valiants, go Cadets, and go Corsairs.
One more thing: This all goes out the window if St. Scholastica wins on Saturday.
This Week in the MCHA
There is nothing new about the four teams remaining in the MCHA playoffs. What is new, however, is the location of this year's Harris Cup Finals. After having been held at Crookston, Marian, MSOE and Lawrence, the finals now find their way to Finlandia.
The northernmost locale in the MCHA lies in Hancock, Mich., which along with nearby Houghton has a long and storied hockey history.
Aside from hockey history, the Keweenaw Peninsula, where Hancock is located, also has a rich tradition of something else: Snow.
In true Upper Peninsula fashion, that tradition is rearing its ugly head just as three teams from the southern half of Wisconsin plan to hit the road for this weekend's games. In fact, the National Weather Service has issued a blizzard warning for the region to be in effect from 4 p.m. Thursday to 7 p.m. Friday; Times that coincide perfectly with the travel plans of MSOE, Marian and Lawrence.
Firepower
Once everyone battles through the weather and finally makes it to Hancock, there is no question the top four teams in the MCHA will be on hand to compete for the Harris Cup.
Collectively, the four teams comprise the top four ranked MCHA teams in scoring offense, scoring defense, and combined special teams.
In terms of individual performers, the top four MCHA goalies will all be in attendance, as MSOE's Matt Burzon, Finlandia's Lukas Alberer, Marian's Cullen Caldwell and Lawrence's Andrew Isaac boast the league's best goals-against-averages in the MCHA.
Offensively, everyone is aware of the two most prolific lines in the league, and they'll be there as well. The MSOE line of Blair Hanberg-Brian Soik-Lee Swallow line has posted 104 points on the season while the Joe Beaudry-Josh Paquette-Ryan Sullivan line has scored 121 for Finlandia.
Beyond its top line, MSOE also brings offensive firepower to the table by means of forwards R.G. Flath (17-13-30), Michael Duta (10-14-24), Simon Labrosse-Gelinas (6-15-21) and defenseman Jason Woll (6-15-21).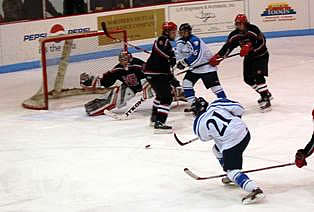 MSOE is not the only team with significant depth, as right behind Finlandia's big three are 20 point scorers Mike Parks (11-15-26), Blake Miller (9-11-20) and Keith Johnstone (9-11-20). The Lions' Tiger Marcotte (7-21-28) leads the MCHA in scoring among defensemen and might be the most versatile blueliner in the league.
MSOE and Finlandia aren't the only two teams in the league who can score goals, and they are led by James Goodfellow (16-18-34), Nick Cinquegrani (14-13-27), Carl Bresser (14-11-25) and Andrew Corvo (10-10-20).
Meanwhile, Lawrence is led by a guy who never seems to leave the ice in senior forward Joe Searl (17-15-32). Behind Searl are forwards Marc Howe (15-10-25), Nick Jennette (7-15-22) and Kalle Larson (9-10-19).
All in all, the top eleven, and 26 of the top 30 MCHA scorers will be playing this weekend — all on the same sheet if ice.
Suffice to say that if someone is looking for the best the MCHA has to offer, be it on offense, defense or in net, they can find it this weekend in Hancock.
All but a Formality?
Without question MSOE and Finlandia have been the two most dominant MCHA teams this season, but it's a tad hasty to already be punching their tickets to the finals.
As if hockey fans need a reminder, other playoff results around the country have once again made it clear: Anything can happen in one game.
Despite Lawrence dropping all four of its regular season meetings with MSOE, head coach Mike Szkodzinski is promoting this one-game approach, but says if his Vikings are going to pull of a win they must stick to the basics.
"In a one game situation like this anything can happen," he said. "But to have to play the two-time defending Harris Cup Champion right away is a big challenge, but we're looking forward to it."
"There are no secrets about these teams at this point. We need quality goaltending, and we have to stay out of the penalty box. Their top powerplay unit is potent, and their second unit will just pound pucks at the net. They are too good to give those opportunities to."
His cause for concern is a wise one as the Raiders enter the weekend with the top-ranked powerplay in the MCHA, converting an even 25% of their opportunities.
Despite being a clear underdog, Szkodzinski thinks the Vikings may have one thing going in their favor.
"We're in a spot where we have nothing to lose. Maybe that's what we can hope for is that MSOE, as the defending champion, feels a little more pressure and we can be opportunistic and convert our chances when they are given to us. You never know."
Basics and fundamentals are also being preached in the Marian camp, even though the Sabres split four meetings with Finlandia this season.
According to head coach Jasen Wise, the Sabres need to follow the same game plan they did in their regular season wins over the Lions.
"Keep it simple," he said. "We didn't overhandle the puck, and we got the puck deep when we needed to. If we can stay at home and shut their offense down, we can win."
Shutting Finlandia down is easier said than done, however. The Lions' numbers speak for themselves, and they play an extremely up-tempo style that can often catch teams unawares.
"Their style isn't rare," said Wise. "What is rare though is that they do it as well as they do. Their guys all look to be on the same page, and if you don't cover up that streaking weak-side wing you're going to give up odd-man rushes.'
As far as how to combat the Lions' attack?
"Maintain a defensive mindset. We have to be aware of where they are on the ice. If our defensemen aren't paying attention we're going to give up chances, plain and simple."
While a Lawrence win would be a significant upset, a Marian win over Finlandia would be a mild one at best. With both teams approaching the semifinals as the underdogs, it will be interesting to see if the focus on the little things will pay dividends for either.
Radio Broadcasts
Those fans too faint of heart to brave the weather and make the trip up to Hancock will at least be able to catch some of the action online as 98.7 WGLI-FM will be webcasting all games involving Finlandia. Streaming audio is available at www.wglifm.com.
This Week in the NCHA
A little over a year ago USCHO ran a story on the turnaround of St. Scholastica under head coach Mark Wick. In that story Wick was asked whether he was surprised with the rapid fashion in which the Saints became a formidable threat.
His reply: "A lot of times you take a job and people figure it'll take three or four years. Randy (assistant coach Randy Barker) and I aren't that patient."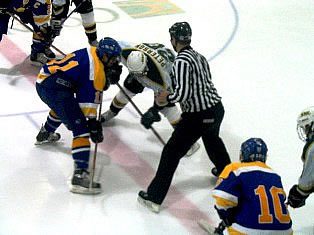 Though the Saints lost in last season's NCHA Quarterfinals, it looks like Wick's lack of patience is paying off as last weekend the Saints upset UW-River Falls 2-1 in the NCHA semifinals to advance to the finals for the first time ever.
Sophomore forward A.J. Tucker got St. Scholastica on the board with a first period goal, and also added a second period tally to stake the Saints to a 2-0 lead.
The fast start was important according to Wick.
"We did the things we needed to do. We were able to get out fast with the early goal from A.J., and then he added another in the second and we were in a good spot," he said.
A good spot perhaps, but UW-River Falls would cut the deficit in half less than two minutes later as senior forward Tyler Kostiuk would convert a penalty shot.
Despite facing some high quality scoring chances, Saints' sophomore netminder Tyler Johnson, who finished the game with 26 saves, would shut down the Falcons for the remainder of the game and the Saints would hold on for the 2-1 win.
The low scoring affair was something Wick feels worked in St. Scholastica's favor.
"You can't get in a shootout with them," he said. "With that top line they have you have to take care of yourself defensively."
He continued, "I thought we played pretty well defensively. We also thought our penalty kill would have to step up to the plate and that they did. We were also hoping to limit their powerplay opportunities. When you play River Falls you have to limit their chances."
And that the Saints were able to do. River Falls entered Saturday's contest having scored eight powerplay goals in their previous three games, but St. Scholastica held the Falcons without a powerplay goal while conceding only five opportunities with the man advantage.
As the dust settles and onlookers still try getting used to the sight of St. Scholastica in the Peters Cup Finals — and a mere win away from the NCAA Tournament, it was worth asking Wick again if he is surprised with the success of his club.
"Yes and no," he said. "Look at our league. With so many good teams out there I think at times it's possible to be a little unrealistic. I think in the back of our minds we've always thought that if the stars align and we get some breaks, we could get there."
"With our guys, and if some things go in our favor, we could have a shot."
Unfortunately for the Saints, however, the league's biggest roadblock lays in front of them as they must play at St. Norbert, where the Green Knights just hung 49 shots on UW-Stout en route to a 4-1 semifinal win.
The Saints have never won at the CCC, but did drop a close 3-2 game there earlier this season. They are also only one of three teams to have beaten the Green Knights this season, defeating them 3-2 at home in mid-January.
Ignoring all the usual press about St. Norbert's dominance at the CCC, attacking the Green Knights themselves can be a dubious venture, as it's difficult to discern where to begin. Led by junior forward Marc Belanger's 38 points, St. Norbert boasts eight players with over 20 points on the season.
"It's tough to even figure out who their top line is," said Wick. "I think one of the reasons for them being so successful over all these years is their depth. You can't do anything special for any one line, they just keep coming at you."
"You can shut three guys down and they have seven more that will hurt you."
The Saints are a similar team, however, in the sense they also bring a lot of scoring balance to the table. Sophomore forward A.J. Tucker leads the team with 26 points, but after that the Saints have nine players stacked up between ten and 19 points.
Though the Saints bring a well-balanced offense and a stingy defense into the weekend, there is no doubt they remain the underdog for the third week in a row.
If St. Scholastica has plans on emerging victorious once again, Wick says they need to follow the plan that got them this far.
"We have to do the same things we did against River Falls. Limit their chances and we have to play solid defensively. We cannot make mistakes and give them chances. We played ok in that rink (the CCC) earlier this season. Hopefully we can do the same thing we did last weekend and have some success early."
Last season's USCHO feature on the Saints concluded with the question: "How far will they rise?"
If the Saints find a way to win this weekend and land in the NCAA field, it's safe to say farther than anyone could have imagined as little as 18 months ago.